Jeep Dealerships Near Me – Costa Mesa, CA
We might as well say it: buying a car is a lot of work. Although we would like to say that it is easy and simple, in reality, there is a lot for you to consider, and doing some research ahead of time is really important for finding the right vehicle at a fair price. With that in mind, once you find the right model, simply searching "
Jeep dealership near me
" in a search engine and hoping for the best is not the right way to take advantage of all your hard work.
Searching for a Jeep dealership near you is a good start, but how do you know when you have found the right one? Fortunately, picking the right Jeep dealer is not as hard as finding the right vehicle, but you still need to keep a few things in mind to protect yourself. For one thing, you should choose a trustworthy dealership over a private seller looking to get rid of his old vehicle. While you might pay a little bit more at a dealership, you have more protection with a dealer than a private seller, you can find the best vehicles, and you will know where to turn if something goes wrong.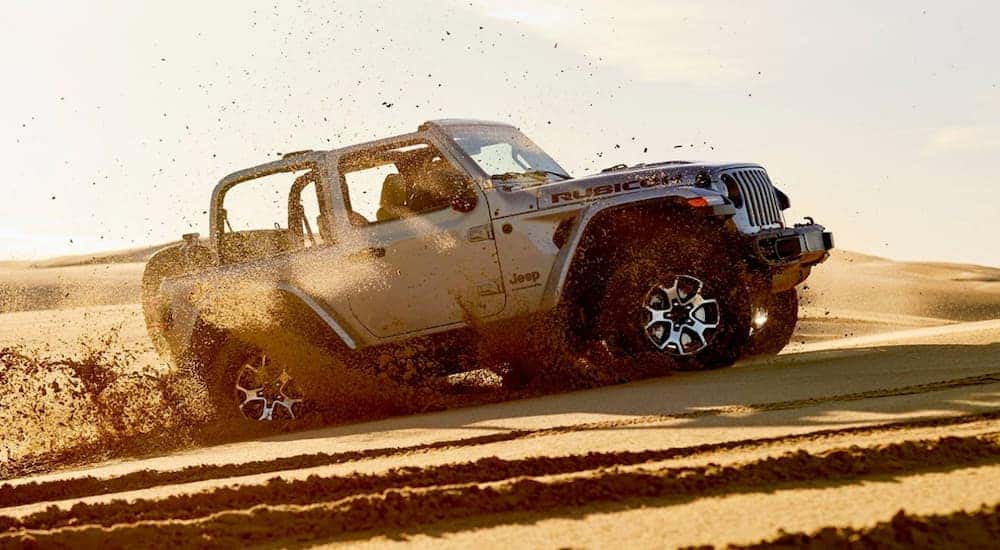 Here at Orange Coast Chrysler Jeep Dodge Ram Fiat, we pride ourselves on not only being a great dealership but on being the best Jeep dealership near you. With our terrific selection of new and used vehicles, our exclusive inventory of Certified Pre-Owned (CPO) Jeeps for you to choose from, and our friendly salespeople, we are here to help you with everything you need. We are not interested in being relentless or making a sale by any means necessary – we are here to put your needs first. Come visit us at Orange Coast CJDRF and see what we can do for you.
New and Used Vehicles
One of the easiest ways to know you have chosen the right Jeep dealership near you is by looking at the inventory of vehicles they have to see if you can find something that will work for you. A large inventory of new Jeeps, like what we have to offer here at Orange Coast, gives you a great deal of freedom to find exactly what you need. Not only do we have many different models, but we carry different trim levels of each model as well as a variety of colors for you to choose from. Part of the joy of choosing a new car is the fun of customizing it to get exactly what you want, and our terrific inventory is designed to let you do just that.
Of course, a brand new Jeep is not the right choice for everyone. Whether you want to save some money, avoid initial depreciation on a new vehicle, or help out the environment by keeping a vehicle on the road longer, a used Jeep is a great choice for a lot of our customers. That is why we have a large selection of used models here at our dealership for you to choose from.
While you cannot customize a used vehicle the way you can a new one, a large selection gives you the freedom to find what you need. We believe we are the best Jeep dealership for you in large part due to our inventory and the way we work with you to make sure you get just the right vehicle. Our philosophy is not that we are here to sell you a car that we want to get rid of; we are here to help you find the Jeep that is right for you.

Certified Pre-Owned Jeeps
A used Jeep is a great choice, but if you are interested in a used vehicle, then you might be concerned about its history and what it has been through. That is a perfectly understandable worry and one that you can address by choosing a Certified Pre-Owned Jeep instead of any other used model. You will only find CPO Jeeps at a Jeep dealership near you – they are not something you can buy from a private seller.
With a CPO Jeep, you know you are getting a used vehicle in the very best condition possible. Every CPO Jeep must pass a rigorous 125-point inspection by Chrysler to ensure it is in excellent condition and to address any issues it might have. All CPO Jeeps come with a free CARFAX vehicle history report, so you know as much as possible about what it has been through before you found it at a Jeep dealership near you.
Chrysler offers terrific peace of mind on their CPO Jeeps, thanks to a pair of warranties that cover your investment in your new vehicle. First, you get a 7-year/100,000-mile powertrain limited warranty, which runs from when the vehicle was sold as new. Second, you get a 3-month/3,000-mile maximum care warranty that starts when you buy your CPO Jeep, giving you excellent coverage on more than 5,000 components on your vehicle. With these warranties and complimentary Roadside Coverage, you get peace of mind with a Certified Pre-Owned Jeep that typically only comes with buying a brand new model.

Why Choose Orange Coast CJDRF?
Here at Orange Coast CJDRF, we believe in making your shopping experience as simple as possible. We already know that you will do a lot of research and put a lot of time into figuring out which vehicle is right for you and where you should shop for it. When you come to us, we spare no effort to show you how much we appreciate your time and the investment that you are going to make in your new vehicle.
We are not just another car dealer looking to make some money and then move on to the next consumer. For us, we are here to build long-term relationships with our customers to ensure they are completely happy when they drive away and that they continue to be satisfied with their vehicles for years to come. Our certified service center and Mopar parts department are here to help you with everything you need after you buy your vehicle, from routine maintenance and service to more serious repairs after a collision. No matter what you need, you will always know where to turn.
That is not something you will typically get when buying from a private seller or at some other dealerships that fail to put your needs first. If you buy from a private seller and discover a problem a week later, they have no reason to care. Just finding the person you bought from can be hard enough, let alone talking to them about service or taking care of an issue. You will always know how to reach us, and we are here to make sure you get everything you need today, tomorrow, and down the road.




We are Here for You
Here at Orange Coast, we are conveniently located in Costa Mesa, just off Harbor Blvd between Adams Ave and Baker St. Whether you are coming to us from Long Beach, Oceanside, or Temecula, we are here to help and make your shopping experience as simple as possible. No matter where you are coming from, we are easy to get to: you can find us less a mile off the 405. Call or visit us today and let us show you why Orange Coast is the Jeep dealership for you.
Get In Touch