Jeep Dealership Near Me – Costa Mesa, CA
We might as well say it: buying a car is a lot of work. Although we would like to say that it is easy and simple, in reality, there is a lot for you to consider, and doing some research ahead of time is really important for finding the right vehicle at a fair price. With that in mind, once you find the right model, simply searching "Jeep dealership near me" in a search engine and hoping for the best is not the right way to take advantage of all your hard work.Searching for a Jeep dealership near you is a good start, but how do you know when you have found the right one? Fortunately, picking the right Jeep dealer is not as hard as finding the right vehicle, but you still need to keep a few things in mind to protect yourself. For one thing, you should choose a trustworthy dealership over a private seller looking to get rid of his old vehicle. While you might pay a little bit more at a dealership, you have more protection with a dealer than a private seller, you can find the best vehicles, and you will know where to turn if something goes wrong.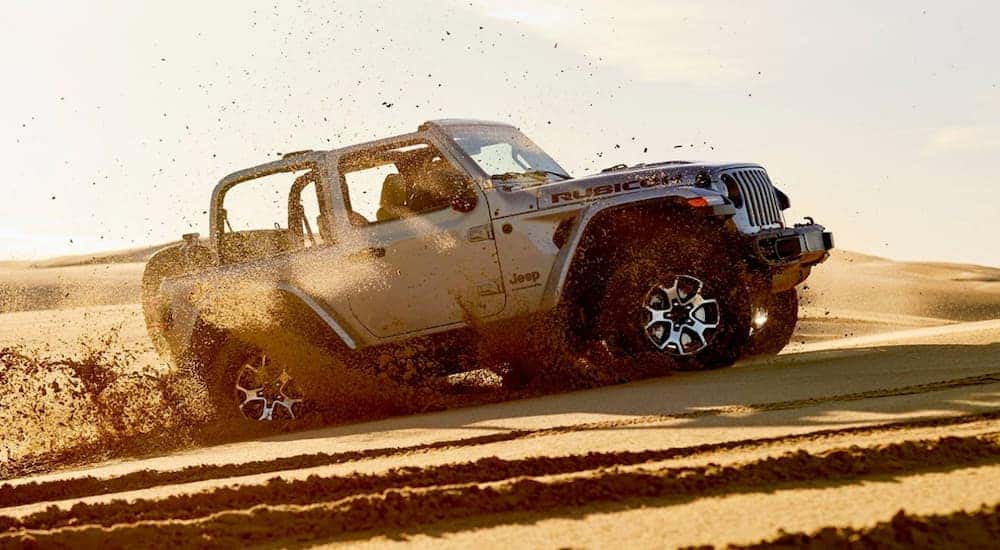 Here at Orange Coast Chrysler Jeep Dodge Ram Fiat, we pride ourselves on not only being a great dealership but on being the best Jeep dealership near you. With our terrific selection of new and used vehicles, our exclusive inventory of Certified Pre-Owned (CPO) Jeeps for you to choose from, and our friendly salespeople, we are here to help you with everything you need. We are not interested in being relentless or making a sale by any means necessary – we are here to put your needs first. Come visit us at Orange Coast CJDRF and see what we can do for you.
New and Used Vehicles
One of the easiest ways to know you have chosen the right Jeep dealership near you is by looking at the inventory of vehicles they have to see if you can find something that will work for you. A large inventory of new Jeeps, like what we have to offer here at Orange Coast, gives you a great deal of freedom to find exactly what you need. Not only do we have many different models, but we carry different trim levels of each model as well as a variety of colors for you to choose from. Part of the joy of choosing a new car is the fun of customizing it to get exactly what you want, and our terrific inventory is designed to let you do just that.
Of course, a brand new Jeep is not the right choice for everyone. Whether you want to save some money, avoid initial depreciation on a new vehicle, or help out the environment by keeping a vehicle on the road longer, a used Jeep is a great choice for a lot of our customers. That is why we have a large selection of used models here at our dealership for you to choose from.
While you cannot customize a used vehicle the way you can a new one, a large selection gives you the freedom to find what you need. We believe we are the best Jeep dealership for you in large part due to our inventory and the way we work with you to make sure you get just the right vehicle. Our philosophy is not that we are here to sell you a car that we want to get rid of; we are here to help you find the Jeep that is right for you.
The 2020 Jeep Wrangler

The Jeep Wrangler is the most iconic off-road vehicle ever built. With a history that dates back to the original military Jeeps of World War II, the Jeep Wrangler combines an incredible level of performance and utility with unforgettable styling. Coming standard with four-wheel drive, solid axles, and almost a foot of ground clearance, the 2020 Jeep Wrangler is an off-road monster straight out of the box and can be easily modified for even more capability. When checking out a 2020 Jeep Wrangler at a Jeep dealership near you, you will discover this vehicle offers an unparalleled number of options, with two body styles, three top types, and five available engines.
Your first choice when considering a 2020 Jeep Wrangler is to decide if you want a 2-door or a 4-door vehicle. While the 4-door body style offers a more accessible rear seat and up to 72.4 cubic feet of cargo space instead of just 31.7 cubic feet, the 2-door cuts the wheelbase down from 118.4" to 96.8" and reduces the turning radius from 20.4' to 17.3' for a far more agile vehicle. In general, the 4-door Wrangler makes for a better all-around vehicle while the 2-door Wrangler is the superior dedicated off-road machine. Both body styles are available with either a three-piece removable hardtop, a Sky One-Touch hardtop with a power-retractable roof, or a Sunrider multi-position soft top. And no matter which body style and top combination you choose, you will have the ability to easily remove the windshield and doors when you want the full Jeep experience.
The second most important choice is which engine you want. The 2020 Jeep Wrangler comes standard with a 3.6L Pentastar V6 with 285 horsepower and 260 pound-feet of torque. The other available options are a 2.0L turbo with 270 horsepower and 295 lb-ft of torque and a brand-new for 2020 3.0L EcoDiesel with 260 horsepower and 442 lb-ft of torque. The Pentastar and 2.0L turbo engines are also available with Jeep's eTorque system, which adds a small electric motor to boost low-end torque and improve the 2020 Wrangler's low-speed capabilities. If you choose the 2020 Wrangler Rubicon trim, you will also get an improved 4×4 system that includes a 4:1 low gear ratio and front and rear Tru-Lok electronic locking differentials for the ultimate in off-road performance.
The 2020 Jeep Gladiator
Brand-new for the 2020 model year, the Jeep Gladiator is the most anticipated addition to the Jeep lineup in years. Sharing a platform with the Jeep Wrangler, the Jeep Gladiator extends the wheelbase to 137" to fit both a 4-door cab and a 5' box, resulting in an adventurous pickup that is a winning combination of practicality and incredible off-road capability. Because this is still the first model year for this new vehicle, available options for the Gladiators at Jeep dealerships near you are still limited. For instance, only a single engine option is currently offered––the 3.6L Pentastar V6 from the 2020 Jeep Wrangler. However, the 2020 Jeep Gladiator still offers a wide variety of trims to choose from and shares the impressive modularity of the Jeep Wrangler.
Just like the Jeep Wrangler, the Gladiator has a quick-detach windshield and doors as well as the option for either a three-piece removable hardtop or a Sunrider soft top. And as a pickup, it also comes with a three-position tailgate and a variety of soft and hard tonneau covers to choose from. The Gladiator also shares all of the Wrangler's off-road features, from its standard 4×4 powertrain and solid axles to its steel skid plates and 30" fording ability. Altogether, this makes the 2020 Jeep Gladiator an entirely unique option in the world of pickup trucks, being built from the ground up for off-road performance instead of just having some off-road features added to a vehicle designed mainly for on-road use.
But the 2020 Jeep Gladiator is not just a Wrangler with a box. It is a true pickup truck and has a best in class gas-engine tow rating of 7,650 pounds. The Gladiator towing package also includes technology such as an integrated trailer brake controller with adjustable trailer brake settings and a backup camera with a 4X trailer hitch zoom and dynamic hitch guidelines. Features such as these make towing with the Gladiator as easy as with any other truck. The payload of the Gladiator also stands out at an impressive 1,700 pounds. The box is also well-designed with four fully-integrated fold-flush tie-down points as well as an available Trail Rail mounting system that can accommodate any cargo. Finally, in the rear of the bed, you will find a 115-volt / 400-watt power outlet for powering everything from power tools to camping gear. To understand better just how revolutionary the 2020 Jeep Gladiator is, visit us at Orange Coast CJDRF and set up a test drive.

Certified Pre-Owned Jeeps
A used Jeep is a great choice, but if you are interested in a used vehicle, then you might be concerned about its history and what it has been through. That is a perfectly understandable worry and one that you can address by choosing a Certified Pre-Owned Jeep instead of any other used model. You will only find CPO Jeeps at a Jeep dealership near you – they are not something you can buy from a private seller.
With a CPO Jeep, you know you are getting a used vehicle in the very best condition possible. Every CPO Jeep must pass a rigorous 125-point inspection by Chrysler to ensure it is in excellent condition and to address any issues it might have. All CPO Jeeps come with a free CARFAX vehicle history report, so you know as much as possible about what it has been through before you found it at a Jeep dealership near you.
Chrysler offers terrific peace of mind on their CPO Jeeps, thanks to a pair of warranties that cover your investment in your new vehicle. First, you get a 7-year/100,000-mile powertrain limited warranty, which runs from when the vehicle was sold as new. Second, you get a 3-month/3,000-mile maximum care warranty that starts when you buy your CPO Jeep, giving you excellent coverage on more than 5,000 components on your vehicle. With these warranties and complimentary Roadside Coverage, you get peace of mind with a Certified Pre-Owned Jeep that typically only comes with buying a brand new model.

Why Choose Orange Coast CJDRF?
Here at Orange Coast CJDRF, we believe in making your shopping experience as simple as possible. We already know that you will do a lot of research and put a lot of time into figuring out which vehicle is right for you and where you should shop for it. When you come to us, we spare no effort to show you how much we appreciate your time and the investment that you are going to make in your new vehicle.
We are not just another car dealer looking to make some money and then move on to the next consumer. For us, we are here to build long-term relationships with our customers to ensure they are completely happy when they drive away and that they continue to be satisfied with their vehicles for years to come. Our certified service center and Mopar parts department are here to help you with everything you need after you buy your vehicle, from routine maintenance and service to more serious repairs after a collision. No matter what you need, you will always know where to turn.
That is not something you will typically get when buying from a private seller or at some other dealerships that fail to put your needs first. If you buy from a private seller and discover a problem a week later, they have no reason to care. Just finding the person you bought from can be hard enough, let alone talking to them about service or taking care of an issue. You will always know how to reach us, and we are here to make sure you get everything you need today, tomorrow, and down the road.
Explore Orange County
Here at Orange Coast Chrysler Jeep Dodge Ram FIAT, we are huge fans of the vehicles that we sell. And from the Jeep Wrangler to the Ram 1500, many of those vehicles are best known for their spectacular off-road performance. So we thought that we would share some of our favorite local off-roading locations where you can test your vehicle and your driving skills to their limits. Although our dealership is in Costa Mesa, Orange County is blessed with numerous nearby areas for you to explore. From the nearby Limestone Canyon regional park to the vast expanses of the Sequoia national forest and Death Valley national park a few hours to the north, residents of Orange County will never run out of new areas for your adventures. Our favorite off-roading areas are found in the San Bernardino and Angeles national forests about an hour from our dealership.
A good starter trail is the Cleghorn Ridge OHV road. Easily accessed from Interstate 15 or Highway 138, this dirt trail offers over 15 miles of Green Circle-rated off-road driving. Enjoy views of desert and mountain scenery as you wind your way through the hills of the San Bernardino national forest. Another great option in the Rincon Shortcut OHV road. Although you will have to get a permit from a national forest service office, these permits are free, last for 14 days, and only require you to present a valid driver's license and details of your vehicle. Access to the Rincon Shortcut is from either Highway 39 or Highway 2, and the trail itself covers 25 miles with roughly 10,000 feet of elevation changes.
However, our local national forests are not only for off-roaders. If you have a road vehicle or just want to take a break from technical off-road driving, then you can also enjoy the natural beauty of the San Bernardino and Angeles national forests by traveling the Rim of the World or Angeles Crest scenic byways. These paved roads offer an amazing driving experience along with wilderness sights, including Big Bear Lake, Sugarloaf Mountain, and Mount San Antonio. But whether you chose to stick to the blacktop or challenge the mountain trails, all of us at Orange Coast Chrysler Jeep Dodge Ram FIAT, your favorite Jeep dealership, hope to see you on the road enjoying everything Orange County has to offer.

We are Here for You
Here at Orange Coast, we are conveniently located in Costa Mesa, just off Harbor Blvd between Adams Ave and Baker St. Whether you are coming to us from Long Beach, Oceanside, or Temecula, we are here to help and make your shopping experience as simple as possible. No matter where you are coming from, we are easy to get to: you can find us less a mile off the 405. Call or visit us today and let us show you why Orange Coast is the Jeep dealership for you.
Get In Touch