Jeep Lease
Leasing has become more and more popular over the last several years. People are realizing that a long-term investment in a new vehicle may not be the most viable option for them. The reasons vary with each case, but some just find that it's not right for them at the time. If you are looking for a new or pre-owned
Jeep, lease
options might be the best course of action for you.For much the same reason that more people are renting homes instead of buying these days, some prefer to lease a vehicle. There are a wide variety of reasons, but we will take a look at some of the more popular below. If some of these reasons appeal to you, then you may be a part of the growing leasing market. If you are, we invite you to come down to Orange Coast CDJR and see if a new Jeep lease is in your future.

Why Orange Coast CDJR?New Jeep VehiclesSpecial Offers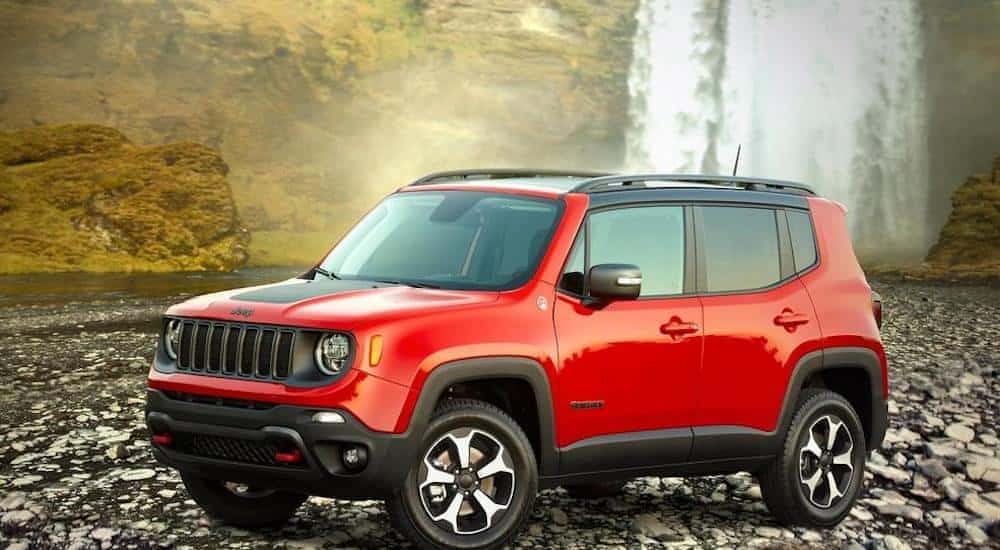 Long-Term Ownership is Not All It Is Cracked Up to Be
Many people around the world love their vehicles. They feel a special bond with it. They name it, take pristine care of it, show it off to neighbors and dote on it like a loved one. However, for many people a vehicle is just a means to an end. It is simply a way to get from point A to point B.
Those that don't necessarily feel a special connection to their cars or trucks have no real reason to make such a long-term investment. Moreover, every day you own the car and every mile you drive it, the value of the car depreciates. When it comes time to trade it in or sell it, you now have a car that is only worth a fraction of how much you paid for it, despite the impeccable care you may have shown it.
Now, while this next point is actually rooted in science or statistics, you have no doubt heard the stories from friends and co-workers of them getting into a wreck or having a tree fall on their car within days of it being paid off. With leasing, that is not an issue for you. Since you don't own the car, you will never actually pay it off. Even though it has only ever happened to friends and neighbors, do you really want to take that chance?
The Automotive Industry is Changing at a Breakneck Pace
Twenty or thirty years ago, automotive technology would often go several years between any major innovations. Makes and models would go largely unchanged during those time periods.
Today, however, the automotive technology is changing at such a rate that new generations are coming out every 3-4 years for some models. These models are radically different from their immediate ancestors. What was once a sedan might be a crossover now. Technology that was cutting edge five years ago is now redundant. The interiors of modern vehicles look radically different than they did just ten years ago, given all the safety and infotainment options available.
For those that like to stay abreast of such technology and innovations, leasing is an excellent option. Leasing allows for a driver to upgrade to the latest model generation and enjoy all the newest technology that their particular favorite make and model have to offer. If you are stuck with a car payment, you might have to view this changing automotive world from outside the driver's side window.
Since 2-3 years is the most popular time frame for leasing and many models release new generations at around the same pace, those that lease on that time frame are far more likely to be able to enjoy this new technology, both in the vehicle and under the hood. They are also better educated first hand on this technology. It is far better to be able to experience new innovations in a practical setting than just reading about it.
Leasing is a Mutually Beneficial Relationship
Automakers love nothing more than to get their latest models out on the roads with regularity. A manufacturer can set you into a fixed deal that will expire in X number of months. When the lease expires, most leasers will invariably choose to renew with the same manufacturer and (more often than not) the same make and model. A lot of this stems from familiarity with the vehicle and a relationship with the dealership.
To that end, they offer those that lease better deals than those who buy. Monthly payments are often much lower than a car payment. And those lease options that have mileage agreements are very easy to calculate and control for those with regular driving habits. Manufacturers know this and like to keep those that lease vehicle after vehicle locked in with very agreeable terms and conditions. The manufacturer gets repeat business while the consumer gets reliability and familiarity at a reasonable and expected rate. That is the definition of a win/win.

Sometimes You Only Need a Few Years
Many people opt to lease because they know their station in life will be changing in a few years. For instance, a student going off to college would be a good person to lease because he can get a very good lease deal for four years and be able to make a decision on a new vehicle after graduation. College students love having a low, steady payment to make.
Some people move to a new city for a few years for a contract job. It would make no sense at all to buy a house in that city, only to have to worry about selling it when the job contract is up. The same goes for a vehicle. Living in a new city means getting a new lease on a car. The cycle continues.
However, the college student or the contract worker may find that they like that particular car, truck or SUV and are sad to see the lease come to an end. At this point, the lease-to-buy option becomes a reality for many.

Come Visit Orange Coast CDJR!
At Orange Coast Chrysler Dodge Jeep RAM, we understand that there are any number of reasons someone may want to lease rather than buy. Our finance department can walk you through all of the different lease options we have available. We have deals for all types of Jeep vehicles and can set you up in a variety of terms of length, down payment, monthly payment and all of the other confusing aspects of financing a new vehicle.
We understand that most people out there do not know the intricacies of this process. We will take our time to make sure that you know exactly what you are getting into with a Jeep lease, what you can expect on a monthly basis and what will happen when the lease is up.
We invite you to check out our online showroom and view all of our available Jeep vehicles (and so many more). We also have special sections dedicated to our finance center, with special sections covering applications and payment calculators. However, as cool and useful as this is, nothing beats talking to our amazing sales and financial teams in person. We look forward to serving you soon!
Get In Touch