Orange County Dodge Dealers

As an Orange County Dodge dealer, we pride ourselves on having a wide array of new and used Dodges ready and waiting for you to come take a test drive! Because of the popularity of the Dodge brand, our selection is constantly changing so we encourage you to stop by or give us a call to see what we've got in stock! At any one time we will be sure to have the latest versions of popular models like the Dodge Charger, Dodge Challenger, and Dodge Durango. Other Orange County dealers don't have award-winning service and sales staff, and other Orange County Dodge dealers won't offer you a 72 hour/250 mile unconditional money back guarantee on each and every one of their cars. We do, though! We know that you'll be so satisfied with the service and support you receive at our Orange County Dodge dealership that you'll be coming back for maintenance at our service department for years to come. Don't believe us? Check out our outstanding customer reviews on impartial rating sites like Google, Yelp, Facebook, and DealerRater!
Here are some details on some of the most popular Dodge models at our Orange Coast CDJR (Chrysler Dodge Jeep RAM) dealership!

Why Orange Coast CDJR?New Dodge InventorySpecial Offers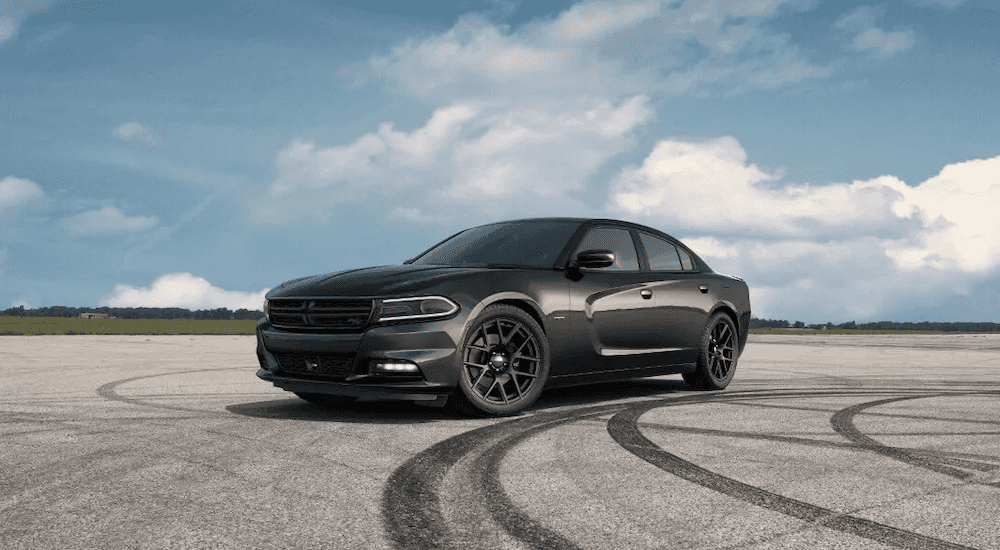 The 2019 Dodge Charger
The 2019 Dodge Charger is becoming a common site in CA as this large car "flies off the shelves" of Orange Coast Dodge dealers everywhere. It's features some incredibly powerful engine option as well as excellent handling for such a large car. You can easily fit five people inside, even long-legged adults, and no one will feel cramped. With 16.5 cu.ft of cargo space, you can get the whole family's luggage inside with no problem! This is a great car even for a long drive and a must for anyone with a commute or who likes to road-trip!
The engine options in the 2019 Dodge Charger range from a 292 horsepower V6 base engine all the way up to a 707 horsepower V8 behemoth! That one will really fly by other cars on the highway, not to mention make a statement no matter where you go. Expect to get between 13-19 MPG city and 22-30 MPG highway. This large sedan will get you where you're going in a hurry, no matter which engine option you decide on in the end.
The 2019 Dodge Charger comes with the Uconnect infotainment system and includes four USB ports, a six-speaker audio system, satellite radio, Bluetooth, Apple CarPlay and Android Auto, and a 7-inch touch screen. If you want to get a little fancy, you can get an upgraded Uconnect system with navigation, one of three premium audio systems, and an 8.4-inch touch screen.
The 2019 Dodge Durango
Any Orange County Dodge dealer worth their salt will have a great selection of new 2019 Dodge Durangos in stock. If you want to stop on by, we can show you our wide selection and let you take a test drive! This mid-size SUV is a very popular one, especially for folks with families. The Durango offers great horsepower from its powerful lineup of engine options and some excellent cargo space. This SUV can take you from school to the office to a whirl-wind cross-country road trip with no issues!
The 2019 Dodge Durango seats five people when it's standardly configured, but can be customized to fit up to seven people by adding a third row. This is great if you're planning on taking the whole family up and down the Orange Coast! Dodge dealers can take you through the ins-and-outs of the different engine options to make sure you're getting the one with the amount of power to fit your needs. The standard engine on the 2019 Dodge Durango is a 3.6-liter V6 engine which makes 295 horsepower and 260 lb-ft of torque. A 360 horsepower 5.7-liter V8 engine is optional in the Citadel trim and standard in the R/T. The top-of-the-line SRT trim of the Durango features a 6.4-liter V8 that makes 475 horsepower and 470 lb-ft of torque! This is more than enough to fly you down the highway with a full carload of people and luggage to boot!

Depending on the powertrain equipped and whether you opt for the standard RWD or AWD drivetrain, you can expect to get between 13-19 MPG in the city and 19-26 MPG on the highway. All of these estimations are pretty average for the class.
If you are planning a road trip, you'll be pleased to know that the 2019 Dodge Durango has 17.2 cu.ft of cargo space behind the third-row seats. If you want still more space, simply fold down the back row to create 43.3 cu.ft, or go whole-hog and fold the second row down as well to create a maximum of 85.1 cu.ft. Even compared to other rival mid-size SUVs, this is a whole lot of space!
Like most cars and SUVs you come across at Orange County Dodge dealers, you'll find a rearview camera comes standard in the 2019 Dodge Durango. What isn't always standard but is in the Durango is the Uconnect infotainment system, a 7-inch touch screen, a six-speaker stereo, Bluetooth, two USB ports, voice controls, and Apple CarPlay and Android Auto. Whew! That's a lot of standard features! You can upgrade to get an even bigger 8.4-inch touch screen, navigation, satellite radio, a nine-speaker Alpine stereo, a nineteen speaker Harman Kardon premium sound system, a rear-seat Blu-ray/DVD entertainment system, and an abundance of advanced safety features. All of these combine to make the Durango one of the most fun, entertaining, and comfortable ways to transport your family.
The 2019 Dodge Challenger
At our Orange County Dodge Dealership, you can test drive and learn about the thrilling 2019 Dodge Challenger. This sports car is designed to go fast and keep you moving in style. Other Orange County Dodge dealers may be able to show you some of these beauties, but we're the experts when it comes to the Challenger and we know it inside and out.
This Challenger seats up to 5 people, something that makes it special in the sports car family. If you do decide to head out for a road trip in the new Dodge Challenger, bumps and dips in the pavement won't bother you and you'll barely hear any noise from outside. This car's roomy front seats are made to accommodate any body type and the back seats are also unusually spacious. Not only is the cockpit large, but the 2019 Dodge Challenger also offers 16.2 cu.ft of trunk space which is one of the largest of its class.

The 2019 Dodge Challenger features a vintage-styled dash with a high-tech infotainment system positioned so as not to detract for the overall appeal of the Challenger. Orange Country Dodge dealers will proudly show you the Challengers Uconnect system which is most commonly found in many Fiat Chrysler Automobiles (FCA) models. This is one of the top infotainment systems and even comes standard with Apple CarPlay and Android Auto. This is a great benefit if you're planning on doing some road tripping in your new Challenger!
Power and performance really define what the Challenger is all about though, not cargo room or technology features. Every single Challenger you see at an Orange Country Dodge dealership will have a robust engine that starts at 305 horsepower! That's the rating for the base 3.6-liter V6 engine. For more power, drivers an upgrade to one of four available Hemi V8 engine! These include a 375 horsepower R/T, 485 horsepower R/T Scat Pack, and 717 horsepower Hellcat.
The Hellcat Redeye can sprint a quarter-mile race in 10.8 seconds at 131 mph and has a top speed of 203 mph. This is an unbelievable amount of speed, and we just hope you have chance to try it! No matter what engine you choose, there's no lack of power in any Dodge Challenger. You can expect to get between 13-19 MPG driving around in the city and 21-30 MPG highway driving depending on the powertrain and whether RWD or AWD is equipped. Remember, these cars aren't built for fuel efficiency, they're built for power!

Get In Touch