Explore Ram Trucks at Orange Coast
If you are looking at Ram trucks and are ready to start your search, there is no better place to get started than Orange Coast, where we value your time. Because of that, we promise to get you on the road in your new Ram truck in less than 90 minutes from the moment you decide you want to buy a vehicle. If we run over 90 minutes, we'll give you a $100 credit that you can use on your first service appointment. And even more than time, we value you, which is why we are committed to providing you with the best vehicles possible.
For example, in the ever-competitive full-size truck segment, there is no better truck than the Ram 1500. This popular model stands out for its excellent towing and payload numbers, comfortable ride, and sophisticated interior. It's not just that it's a work truck and luxury truck - it's a truck made for the modern demands of life, whether you live on a ranch or in town. But that is just one example; we have so many other great vehicles on our lot. And with over 1,000 new and used vehicles to choose from, we guarantee we'll have plenty of Ram trucks to choose from when you come visit us.
On the off chance that we don't have the Ram model you're looking for, we'll find it. Just give us 72 hours - if we can't find it, we'll make the first payment on a vehicle of your choice from our lot. How is that for transparency and customer service? Speaking of transparency, though, one of the best parts of shopping for Ram trucks at Orange Coast is our policy for transparency - what you see on our website is the price and will be honored at the dealership. No tricks. There's a reason why we won the FCA's Customer First Award - we value our customer's experience. Stop by today, take a Ram truck for a test drive, and we will be sure to take care of you.
Ram History
Horace and John Dodge got their start in the automotive industry back in 1900. The Dodge Brothers Company began by building components for larger manufacturers but soon decided to build their own vehicles. Starting with the 1914 Dodge Model 30/35, they built a reputation for manufacturing high-quality models that pioneered now standard features like all-steel construction and 12V electrical systems.
Early Dodge vehicles were so reliable that they were soon selected for military service and found themselves transporting soldiers and materiel during World War I. The US Army trusted Dodge so much that they continued to rely on the company's trucks up through World War II. It was during this same period that Dodge first introduced the Ram emblem as a symbol of its truck's strength and power.
The original Ram emblem only lasted until 1954, but in 1980, it returned with a vengeance. Dodge had decided it was time to shake up the truck world with an all-new pickup with revolutionary styling and capabilities. The new Dodge Ram truck succeeded at its mission, and Ram once again became synonymous with strength and power. Ever since then, the former Dodge logo of a ram's head has become its prevailing logo to this day.
In the years 1988 and 1989, Ram trucks introduced electronic fuel injection and a brand-new line of engines for their pickup trucks. This was also around the time the now-famous Cummins turbo-diesel engine would enter the automotive world in Ram trucks. In 1990, Dodge was even forced to increase availability of the popular diesel models since they became so desired by fans.
In 1994, Ram trucks got bigger, better, and even more rugged looking with brand new models, trims, and major redesigns. This is where the labels 1500, 2500, and 3500 were first introduced by this brand (up until that point, Dodge had used 150, 250, and 350). As for trims, this was around the time the Work Special, LT, ST, and Laramie SLT levels were first introduced. Overall, it was a big year of celebration for Dodge Ram.
In October of 2009, Dodge and Ram decided to split, and in 2010 Ram was officially established as an independent division of Chrysler. This development caused dedicated fans of Ram trucks to fear for the future, but that fear was completely unwarranted since Dodge and Ram still have a brilliant relationship, and they could now both focus on what they are truly passionate about. Dodge builds powerful muscle cars and SUVs, while Ram is committed to producing innovative and capable pickup trucks. Since the split, both brands have revitalized themselves and produced incredible new vehicles.
Overall, the history of Ram trucks is truly respectable and laid the groundwork for future potential, passion, and quality in the field of powerful pickups.

Ram Trucks Performance
The modern generation of the Ram pickup, starting in 2009, has seen some of the most impressive and powerful models ever available with the Ram name on them. This includes the standard full-size Ram 1500, as well as heavy-duty options such as the Ram 2500 and Ram 3500. Over the years, there have been several incredibly powerful and impressive engines available on these Ram trucks, creating some performance options that you will not find on a lot of other models.
When the fourth-generation Ram pickup launched in 2009, it had quite a few different engines available. The Ram 1500 offered an incredibly impressive 5.7L HEMI V8 engine, which initially provided up to 390 hp and 407 lb-ft of torque, though that was upgraded in 2013 to 395 hp and 410 lb-ft of torque. Also starting in 2013, the heavy-duty Ram 2500 and 3500 models were available with an uprated 6.7L Cummins turbo-diesel I-6 engine that offered up to 385 hp and 850 lb-ft of torque. This legendary engine was again upgraded in 2019 to deliver up to 400 hp and an unbelievable 1000 lb-ft of torque.
While those numbers were certainly impressive, Ram engineers have pushed even further to deliver some of the most powerful and incredible Ram trucks ever seen on the road. In particular, the development of the new eTorque technology has allowed for incredible performance across the Ram lineup. The eTorque engines use a mild hybrid system that features an electric motor/generator rather than a standard alternator to boost performance, overall efficiency, and even towing and payload capabilities.
For example, the 2021 Ram 1500 has two different 5.7L HEMI V8 engines available - one with eTorque and one without. While they both deliver 395 hp and 410 lb-ft of torque, the standard engine has a maximum tow rating of up to 11,650 lbs, while the eTorque engine has up to 12,750 lbs of maximum towing. Despite its extra power, the eTorque system also gets an extra 2 MPG combined. That is how much of a difference the mild-hybrid system makes, and it really delivers in terms of overall power and performance.
If you are not interested in a mild hybrid, then the mighty 6.7L Cummins Turbo Diesel I-6 engine offered on the Ram 2500 and Ram 3500 may be exactly what you are looking for. This engine blends incredible towing and fuel economy, massively outperforming even the Ram 1500's eTorque V8. The Ram 3500 features an incredible High Output version of the Cummins turbo-diesel engine, with a maximum towing of up to 37,100 lbs for the 2021 model year. No other truck brand can offer the same level of diesel performance as Ram. Overall, the history of Ram trucks is strong, and so is the performance that goes along with it.

Ram Trucks Technology
If there is one thing that has set modern Ram trucks apart from the competition, it is their high-tech features and advanced options. While the other truck brands were content offering a basic radio and CD player, Ram forged ahead and included the most advanced infotainment system in any truck.
The Uconnect 4C system with an optional 12-inch central infotainment screen first became available on the 2019 Ram 1500, when other manufacturers were still offering 7-inch screens as their largest possible option. With options for split-screen functionality, Apple CarPlay and Android Auto integration, and an incredibly responsive and intuitive user interface, this system raised the bar for what was expected in a high-end truck and set a standard that other manufacturers have taken years to catch up with. However, Ram still included plenty of hard button controls that are easy to manipulate while driving, providing a user experience that is both advanced and familiar.
This dedication to cutting-edge technology was carried across the entire trim lineup, with other options, including a 19-speaker Harman Kardon premium sound system. Combined with built-in active noise cancelling technology, this speaker system quite simply left every other pickup audio experience in its dust. Ram's unique method of combining cutting-edge features with old-school details is also seen in its driver instrument cluster. The central 7-inch digital display shows important information with full-color 3D graphics, but it is still flanked by large analog gauges for the speedometer, tachometer, fuel level, and engine temperature. Ram is always pushing the envelope without reinventing the wheel.
When it comes to safety, Ram's use of advanced driver-assist technology has made the Ram 1500 one of the safest trucks on the market, being named an IIHS Top Safety pick no fewer than three years in a row. Available features such as Forward Collision Warning with Active Braking, Blind Spot Monitoring, and LaneSense Lane Departure Warning with Lane Keep Assist help protect you wherever you go. Even better, many of these advanced safety features are specifically designed to work when pulling a trailer, helping to make trailering a safer activity.
Ram is the only manufacturer that only builds trucks; it has been able to focus entirely on developing the sort of technologies that truck owners need. When you get behind the wheel of a Ram, you won't be greeted by one-size-fits-all features that are shared with sedans and SUVs. Instead, you will find a truck that has been designed solely for truck owners by a company that understands exactly what you are looking for in a pickup. From towing to off-roading, every tech feature was engineered to fit your hard-working lifestyle.
2022 Ram 1500
It seems that with every year, the Ram 1500 just keeps getting better, and that remains true for 2022. While the proven platform and engines remain unchanged, Ram's most popular pickup is getting a slew of new options and packages that will allow you to better tailor your truck to fit your style and requirements.
Headlining the new options is the BackCountry Edition, available on the Big Horn trim. With a rear locker, off-road suspension, all-terrain tires, and more, this version of the Ram 1500 is perfect for people looking for a trail-ready truck who do not want a pure off-road machine like the Rebel or TRX. On top of its off-road features, the BackCountry includes a number of distinctive styling elements, including a body-color grille, tinted headlights, and black trim.
Another new choice for 2022 Ram buyers is the G/T Package for the Laramie and Rebel trims. This sporty option adds a cold air intake and performance exhaust to the 5.7L HEMI V8, and gives you greater control over the vehicle with steering-wheel paddle shifters and dedicated performance pages in the infotainment system. To stand out, the G/T Package trucks come with special exterior badging and unique G/T logos on the seatbacks.
Even if you do not opt for one of these new customization options, the 2022 Ram 1500 continues to offer unbelievable performance and luxury. With powerful HEMI V8 and turbo-diesel engine options, you will have enough power to tackle any task. The maximum towing capacity for the 2022 model comes in at an impressive 12,750 pounds, thanks to the options eTorque mild-hybrid system, and this pickup can haul up to 2,302 pounds. No matter which of the three engine options you choose, you will get a modern 8-speed transmission optimized for performance and towing.
But with Ram's unique coil-spring rear suspension, advanced technology, and impeccable attention to interior details, you are getting a truck that is as comfortable as it is capable. Inside the cabin, you can enjoy a massive 12-inch infotainment screen supplemented by a driver information screen and head-up display. But technology alone is not what makes the Ram 1500 a luxury truck. With its best-in-class ride quality and high-quality design, the cab of this pickup doesn't feel like any other truck you've driven.

2021 Ram TRX
Among the incredible lineup of Ram trucks, there is still room for some remarkable standouts, and one of the most impressive ones we have seen is the 2021 Ram 1500 TRX. Much more than a simple trim level, the Ram TRX is the definitive high-performance full-size pickup, offering amazing power and a driving experience that few other trucks can even imagine. It has an outstanding supercharged V8 engine that delivers a tremendous amount of power, giving you performance that you would expect from a muscle car, while still offering the fantastic functionality of a pickup.
The Ram TRX is a clear competitor to the Ford F-150 Raptor and has far exceeded anything that Ford has offered. Best of all, the impressive performance of the TRX comes with Ram's unbeatable luxury and sophistication inside, so you get a truly one-of-a-kind experience that no other truck on the road can come close to providing. If it seems like we are a bit excited about the Ram TRX, then you have the right idea, because this is a truck that really redefines a lot of our notions and ideas about what to expect in a high-performance pickup.
It all starts with the engine, and the Ram TRX delivers where few others can: it has a 6.2L supercharged HEMI V8 engine like the one you can find in the Dodge Challenger Hellcat, which delivers up to 702 hp and up to 650 lb-ft of torque. Just a reminder, this is a standard full-size pickup, not a heavy-duty model. This comes with a high-performance exhaust, Bilstein Black Hawk e2 shocks, and a performance-proven TorqueFlite 8-speed automatic transmission with performance-tuned software that functions with eight available drive modes.
This is the first Ram truck to be equipped with Launch Control, which is something that you would normally expect to find in a sports car, allowing you to control the engine RPM to achieve the fastest possible launches off the line. How fast? The Ram TRX can go from 0 to 60 in just 4.5 seconds – all while giving you nearly a full foot of ground clearance, 13 inches of front suspension travel, and 14 inches of rear suspension travel.
The TRX also has 35-inch tires, an increased width compared to other Ram 1500 models, and much more to give it a powerful and dominating stance on the road. The interior features an available head-up display, customizable performance, and off-road packages, performance seating, and a flat-bottom steering wheel with integrated aluminum paddle shifters to remind you that you are in control of a true performance vehicle. If you want raw power and an amazing driving experience with your pickup, then the 2021 Ram TRX is the truck for you.

2020 Ram Power Wagon
The 2020 Ram Power Wagon is a trim level available for the Ram 2500 heavy-duty pickup, which offers an impressive overall driving experience and the finest HD truck for going off-road. This latest model is better than ever before and includes a number of upgrades and truly stunning overall performance. While there is no denying that this is an incredible choice for off-roading, it is also a fine Ram truck in and of itself - though we certainly recommend it for those looking to enjoy its full potential on the trail.
In terms of raw power, the 2020 Ram Power Wagon comes with a 6.4L HEMI V8 engine that delivers 410 hp and 429 lb-ft of torque and comes paired with an 8-speed automatic transmission and a manual shift-on-the-fly part-time 4x4 transfer case to keep you in control. It has Bilstein off-road shocks, so you are not constantly thrown around when driving off-road, plus skid plates to protect the fuel tank, transfer case, and front suspension. It also features a Ram Articulink front suspension designed for going off-road and providing you with a tactile and robust trail experience.
The Power Wagon has 17-inch aluminum wheels with 33-inch Goodyear Wrangler DuraTrac tires, giving it more than 14 inches of total ground clearance. It can ford through 30 inches of water, plus it has electronically locking differentials to provide you with incredible performance on even the most challenging terrain. With 4WD functionality and a fantastic low range for crawling, this is a terrific choice for steep inclines, uneven ground, and pretty much anything else you might encounter while on the trail.
If you happen to encounter someone else while going off-road, who did not come prepared with as impressive a machine as you have, then you are equipped in the Power Wagon to help them out. It has a 12,000-pound winch mounted behind the front bumper, giving you plenty of muscle to assist someone else if they get stuck. And the entire time, you will be in the lap of luxury thanks to an 8-inch infotainment display, 7-inch driver information display, numerous USB ports, and other rich interior amenities to keep you comfortable. All in all, this impressive off-road pickup delivers in every way you could want from a heavy-duty Ram truck.
2020 Ram 1500
The first of three trucks in Ram's lineup, the 2020 Ram 1500 is a full-size truck designed for light-duty pickup. While other companies might think in terms of a midsize model, Ram goes straight to what you really want: full-size power and performance. The Ram 1500 is a great choice if you're looking for excellent power but don't need the advanced towing and payload capabilities of the truck's larger siblings.
The 2020 Ram 1500 has four different engines to choose from, including one engine with two different versions. There's the 3.6L Pentastar V6 engine with eTorque, which provides up to 305 hp and 269 lb-ft of torque. Also available is the 3.0L EcoDiesel V6 engine, which offers up to 260 hp and 480 lb-ft of torque. Or, you can choose between two versions of a 5.7L HEMI V8 engine: one features the hybrid eTorque system for greater towing capacity, and both have up to 395 hp and 410 lb-ft of torque.
Speaking of towing power, the 2020 Ram 1500 offers up to 12,750 lbs of maximum towing when properly configured with the HEMI eTorque engine. Even with the standard HEMI engine, you get up to 11,610 lbs of towing, while the EcoDiesel allows you upwards of 12,000 lbs. In terms of payload, when properly configured the 2020 Ram 1500 boasts a maximum payload rating of 2,300 lbs, for superior overall performance and functionality.
The interior of the 2020 Ram 1500 is a masterpiece of luxury and technology, built around a gorgeous available 12-inch touchscreen display. Also available is a 7-inch driver information cluster with full-color 3D graphics to relay all the information you need. Combined with an available 19-speaker Harman Kardon premium audio system, the 2020 Ram provides an incomparable driving experience no other light-duty truck can touch.

2020 Ram 1500 Classic
The 2020 Ram Classic is designed for buyers looking for traditional truck features like strong towing and payload capacity. If you are wondering if anyone makes a truck with just the stuff you need, and none of the extra stuff you don't want to have to pay for, this is it - the 2020 Ram Classic is a capable and affordable truck.
Based on the award-winning fourth-generation Ram trucks, the 2020 Ram Classic offers three trims and two powertrain choices, so you are sure to find the features you need to get the job done. An available 5.7-liter V8 boasts 395 hp and 410 lb-ft of torque and can tow up to 10,680 pounds, providing the muscle you expect from a truck. The 2020 Ram Classic also features modern comforts, such as its unique multi-link rear suspension featuring coil springs, which gives it a smoother ride than most other pickup trucks, or cars, for that matter. With solid towing and payload figures plus an impressive record of reliability and durability, the 2020 Ram Classic is made for people who know trucks.
The 2020 Ram Classic is value distilled. Starting with the Tradesman trim, the Ram Classic offers buyers the opportunity to buy only what they need. The Tradesman model is a truck paired down to the essentials, while the Express trim brings a greater selection of amenities and stylings, and the Warlock trim boasts serious attitude. Three cab configurations are offered, as well as bed lengths ranging from eight feet to 5-feet 7-inches. If you are looking for a truck that has stood the test of time, a truck with established value, the 2020 Ram Classic is the truck you've been waiting for.
2020 Ram 2500
The 2020 Ram 2500 is the first of two available heavy-duty Ram trucks, allowing you the freedom to customize the model you need without going overboard or coming up short. The Ram 2500 is a full-size pickup and one of the most impressive heavy-duty trucks on the road.
The 2020 Ram 2500 has two available engines, offering the customization you need without overwhelming you with unnecessary options. The starting engine is a 6.4L HEMI V8, providing up to 410 hp and 429 lb-ft of torque. Also available is a 6.7L Cummins turbo-diesel engine that infuses the Ram 2500 with up to 370 hp and an astounding 850 lb-ft of torque.
While your vehicle's raw performance may be determined by its engine, your focus on payload or towing will also determine which 2020 Ram best suits your needs. The 2020 Ram 2500 with the 6.7L Cummins turbo-diesel engine has a maximum towing capacity of up to 19,780 lbs, or a maximum payload of up to 3,260 lbs. With the 6.5L HEMI V8 engine, the Ram 2500 has a maximum towing capacity of 17,580 lbs or a maximum payload of up to 4,050 lbs. In other words, if towing is your priority go for the turbo-diesel; but if you need higher payload, the standard HEMI V8 is for you.
Of course, choosing the power of a heavy-duty pickup doesn't mean sacrificing luxury and state-of-the-art technology. The 2020 Ram 2500 features the industry-leading 12-inch touchscreen display found in the Ram 1500, along with fantastic safety features such as lane keep assist and adaptive steering, now available on all trim levels. New colors available in 2020 include Olive Green and Hydro Blue, along with Power Wagon black wheels that make an immediate statement.

2020 Ram 3500
While the 2020 Ram 1500 and Ram 2500 pickups can handle almost anything, sometimes you need more raw power than even they can provide. For the highest degree of towing or payload available on any Ram truck, turn to the staggeringly powerful Ram 3500. The 2020 Ram 3500 features everything we love about the previous year's model, with new, advanced options that set new industry standards.
The Ram 3500 offers the same choice of engines as the Ram 2500, along with a third available option if you need truly outstanding power in your heavy-duty truck. As with the Ram 2500, the starting engine for the Ram 3500 is a 6.4L HEMI V8, offering up to 410 hp and 429 lb-ft of torque. From there, you can choose an available 6.7L Cummins turbo-diesel I-6 engine, which provides up to 370 hp and 850 lb-ft of torque.
And if you really want power that puts everyone else to shame, there is the available 6.7L High Output Cummins turbo-diesel engine, which offers up to 400 hp and a mind-blowing 1,000 lb-ft of torque. You won't find this on the Ram 2500 or any other Ram truck; it is exclusive to the Ram 3500 and truly sets it apart as the best in its class.
How do those engines compare in terms of towing and payload capacities? We're glad you asked. See for yourself what each has to offer:
6.4L HEMI V8: 18,210 lbs max towing / 7,680 lbs max payload
6.7L Cummins turbo-diesel: 22,740 lbs max towing / 6,910 lbs max payload
High Output Cummins turbo-diesel: 35,100 lbs max towing / 6,570 lbs max payload
Even with all that incredible power, choosing the Ram 3500 doesn't mean giving up the luxury experience Ram trucks are known for. With available 100% leather seating, real wood interior accents, and an available 17-speaker Harman Kardon premium audio system, the 2020 Ram 3500 is a genuine work of art. The 3500 also offers an available 12-inch infotainment display, crafting an overall heavy-duty experience you have to see to believe.
Visit Our Service Center
If your Ram truck is in need of service, there is no better place to bring it to than the Orange Coast service center. Visit us for all of your Ram routine maintenance and repair needs. Your Ram truck deserves top-quality service from trained technicians, which will ensure it remains a dependable truck at the job site and a reliable family hauler for many miles and years to come. Feel free to explore our many automotive maintenance and repair services online, such as service financing, service specials, and our pickup and delivery service.
From routine oil changes and tire rotations to specialized work like engine tune-ups and transmission services, our certified service center is ready to handle anything that your Ram requires. If your Ram is running rough or you think you might have to have something fixed, simply swing by for a quick diagnostics of your vehicle, and we will let you know exactly what you need. We can even help you install genuine Mopar accessories to help you customize your truck to better match your personality and needs.
Be sure to check out our extensive online video library for instructive information on vehicle maintenance and accessories, and why Mopar makes the parts you want. Visit us at Orange Coast or schedule a service appointment online the next time your Ram needs brake service, new tires, an oil and filter change, or more. Contact us today for more information on the type of services we provide for California drivers. There is no service issue we can't solve!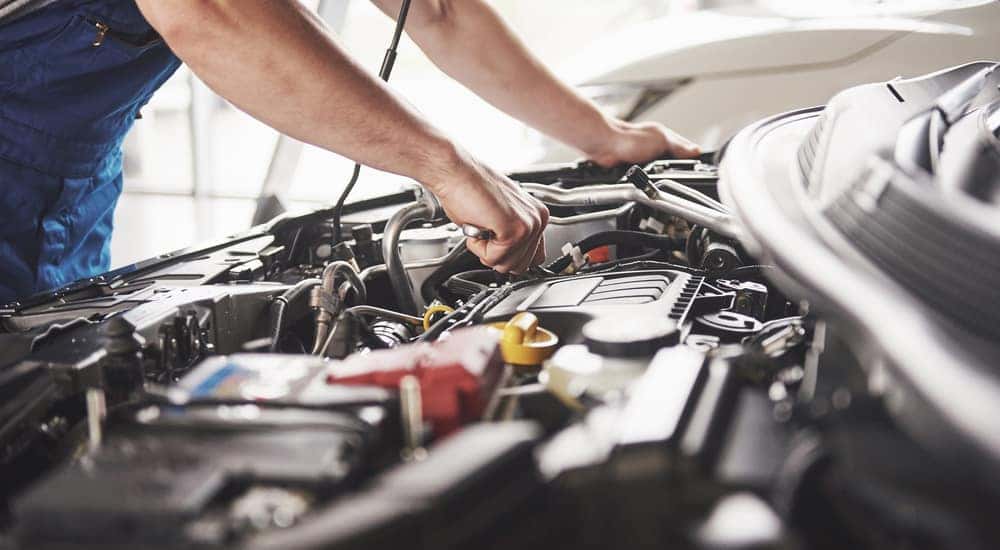 Mopar Parts and Accessories
At Orange Coast, we are committed to your satisfaction, and this extends to our parts department, where we offer a generous stock of all the genuine Mopar parts you might need to maintain and repair your Ram truck. Whether you want to have our service center handle the work or you are looking to do it yourself, our parts department will get you what you need. Even newer vehicles can experience mechanical issues from wear and tear, and that's where we come in.
We stock only quality parts, parts built to last. We promise to get you back on the road with the peace of mind that your vehicle is in top condition. Featuring Mopar parts, you are guaranteed to have the best choice for high-quality, genuine parts, manufactured specifically for Ram trucks. We also offer OEM accessories and performance parts for your Ram truck so that you can customize your truck however you see fit.
Stop by and order your parts today. If you have any questions, please give us a call or fill out our online form, and our technicians will get back to you. If you aren't sure exactly what part you need, we will work with you to track down the exact part number and order it for you. No matter what you need, our parts specialists are always here to help get you back on the road.
How to Find Us
At Orange Coast, our expert staff is excited to help you find the next car of your dreams. Check out some of our new and used vehicle specials to get great deals on the perfect vehicle for your lifestyle. Stop by today and start saving! We are Southern California's premier new and used car dealer for Chrysler, Jeep, Dodge, and Ram. You can contact us by phone, send us an email, or come in and visit us at 2927 Harbor Boulevard in Costa Mesa. For more detailed directions, please see below:
If you are coming from the Los Angeles area, we recommend jumping on I-5 South and following it to Exit 124. Once you have merged onto I-605 South, continue to Exit 124 and I-405 South. After you cross the Santa Ana River, you will take Exit 20 and turn right at the end of the offramp onto Harbor Blvd. Our dealership will be waiting for you on your right just a few blocks down the road.
If you are traveling from Riverside or San Bernardino, you will want to get on CA-91 West and follow it nearly to Anaheim. At Exit 34, you will merge left onto CA-55 South. Take that highway to Exit 6A and I-405 North. You will then immediately take Exit 11 and stay left on the side road until you reach the intersection with Harbor Blvd. Turn left and our dealership will soon appear on your right.
If you are traveling from the south, from San Clemente, Oceanside, or Carlsbad, you will want to jump on I-5 North and follow it up to Lake Forest. Take Exit 94A to I-405 North to get to Costa Mesa. At Exit 11, leave the highway and stay left to follow the road to Harbor Blvd. Turn left at the intersection and you will soon see Orange Coast on your right.
No matter where you are coming from in the greater Los Angeles area, at Orange Coast, we have you covered.