Ram Trucks – Costa Mesa, CA
The secret behind what makes
Ram trucks
so durable and powerful is not a secret at all. The manufacturing behind Ram is as straightforward and driven as the products they produce. They are proud to lay their passion for high-performance and ruggedly appealing trucks in the center field for everyone to see as proof of what they can and will do for the automotive world.
At Orange Coast CJDRF, we stand behind Ram trucks because they have proven their worth without question over the years. Their history and current lineup is nothing less than a testament to their excellence as a truck empire.


About UsRam TrucksSpecial Offers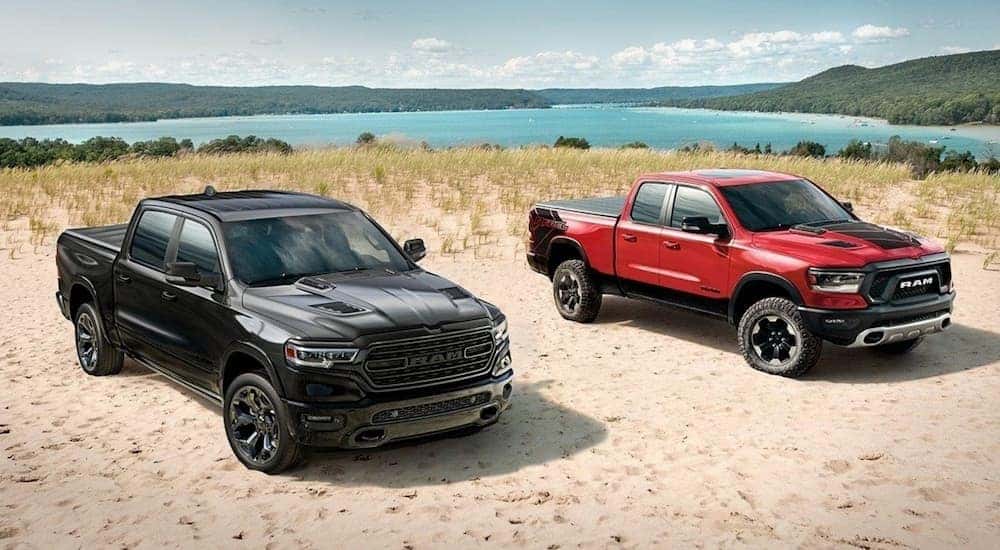 Ram History
In the dawning of Dodge's revolutionary mission to reinvest in the truck industry in 1981, Ram trucks as a namesake were officially put on the record. Ever since the former Dodge logo of a ram's head has become its prevailing logo to this day.
In the years 1988 and 1989, Ram trucks introduced electron fuel injection and a brand new line of engines for their pickup trucks. This was also around the time the soon famous Cummins Turbodiesel engine would finally enter the automotive world in Ram trucks. In 1990, Dodge was even forced to increase availability since it became so desired by fans.
In 1994, Ram trucks got bigger, better, and even more rugged looking with brand new models, trims, and major redesigns. This is where the labels 1,500, 2,500, and 3,500 were first familiarized by this brand. As for trims, this was around the time the Work Special, LT, ST, and Laramie SLT levels were first introduced. Overall, it was a big year of celebration for Dodge Ram.
In October of 2009, Dodge and Ram decided to split, and in 2010 Ram was officially an established division of Chrysler. This development caused dedicated fans of Ram trucks to cry out in sadness and fear of the future. That fear was completely unwarranted though since Dodge and Ram still have a brilliant relationship, and they can both focus on what they are truly passionate about. Dodge handles innovative cars, while Ram will stay strong with trucks. In fact, 2015 and 2016 both Dodge and Ram were two of the best-selling companies.
Overall, the history of Ram trucks is truly respectable and shows great signs of future potential, passion, and quality in the field of powerful pickups.

Current Ram Inventory
Ram 1500
The first of three trucks in Ram's lineup, the 2020 Ram 1500 is a full-size truck designed for light-duty pickup. While other companies might think in terms of a midsize model, Ram goes straight to what you really want: full-size power and performance. The Ram 1500 is a great choice if you're looking for excellent power but don't need the advanced towing and payload capabilities of the truck's larger siblings.
The 2020 Ram 1500 has four different engines to choose from, including one engine with two different versions. There's the 3.6L Pentastar V6 engine with eTorque, which provides up to 305 hp and 269 lb.-ft. of torque. Also available is the 3.0L EcoDiesel V6 engine, which offers up to 260 hp and 480 lb.-ft. of torque. Or, you can choose between two versions of a 5.7L HEMI V8 engine: one features the hybrid eTorque system for greater towing capacity, and both have up to 395 hp and 410 lb.-ft. of torque.
Speaking of towing power, the 2020 Ram 1500 offers up to 12,750 lbs. of maximum towing when properly configured with the HEMI eTorque engine. Even with the standard HEMI engine, you get up to 11,610 lbs. of towing, while the EcoDiesel allows you upwards of 12,000 lbs. In terms of payload, when properly configured the 2020 Ram 1500 boasts a maximum payload rating of 2,300 lbs., for superior overall performance and functionality.
The interior of the 2020 Ram 1500 is a masterpiece of luxury and technology, built around a gorgeous available 12-inch touchscreen display. Also available is a 7-inch driver information cluster with full-color 3D graphics to relay all the information you need. Combined with an available 19-speaker Harman Kardon premium audio system, the 2020 Ram provides an incomparable driving experience no other light-duty truck can touch.
2020 Ram 2500
The 2020 Ram 2500 is the first of two available heavy-duty Ram trucks, allowing you the freedom to customize the model you need without going overboard or coming up short. The Ram 2500 is a full-size pickup and one of the most impressive heavy-duty trucks on the road.
The 2020 Ram 2500 has two available engines, offering the customization you need without overwhelming you with unnecessary options. The starting engine is a 6.4L HEMI V8, providing up to 410 hp and 429 lb.-ft. of torque. Also available is a 6.7L Cummins Turbo Diesel engine that infuses the Ram 2500 with up to 370 hp and an astounding 850 lb.-ft. of torque.
While your vehicle's raw performance may be determined by its engine, your focus on payload or towing will also determine which 2020 Ram best suits your needs. The 2020 Ram 2500 with the 6.7L Cummins Turbo Diesel engine has a maximum towing capacity of up to 19,780 lbs., or a maximum payload of up to 3,260 lbs. With the 6.5L HEMI V8 engine, the Ram 2500 has a maximum towing capacity of 17,580 lbs. or a maximum payload of up to 4,050 lbs. In other words, if towing is your priority go for the Turbo Diesel; but if you need higher payload, the standard HEMI is for you.
Of course, choosing the power of a heavy-duty pickup doesn't mean sacrificing luxury and state-of-the-art technology. The 2020 Ram 2500 features the industry-leading 12-inch touchscreen display found in the 1500, along with fantastic safety features such as lane keep assist and adaptive steering, now available on all trim levels. New colors available in 2020 include Olive Green and Hydro Blue, along with Power Wagon black wheels that make an immediate statement.

2020 Ram 3500
While the 2020 Ram 1500 and 2500 pickups can handle almost anything, sometimes you need more raw power than even they can provide. For the highest degree of towing or payload available on any Ram truck, turn to the staggeringly powerful Ram 3500. The 2020 Ram 3500 features everything we love about the previous year's model, with new, advanced options that set new industry standards.
The Ram 3500 offers the same choice of engines as the Ram 2500, along with a third available option if you need truly outstanding power in your heavy-duty truck. As with the 2500, the starting engine for the Ram 3500 is a 6.4L HEMI V8, offering up to 410 hp and 429 lb.-ft. of torque. From there, you can choose an available 6.7L Cummins Turbo Diesel I6 engine, which provides up to 370 hp and 850 lb.-ft. of torque.
And if you really want power that puts everyone else to shame, there is the available 6.7L High Output Cummins Turbo Diesel engine, which offers up to 400 hp and a mind-blowing 1,000 lb.-ft. of torque. You won't find this on the 2500 or any other Ram truck; it is exclusive to the 3500 and truly sets it apart as the best in its class.
How do those engines compare in terms of towing and payload capacities? We're glad you asked. See for yourself what each has to offer:
6.4L HEMI V8: 18,210 lbs Max Towing – 7,680 lbs Max Payload
6.7L Turbo Diesel: 22,740 lbs Max Towing – 6,910 lbs Max Payload
High Output Turbo Diesel: 35,100 lbs Max Towing – 6,570 lbs Max Payload
Even with all that incredible power, choosing the Ram 3500 doesn't mean giving up the luxury experience Ram trucks are known for. With available 100% leather seating, real wood interior accents, and an available 17-speaker Harman Kardon premium audio system, the 2020 Ram 3500 is a genuine work of art. The 3500 also offers available 12-inch Infotainment display, crafting an overall heavy-duty experience you have to see to believe.




Why Orange Coast?
It can be difficult to know what makes one dealership have more worth than another, but here at Orange Coast CJDRF in Costa Mesa, CA, we have a few essential principles that we will always stand by what we believe makes us as reliable as our Ram trucks.
The first of our principles is that encouraging customer loyalty is our top priority. We don't view ourselves as just some store, but as a community dedicated to building lasting relationships that can always be there to help each other. In order to do this, we sell a large selection of cars and trucks at the best values we can provide. We also offer premium perks to make shopping with us as easy and satisfying as automotive investing can get. We offer frequent specials on new and pre-owned vehicles as well as new vehicle incentives. You can also check out our financing assistance right on our webpage to help further your customer convenience. We are always there for our customers whether it's in-person or online you will always have a way to reach us in a quick and convenient manner.
Another principle we stand by is staying knowledgeable about our products. You can be assured that our sales staff will be able to be able to answer any questions or concerns you find yourself having. Since no one is human encyclopedia though, we also train our staff to know exactly where to find any information they may need to discuss so they can direct you in the right direction with ease.
Overall, we stand for quality and convenience. At Orange Coast CJDRF, we know that buying a new vehicle is not a night on the town for most, so we do everything possible to make it quick and easy to understand. We also would never sell a product we don't believe in. The reason we have these principles is that we want everyone to trust that we are dedicated to being your personal automotive seller that you can count on!
Get In Touch