A Truly Powerful Pair of Siblings: Sizing Up The Jeep Gladiator Rubicon and the Jeep Wrangler Rubicon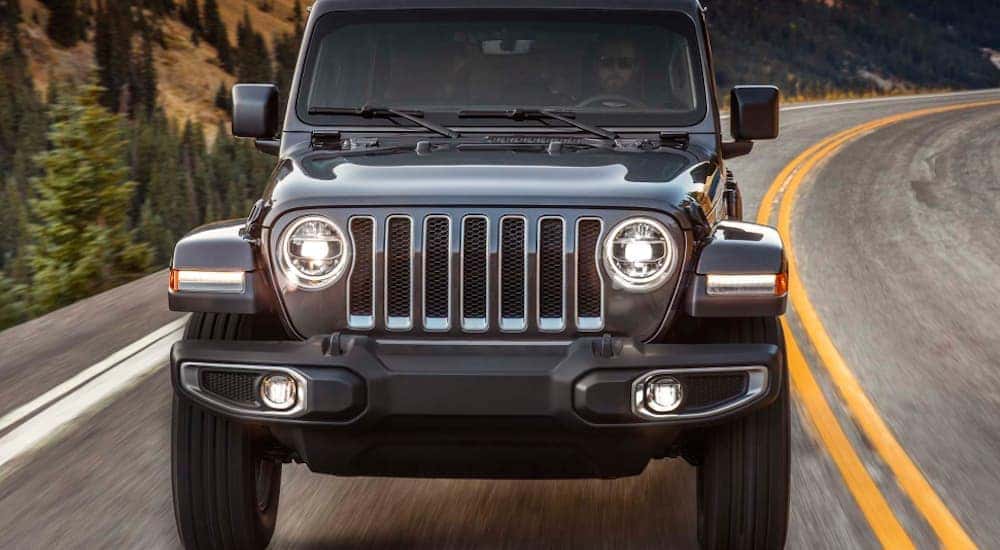 The recent addition of the 2020 Gladiator to the Jeep lineup has proven to be a rousing success as it marks a return to form for the Jeep brand, and is the first new Jeep pickup truck to be introduced in the US since the Comanche in the 1990s. Critics and consumers alike are loving the new Gladiator. It seems like the company may have pulled off the impossible for buyers torn between which Jeep for sale is the right one for them. Not only do they have the ultimate off-road SUV with the Wrangler, but they also have the best off-road truck with the Gladiator. Both vehicles are excellent choices for drivers seeking reliability, durability, utility, and off-road adventure. The Gladiator and Wrangler represent two of the most rugged vehicles available today, boasting unrivaled versatility and reliability as well as unmatched performance off the pavement.
For Jeep enthusiasts, it's probably fairly obvious that the Gladiator shares much of its DNA with its sibling, the tried and true Wrangler, a staple of the Jeep family for decades. Both vehicles share a lot of the same specs and features, but each also has its differences. If you are in the market for a Jeep, let's take a closer look at what each of these closely-related vehicles has to offer.
The Jeep Gladiator
Shoppers looking for a mid-size truck have an interesting option to consider in the Gladiator. Based on the underpinnings of the trusty Wrangler, the Gladiator is essentially a four-door version of that model with a longer wheelbase, and instead of a boxed-in cargo area, it has an airy and open 5-foot cargo bed. It's a marriage of the off-road performance of the Wrangler with the utility of a standard pickup.
As with a regular pickup truck, the Gladiator offers plenty of towing and hauling muscle as well. When properly equipped, it can haul up to 7,650 lbs, which puts it at the top of vehicles in its class. While the cargo bed is only available in one length, a unique tailgate feature allows longer items to be carried, such as lumber or kayaks.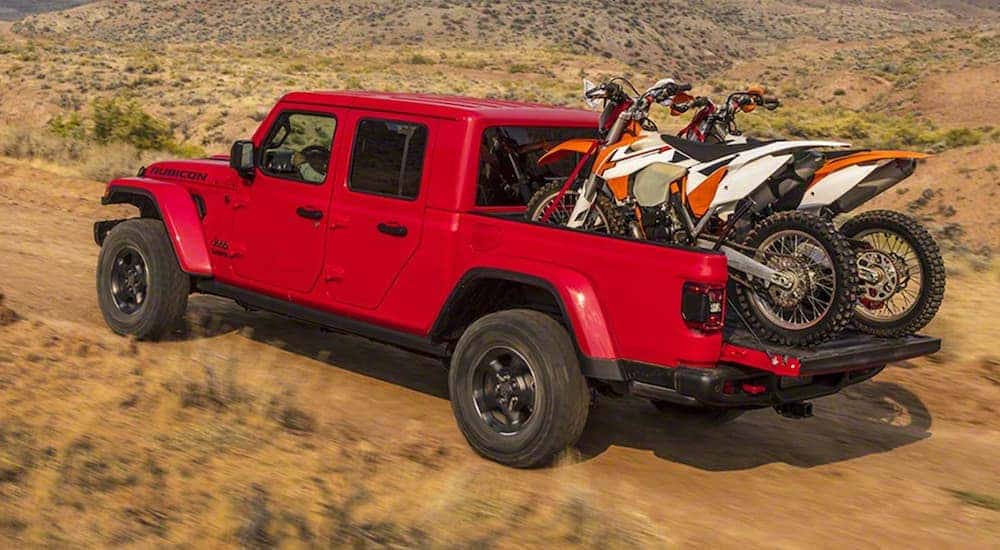 The Rubicon edition of the Gladiator is the ultimate option for serious off-roaders with its different transfer case, which provides a lower crawl ratio for improved climbing. It also includes additional features such as lockable differentials in both the front and rear and 33-inch all-terrain tires (with larger fenders and increased clearance to match). A disconnectable front stabilizer bar allows the Gladiator to traverse rough terrain without difficulty, and body-protecting rock rails and skid plates prevent the terrain from biting back. But if off-road isn't your thing, you'll appreciate the detachable top and doors, which transform the Gladiator into a true convertible pickup truck. Additional options include a premium sound system with nine speakers with amplifier and subwoofer, spray-in bed liner, tonneau cover, LED headlights, larger touchscreen display, leather seating, and a detachable wireless Bluetooth speaker.
The Gladiator Rubicon is a very easy vehicle for Jeep drivers to fall in love with. This off-road machine can handle any driving conditions and terrain that are thrown at it, just as the Wrangler can, but the additional utility of the useful bed design takes it a step further. The versatility and functionality of the Gladiator are impressive, and as the case with the Wrangler, it's ability to be customized with OEM and aftermarket parts and accessories is almost endless.
The Jeep Wrangler
Crossovers are all the rage amongst many car buyers, and for a good reason. Their car-like construction reduces weight and improves both handling and driving comfort. But these are trade-offs when it comes to overall durability and off-road performance. Crossovers have their benefits but simply can't compete with vehicles designed to go anywhere and do anything. The Wrangler is such a vehicle.
As a favorite of off-road enthusiasts for decades, the Wrangler's rugged design and aftermarket customization give it a devoted following. Depending on how you personalize it, there aren't many places that the Wrangler can't go. If you can dream up a destination, you can probably get there in this Jeep. But aside from its excellent rock-hopping ability, there are lots of other reasons to love the Wrangler. Even if you never venture off the pavement, the Wrangler still offers comfortable driving with the amenities you've come to expect from Jeep. On top of all, well, that is the top. The Wrangler's iconic top is easily removed for cruising in style, which no other SUV can match.
Out of all the trim levels available for the Wrangler, the Rubicon is the most off-road capable. Features exclusive to the Rubicon include 17-inch wheels, special off-road tires, heavy-duty axles, electronic front and rear locking differentials, electronic disconnecting front stabilizer bar, rock rails, and premium cloth upholstery. Optional equipment includes remote start and keyless entry, heated seats, and steering wheel, leather seating, a larger touchscreen display with navigation and an upgraded Alpine sound system with nine speakers. Safety package features are also available which adds blind spots monitoring, front and rear parking sensors, adaptive cruise control and a collision warning system.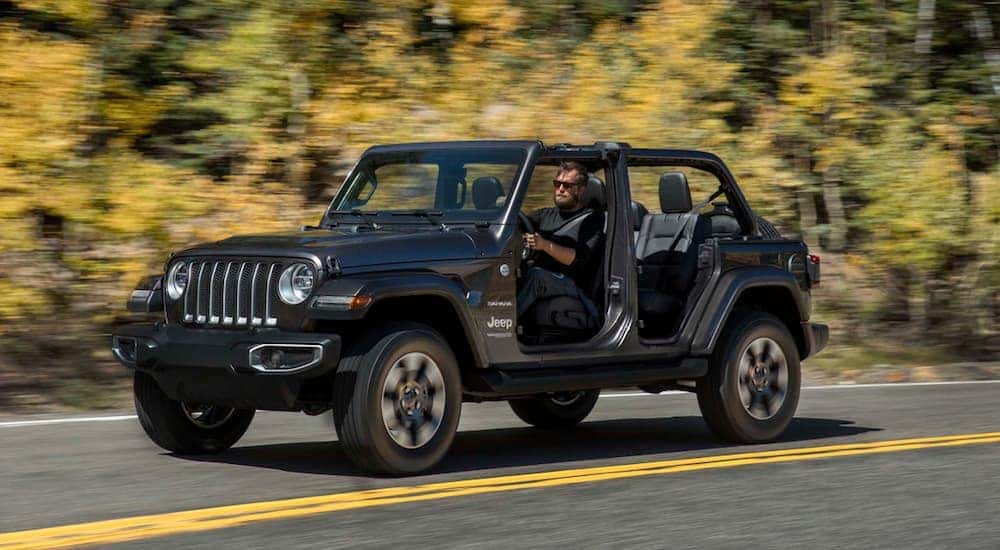 The Wrangler isn't a vehicle suited for every driver, that's for sure. Compared to traditional crossovers and SUVs, it's going to be a completely different animal. But for those adventure-seeking drivers seeking the utmost in off-road capability, the Wrangler is the best option out there, and the Rubicon sweetens the deal by adding premium touches and amenities to the Wrangler's already rough and rugged character.
The Adventure Begins at Orange Coast CJDRF
Are you looking for an off-road vehicle that offers both daily driving capabilities and the ultimate in off-road adventure travel? The Jeep Gladiator and Jeep Wrangler are both excellent options to consider, and the experts here at Orange Coast CJDRF can help you get into either one.
At Orange Coast CJDRF, we carry the complete line of Jeep vehicles, including the Rubicon editions of the Gladiator and Wrangler. We welcome you to stop by our dealership to take one or both of these fine Jeep vehicles out for a test drive. We are confident you'll love what they have to offer.
Orange Coast CJDRF is fully committed to offering our customers the finest car buying experience possible. Our skilled and professional staff are on hand to assist you through every step of the process, from the initial research to financing. We are also here after the fact as well as providing expert service and unmatched customer service. Jeep drivers are demanding on their vehicles, and we can keep your Jeep running smoothly no matter where it takes you.
Since 1981, the main mission of Orange Coast CJDRF has been to serve our customers in Orange County and Southern California by offering the finest selection of Chrysler, Jeep, Dodge, Ram, and FIAT vehicles, both new and used. We are dedicated to customer loyalty and empower our professional team to provide excellent customer service from start to finish.
Stop into Orange Coast CJDRF today to experience both the Gladiator and Rubicon in person and get ready to hit the road to adventure in a Jeep!