Deciding Between A Used Dodge Charger or Challenger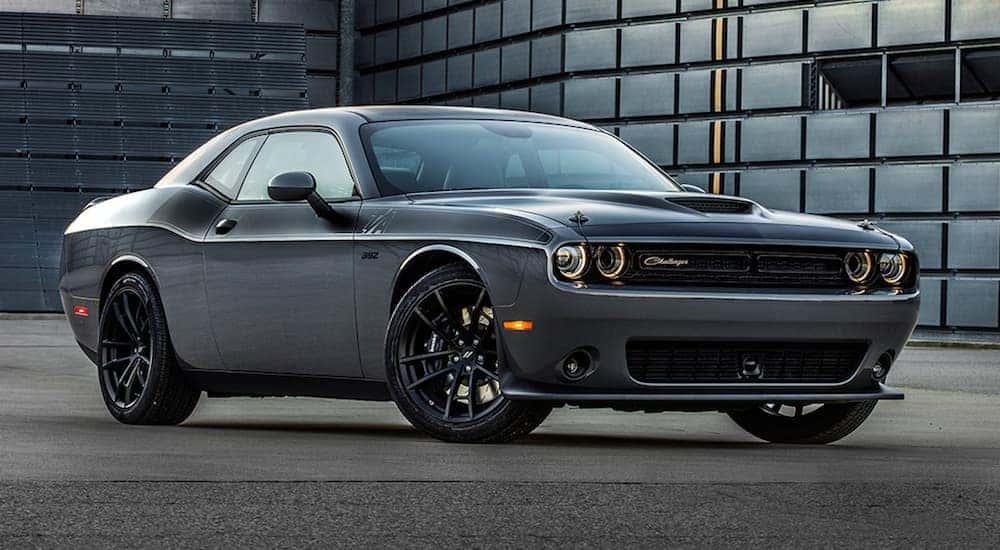 The Dodge car brand has established itself as America's unique power provider for decades. And the American-made engine isn't the half of it. Whether you're looking at a 2012 or 2020 Dodge muscle car, the intimidating chassis design is never outdated. In fact, the Charger and Challenger are one of Edmunds.com's high-ranking cars in its re-sale value category. For us at Orange Coast CJDRF, we're one of the many used car dealers that love seeing the American muscle cars roll onto our lot. There is nothing quite like driving through Costa Mesa, CA, in one of the powerful beasts from Dodge.
Cut from the same cloth, this sibling duo was designed with two fierce competitive natures. Each car is so similar, that no driver can go wrong when it comes to "Which one do I buy?" As you'll read below, the Challenger and Charger's power ratings are very similar, even though the first is a coupe, and the latter is a sedan. Each vehicle has a backseat and tremendous cargo space. On the street, more important than how others will react to your wheels is how you'll feel when you walk from your parked car. Dodge does not skimp on the exterior of your new Charger or Challenger. Let's make that clear.
What you get with the two-door Challenger is a faster ride, a comfortable interior, and the more classic look of a muscle car. What you get with the Charger, is a family car that doubles as the perfect vehicle for a long drive on your days off. The Charger boasts more space than a Challenger and looks less like a classic 'muscle car' because of its four doors. Yet, its available powertrains (that no other sedan will have), produce one compelling wrap sheet.
The Challenger has a large amount of cargo space compared to its muscle-car competitors. You'll find a backseat for three behind the two captain's chairs, and your trunk will be exceptionally large for a two-door muscle car. The Charger's cargo space is everything the Challenger has, and then some. Count on a larger trunk and an obviously larger backseat. Add a trunk with dimensions greater than that of the already large Challenger's.
Which Car Packs the Greater Punch?
The capabilities of a Challenger will always be higher than those of a Charger. The 2020 Dodge Challenger has five available engines, each more powerful than the last. The first available engine is a small but powerful 3.6L Pentastar V6 engine that gets up to 303 horsepower and 268 lb-ft of torque. But if you really want power, you'll go with the supercharged 6.2L high-output HEMI SRT Hellcat Redeye V8 engine. This beast gets up to 797 horsepower and 707 lb-ft of torque
Under the hood of the 2020 Dodge Charger, you'll find one of four available engines. The first, like in the Challenger, is a 3.6L Pentastar V6 engine; unlike the Challenger, this engine gets 300 horsepower and 264 lb-ft of torque. The fourth and most powerful engine in a 2020 Charger, is a supercharged 6.2L HEMI SRT Hellcat V8 engine that gets 707 horsepower and 650 lb-ft of torque
This is not to say the Dodge muscle cars from years prior are underperforming antiques. In purchasing a used Charger or Challenger, you are buying into an American tradition of affordable, reliable, and trusted racecar performance.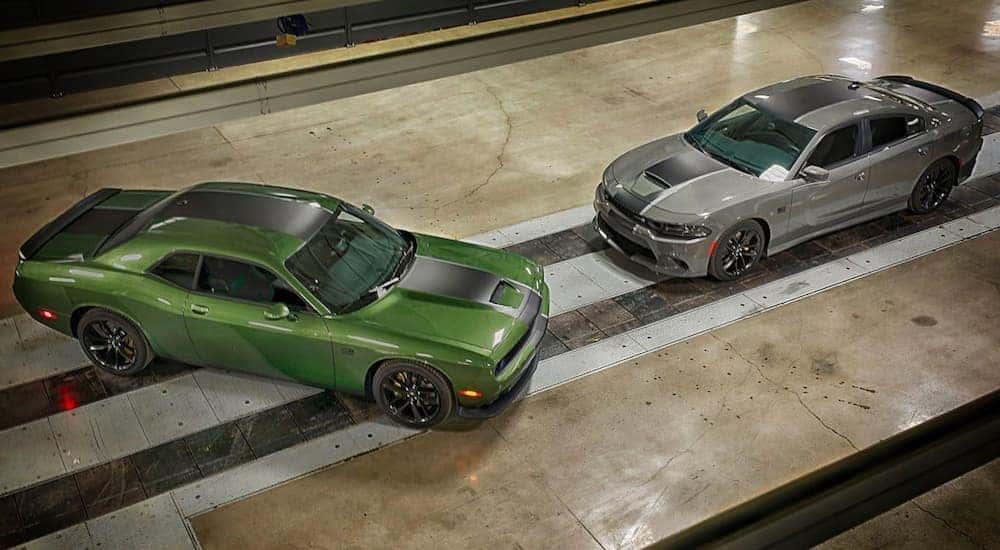 Why Not Buy a Brand-New Dodge Challenger or Charger?
There is nothing wrong with buying a new model, and who wouldn't want that 6.2L HEMI engine under the hood of their new vehicle? However, we know that the average new car depreciates 10% only one month after its purchase. New cars are expected to depreciate 20-30% more in the 2-3 months afterward, as well. Thus, if you grab a used car from only a year or two ago, you're already saving thousands.
If you're here for the horsepower, we can find exactly the kind of power you need. For example, starting with a 2016 Dodge Charger, you'll find four available engines and a range of horsepower from 292 – 707, which is almost identical to the 2020 model. Going back just a few years to the 2011 model will take away some of the more powerful engines, but you will still have horsepower ranging from 292 – 370
As for a Challenger? For a 2016 model, you'll find horsepower ratings from 305 – 707. In a slightly older 2011 model, the ratings drop a bit, but you're still going to be behind the wheel of a power-house. 2011 Challengers have horsepower ratings of 305 – 470
Highlights of the Dodge Charger
The 2017 Charger R/T is the higher performing of the two, equipped with a 5.6L HEMI V8, capable of 370 hp and 395 lb-ft of torque. It comes with 20" wheels, a sport-tuned suspension, transmission paddle shifters, an 8.4" infotainment touchscreen, and cloth performance seats. The Uconnect infotainment system comes equipped with Apple CarPlay and Android Auto. The 2017 Charger SXT has a 3.6L Pentastar V6, capable of 292 hp and 260 lb-ft of torque. It features 18" wheels, heated mirrors, and LED foglamps. It comes equipped with Apple CarPlay and Android Auto as well. A used one of these models may or may not be easy to come by because people might want to hold onto those powerful models, but if you find one, you can't go wrong with purchasing it.
You'll love that in a 2019 Charger SRT Hellcat; you can reach a top speed of 196 mph and go from 0-60 in only 3.6 seconds. There is no stopping this beast of a vehicle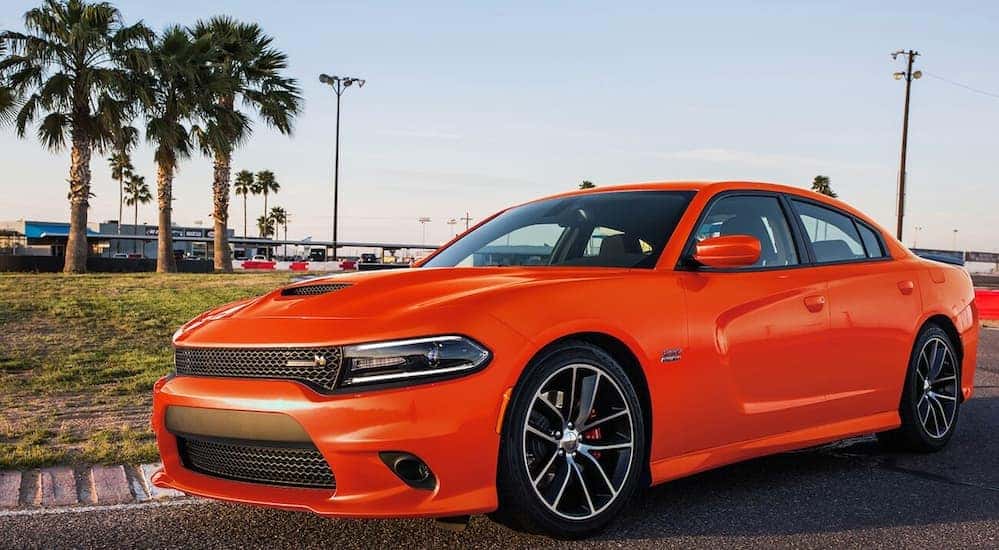 Highlights of the Dodge Challenger
A 2019 Dodge Challenger can come equipped with Uconnect 4C NAV with hands-free calling; it has Android Auto and Apple CarPlay compatibility, and Bluetooth as well as SiriusXM. You'll also be able to pull up your driving stats so you can get a clear picture of your performance. This is great if you are doing any driving on the track.
You'll also have a fully customizable 7-inch driver information cluster at your disposal. On this display, you can see lap time if you are doing some track driving and even navigation. But why focus on the 2019? Well, the 2019 is going to be hitting dealership lots as a gently used vehicle as people turn towards the 2020 models
The Dodge Charger and Challenger at Orange Coast
Here at Orange Coast CJDRF, we are very familiar with both the Dodge Charger and the Challenger models. We'd be more than happy to help you find one of these muscle cars, and get you behind the wheel of the one that fits your needs. When you are ready, visit us at 2929 Harbor Blvd in Costa Mesa.