Everything You Need to Know About the New Ram Multifunction Tailgate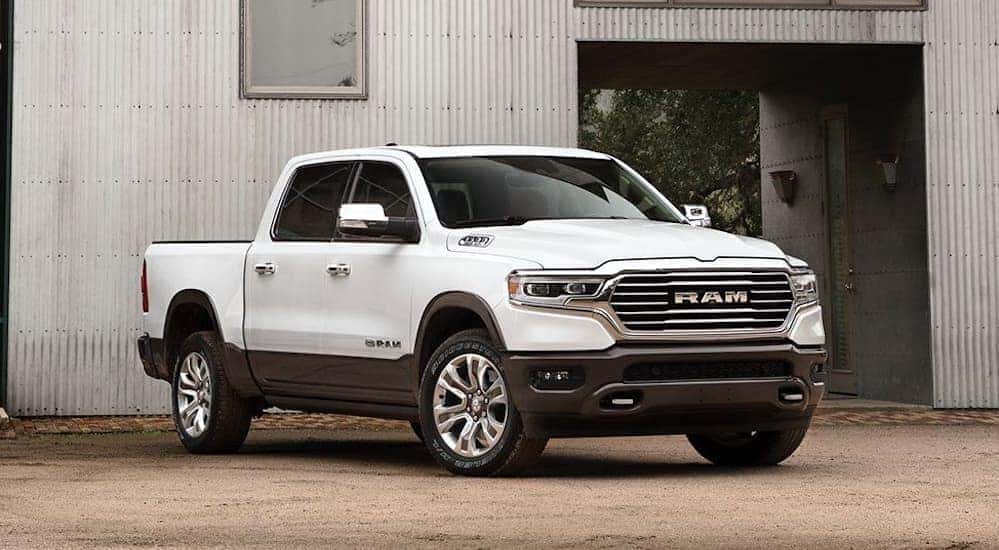 Recently, the main trend in innovation in the auto industry has been a focus on is eco-friendly vehicles. While everyone seems to be busy trying to come up with better batteries, Ram has taken this opportunity to do something no one else has thought of before – to reinvent the tailgate. The all-new Multifunction Tailgate is outfitted on all 2020 Ram 1500 trucks. Our team of experts here at Orange Coast in Costa Mesa, CA are ecstatic about this groundbreaking invention on the popular Ram trucks.
An Unexpected Breakthrough
Collectively, trucks have remained the same since their initial conception. Essentially, it's a short cabin connected to a bed with a lever-style tailgate. The only major changes to trucks throughout the decades have been to the building materials, overall size, and power. Ram's new Multifunction Tailgate has added another important change to that list.
Equipped on all 2019 and 2020 Ram 1500 models, this tailgate is like nothing you've ever seen before.
Multifunction Tailgate Design
How does one reinvent a fold-out tailgate? Is it even necessary to restyle it? Yes, it is.
Traditionally, tailgates folded down to grant access to the truck bed. However, there was more than one significant flaw in this design.
First, when a traditional tailgate is lowered, it actually cuts off full access to the truck bed due to its length. About a foot long, lowered tailgates can prevent people from being able to easily reach into the truck bed to remove items. The tailgate hits you at about hip level and stops you in your place. If you want to get something out of the further parts bed, you'll have to climb in.
The new Multifunction Tailgate solves this issue. It is split into hinged 60/40 swing-out doors. You can open the doors individually or together up to 88-degrees. This allows you to stand closer to the truck bed to remove cargo safely. Being closer means that it's easier on your back. Not having to climb up into the bed means that it's easier on your knees and hips. It's a design that no one has ever thought of, but now that Ram has done it, you are left wondering why no one has done it before.
The second issue with a conventional tailgate is that it has a very low weight limit. This can be a major problem for several reasons. First, it limits the type of cargo you can load into the bed and how you can load it. For example, if you have long pieces of lumber, you can easily slide them over a conventional tailgate and into the bed. They are lightweight and pose no potential issues. However, if you want to load massive bags of cement, giant blocks, or heavy equipment, you might have to think twice about how you get it into the back of your truck. The other problem with having a low weight maximum is that it limits how many people can sit on the traditional tailgate. This can be a problem at family gatherings, camping adventures, or tailgating at a football game. The last thing you want is for your old-school tailgate to break due to excessive weight. The average truck can manage a heavier payload than the traditional tailgate can. Most trucks can handle a payload weighing in the thousands, but some tailgates can only manage 375 pounds of weight. The Multifunction Tailgate can withstand up to 2,000 pounds of weight with no problem. This means that you can load up the back with heavier, bulkier cargo without worrying about the tailgate snapping off.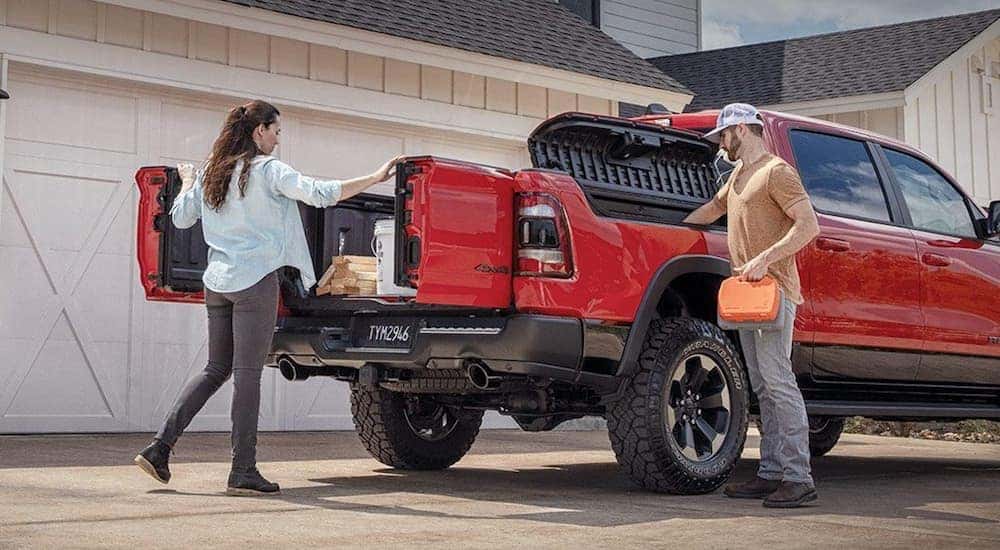 Now you're probably wondering, why does the maximum weight matter if this tailgate functions like two swing-out doors? Well, here's where things get even more interesting. It's been officially dubbed the Multifunction Tailgate because it can be configured in different two ways. You can open it like dual swing-out doors, or you can lower it just like a traditional tailgate. You can have the freedom to choose which way works best for the job you are performing. So, if you lower it like a conventional tailgate, you can rest assured that it will withstand the weight you're about to put on it. You can even load up the back using a forklift, which is something you can't really do with a normal tailgate.
The Kick-Out Bed Step
Located underneath the rear bumper, a kick-out step has been added for easier access to the truck bed. Sometimes you just need to get up in the back to safely remove certain items. This may be the case for cargo that is too heavy to simply drag out or items that you can't reach within an arm's length. This step provides a strong foothold that won't budge while you're loading or unloading the bed.
The Rambox Cargo Management System
Ram has taken things to the next level with the Rambox Cargo Management System. This class-exclusive feature is weatherproof, lockable, drainable, and illuminated. Versatility is its middle name.
This cargo system puts durable, secure storage compartments into the side rails of the truck bed. It can be used to conveniently stow-away tools like a full-size shovel for the long-term. It's lockable, so you can stash your fishing rods and power tools safely inside without worry. The storage bins are also drainable. If you use these compartments to store drinks and one of the drinks explodes or leaks, you can easily rinse the inside to clean it. The water will not stagnate. It will simply drain out, leaving you with a clean storage bin. These bins are also lit so that you can clearly see what you're looking for at night.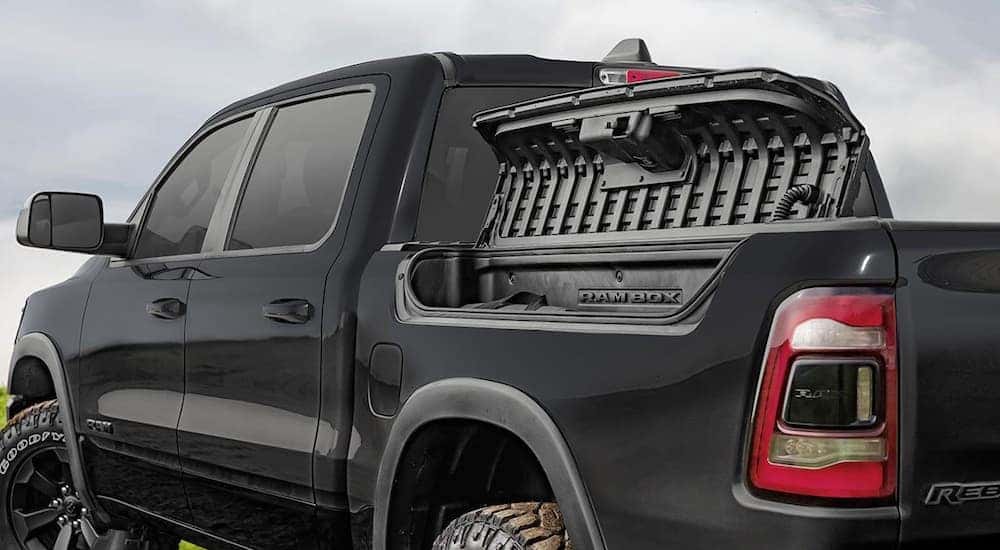 The Rambox is available on Ram trucks that have 6-foot-4-inch or 5-foot-7-inch beds. The storage capacity for the longer model is 60-inches or 7.3 cubic feet of room. On the shorter bed, you will get about 50.5-inches. To give these numbers some perspective, you can easily stick 140 beverage cans inside the Rambox on the long truck bed.
Also included in this cargo management system are an adjustable bed divider/extender and a cargo rail system. The bed divider/extender adds two extra feet to the truck bed for hauling longer items. The rail system enables you to secure items that might move around during the ride. You can do this by utilizing the provided tie-downs.
Ram Trucks: Raising the Stakes
Ram has been quite an aggressive competitor over the years. The Ram 1500 has versatility and power that simply outshines other models in its class. With the addition of the new Multifunction Tailgate, it seems to have left its old-school competitors in the dust. Better access to the bed, a higher weight limit, and additional handy features that make your life easier are what you will get when you have a Ram with this exceptional tailgate feature.
If you want to take a look at this innovative tailgate in-person, head over to our dealership in Costa Mesa, CA. Our team of experts will be happy to show off this handy feature and everything it comes with. Give us a call or stop by Orange Coast for a test drive today!