Fiat Models for Every Driver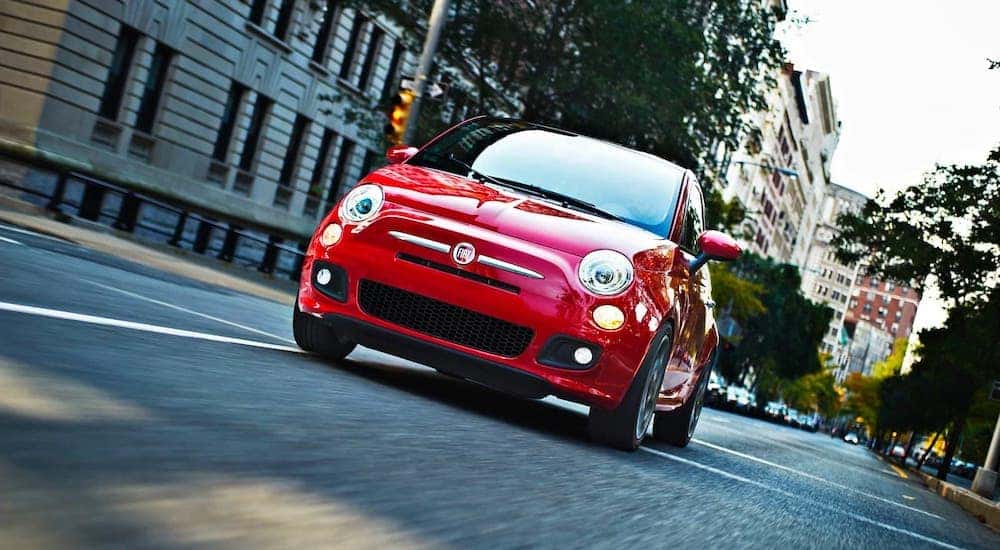 Fiat vehicles have been in production for over 120 years, and in that time, its vehicles have improved with age like a fine bottle of Italian wine. When you head to your local used Fiat dealer, a little history may help you appreciate the flavor of each model and help you select the perfect car for your taste. Going back to 1936, the first line of Fiat 500 models was produced as one of the smallest cars in the world, becoming the forerunners of compact cars worldwide. After being retired for a number of decades, the 500 returned to production in 2007 with more modern conveniences and styling, but with the same Italian eye for design.
Five years later, the 500L was introduced as a larger variant of the basic Fiat 500, bringing more accessible passenger space to the Fiat lineup. It didn't take much longer for the 500X SUV to be produced, providing a Fiat option for more adventurous drivers. Last, we have the 124 Spider, first produced in 1966 and revived for 2017 as the roadster sports car of today. Each of the vehicles sold by Fiat has a storied history to back up its long-running production. This is a company built on Italian style and artisanal workmanship. The cars built in the many plants owned by the Italian car company were revolutionary for their time, often incorporating features that were specifically designed with the vehicles' intention and audience in mind.
Fiat 500
American models of the Fiat 500 can be found going back to 2012, and it came back with lots to love. With plenty of choices for trims, the 500 comes as a coupe or convertible. Those lucky enough to find a used 500c convertible will delight in the fact that the top can be lowered at speeds of up to 60 mph, so you won't have to pull over to let the top down. One of the benefits of driving a subcompact car is the fuel economy, and the 2012 Fiat 500 certainly offers good gas mileage with its highest rating at 32 MPG combined with its 1.4-liter engine. A more powerful version of this engine is available in the Abarth models, the sporty top-tier trim with an upgraded suspension, sport seats, and a flat-bottom steering wheel.
Features of the 500 will include premium equipment like a leather-wrapped steering wheel, Bluetooth, and powered accessories. Smartphone connectivity will be available for any year of the 500 you find, even in base models, and more recent years will enjoy a Uconnect infotainment system with the option of an Alpine or Beats audio system in upper trims. Safety features like hill start assist, traction control, and rear parking sensors will be found across most of the years of production, and the back seats perfect for small kids will have child seat tethers. The Fiat 500 is a fun car to drive and will turn heads with its unique Italian flair.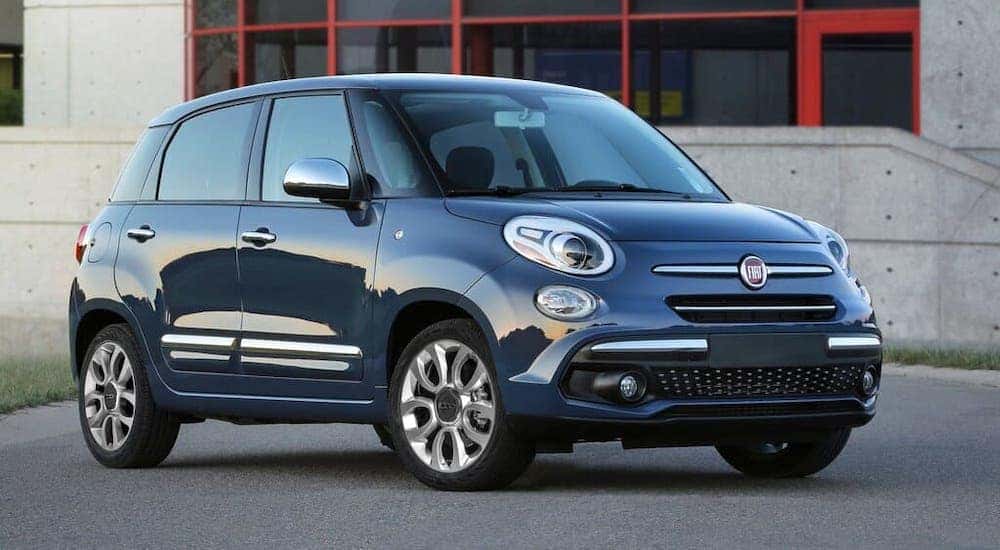 Fiat 500L
When you want to go small, but you still need space for your growing children, the 500L is a great option for a subcompact with style that won't cost as much as a Mini Cooper. Going back to 2014, you can find 500L models that provide a subcompact economy with almost twice the interior room of the 500. Even adults should be able to enjoy the back seat of the 500L, and those who have tried the Mini Cooper and found it loud on the highway will be pleased with the quieter Fiat when cruising at high speeds. Comfortable seating is also a boon for longer drives, and the four-door exterior will make it easy for passengers to get into the back seats, which also tilt back, fold down, and slide to accommodate occupants. While similar in appearance to its smaller sibling, the 500L has its own unique exterior elements, like a floating roof and its sporty front-end design.
With 2014 being the first year this model was produced, the Uconnect system with Bluetooth is available on all trims. Once again, the stylish leather-wrapped steering wheel will add to the inner styling as a standard feature, along with the option for leather seats in upper trims. Heated seats, navigation, and even rear park assist are all options available for any year, with more driver-assisted safety features added as optional in more recent years. If you're looking for a small car that can fit adults comfortably in the back while also offering incredible versatility of interior configurations, the 500L may be the car for you.
Fiat 500X
2016 is the first year the 500X made its debut on the market, so you won't find very old models of this subcompact SUV to buy used. Because Fiat merged with Chrysler shortly before this vehicle became available, it's offered with the Uconnect infotainment system that is user-friendly and intuitive for changing connectivity and system settings. Drivers seeking a small SUV with a lot of personality will appreciate the optional all-wheel drive system that automatically reverts to front-wheel drive until it senses the need for more traction, saving fuel. Under the hood, the 500X is powered by either a standard 1.4-liter four-cylinder engine or an optional 2.4-liter four-cylinder.
There are several features to love on the 500X, like the dynamic selector that allows you to shift between auto, sport, and traction modes to accommodate changing driving conditions. Having a raised ride height will cater to the SUV crowd, and the option of driver-assisted safety features is another added bonus. When searching for the 500X, you will have five trim choices, starting with the base "Pop" trim. Features like heated exterior mirrors, a USB and auxiliary interface for smartphones, and a fold-flat front passenger seat are found on the base trim, while heated seats, remote start, ambient interior lighting, and an upgraded Uconnect system are options for upper trims.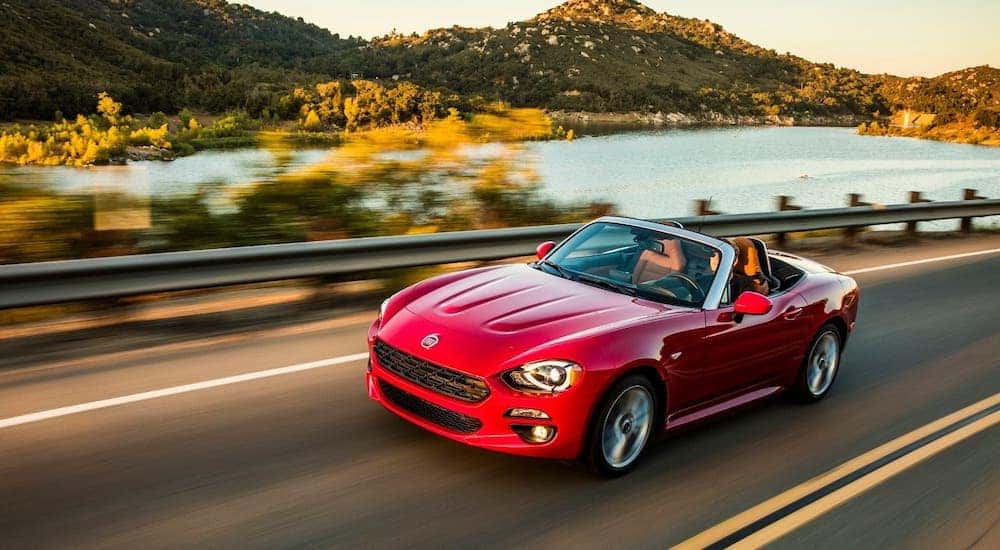 124 Spider
Who can resist an Italian sports car? Especially a sports car that's affordable, comfortable, and easy to drive? Fiat brought back the 124 Spider in 2017, working together with Japan's Mazda. Although the Fiat 124 Spider and the Mazda MX-5 Miata share the same platform, the Italian car offers a more premium experience with unique design elements, a turbocharged engine, and a quieter cabin on the highway. With a standard convertible top for its curvy coupe exterior, this two-seat road runner will delight any driver who loves to enjoy the thrill of riding winding roads in the countryside. Imagine hitting the road and wanting to let down the top – a simple flick of your wrist, and you're driving with the wind in your hair, thanks to the simplest convertible top of all time.
You will find the desirable interior to be decked with soft-touch materials, a leather shift knob, push-button start, and Bluetooth as standard equipment. Details like stitching in the dash and seats, leather upholstery, and other finer amenities can be found in upper trims. Options like driver-assisted safety features, keyless entry, navigation, and adaptive cruise control are available. Overall, buyers are likely to be delighted by the experience behind the wheel of the 124 Spider, particularly if you can land an Abarth trim with more power and added performance features. With such an affordably-priced sports car, springing for the best trim will be surprisingly inexpensive when you purchase a used model.
Add Some Italian Style to Your Life
Ready for a test drive? Find the Fiat of your dreams and see just how much fun owning a compact car can be, especially when you entertain yourself with fun trim names and paint colors. Fuel economy never looked so unique and stylish, and city living will be easy with a car that can park nearly anywhere. Fiat offers plenty of options for every kind of driver, and until you test one out, you won't believe how comfortable the interior really is. You will be amazed at how a small car can feel so divine.