Get More Value with a Used Jeep Grand Cherokee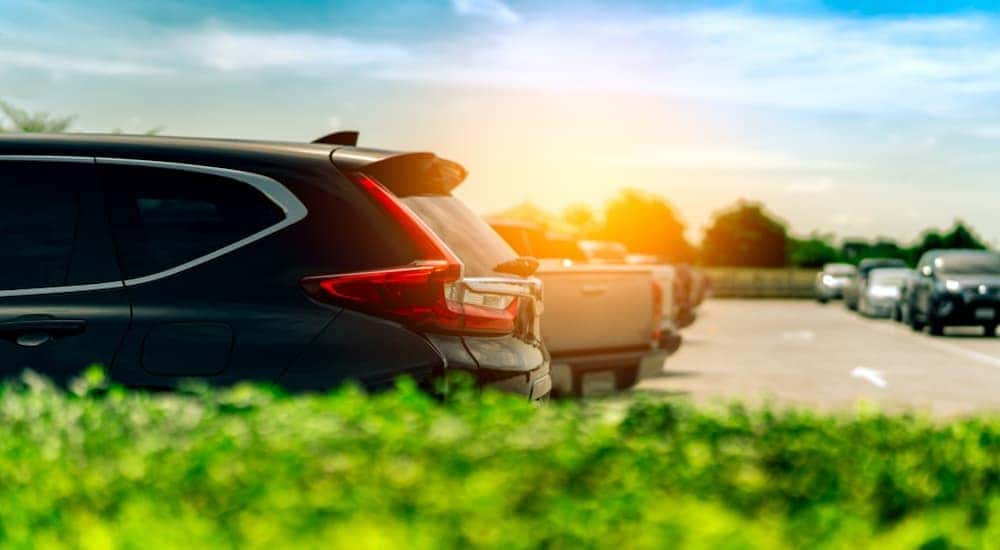 The Jeep Grand Cherokee has been one of the best choices for an SUV that gives you true off-road capabilities combined with the on-road comfort you desire since it first debuted in 1992. The 1993 model year Jeep Grand Cherokee set the standard for this great, rugged and dependable midsize SUV that has been thrilling drivers for the last 27 years. Instead of buying brand new, the best value might be to locate a reputable used car dealer, and buy a used Jeep Grand Cherokee. This will give you all the features you want in a Jeep Grand Cherokee at a price that won't bust your budget.
If you are in the Southern California area, your best bet is to come visit us at Orange Coast CJDRF. We are conveniently located at 2929 Harbor Boulevard in downtown Costa Mesa, CA, and offer the best value and prices in pre-owned Jeep Grand Cherokees. Each vehicle has been subject to a thorough quality inspection by one of our experienced certified mechanics. It comes with a free CARFAX report, a 3-month/3,000-mile powertrain warranty, a clean title guarantee, and our own 72-hour/250-mile "Love It or Leave It" return policy. At Orange Coast, our commitment to your peace of mind is our Number One priority.
Introduction of a Classic SUV
Jeep debuted the Jeep Grand Cherokee in 1992 with the 1993 model year. The idea behind the Grand Cherokee was to build a larger and more luxurious version of the venerable Jeep Cherokee XJ. To say that the Grand Cherokee exceeded expectations is an understatement, and by 2001, it had replaced its smaller sibling, with Jeep discontinuing production of the Cherokee XJ that year. The first models of the Grand Cherokee had only one engine option, a 4.0-liter I-6, but the next year Jeep heeded the customers' requests, and added a 5.2-liter V-8 option, that was upgraded to a 5.9-liter V-8 by 1998, the last production year of the first generation Jeep Grand Cherokee.
This midsize SUV has been credited with helping to alter the vehicle tastes of the American driver. Prior to the introduction of the Jeep Grand Cherokee, the SUV was on the fringes of most suburban family drivers where the four-door sedan ruled supreme. However, the Grand Cherokee gave these drivers more room for their families as well as extra cargo space for groceries, sporting equipment, luggage for trips, and whatever else they needed to move. While being rugged with off-road capabilities, it offered the same luxurious seating and entertainment features as the four-door sedan, but in a more practical, family-friendly style. The other option, the minivan, lacked the styling, ruggedness, and drivability of the midsize SUV. Plus, the price point for the Grand Cherokee was in line with other American-made, family sedans and minivans on the market at the time. More and more midsize SUVs like the Jeep Grand Cherokee began to appear in suburban driveways, replacing sedans and minivans, and this rush of larger vehicles has yet to abate.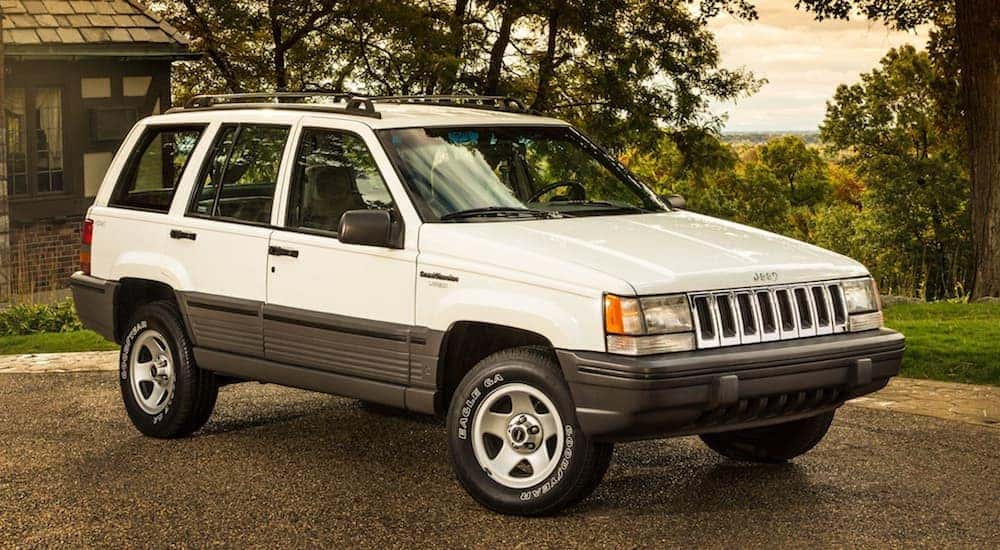 The second generation of the Jeep Grand Cherokee benefited from the merger of Daimler and Chrysler, with a diesel engine option being added from Mercedes-Benz. This version of the Grand Cherokee was introduced in 1999, and featured a new four-wheel-drive system and better fuel economy than its predecessor.
Third Generation Jeep Grand Cherokee Redesign
While there may be a few first and second generation Jeep Grand Cherokees on the market, mainly from private sellers, you're more likely to find either a third or fourth generation used Jeep Grand Cherokee for sale. Therefore, it is important to know the differences between the two.
With the competition in the midsize SUV market heating up, the last thing Jeep could do was rest on its laurels. Instead, the engineers at Jeep came out with a complete redesign of the Grand Cherokee for the 2005 model year, which debuted in 2004. This new and improved Jeep Grand Cherokee featured an independent front suspension system and improved steering. The changes to the suspension system improved the on-road ride comfort for the vehicle. The base engine on the third generation Grand Cherokee is a 3.7-liter V6, but if you are looking to buy one from this model year, you might want to pay a little more for one with the upgraded 4.7-liter V8. You will sacrifice a little fuel efficiency but get better performance. There was also an optional 5.7-liter V8 for this model year, which is also a better option than the standard V6. The top-of-the-line for this model year was the Grand Cherokee SRT8. This is where SUV met performance muscle car. Introduced in 2006, this featured an SRT-badge and 6.1-liter HEMI V-8 with 420 horsepower on a performance-tuned suspension and summer-only tires.
The third generation Jeep Grand Cherokee featured Chrysler's Uconnect infotainment system. This early version of the system came with Bluetooth for hands-free calling. However, later model years in this iteration will have more features in the Uconnect system as it was further developed by Chrysler. The third generation came in Laredo, Limited, and Overland trim levels, with special limited editions like the aforementioned SRT8, Rocky Mountain, 65th Anniversary, and S Limited.
The main complaint about the 2005 model year redesign involves space. Many drivers complained that the rear seat was cramped and that it lacked headroom, even in the front seat. Also, the cargo capacity was smaller than comparable models from Jeep's competitors. This would be addressed in the fourth generation.
The Current Version of the Jeep Grand Cherokee
The current version of the Jeep Grand Cherokee premiered in 2010 and represents the most updated version of this venerable midsize SUV. The designers at Jeep transformed it into a luxurious, upscale vehicle, and addressed the complaints about lack of space in its prior model version. However, you should be aware that some issues in this fourth generation Jeep Grand Cherokee were addressed in the 2014 model year, which will be covered below.
The 2011 model year Grand Cherokee featured a fully independent suspension, modern cabin electronics, and excellent ride and handling. With respect to the powertrain, the base engine is a 3.6-liter Pentastar V-6, rated to produce 290 horsepower and provide an estimated 16 miles per gallon in city driving, 23 miles per gallon in highway driving, and 18 miles per gallon combined. The upgraded 5.7-liter Hemi V-8 provides lower fuel efficiency, roughly 14 miles per gallon city and 20 miles per gallon highway. However, this engine gives the Jeep Grand Cherokee 360 horsepower and the ability to tow up to 7,400 pounds with the proper equipment.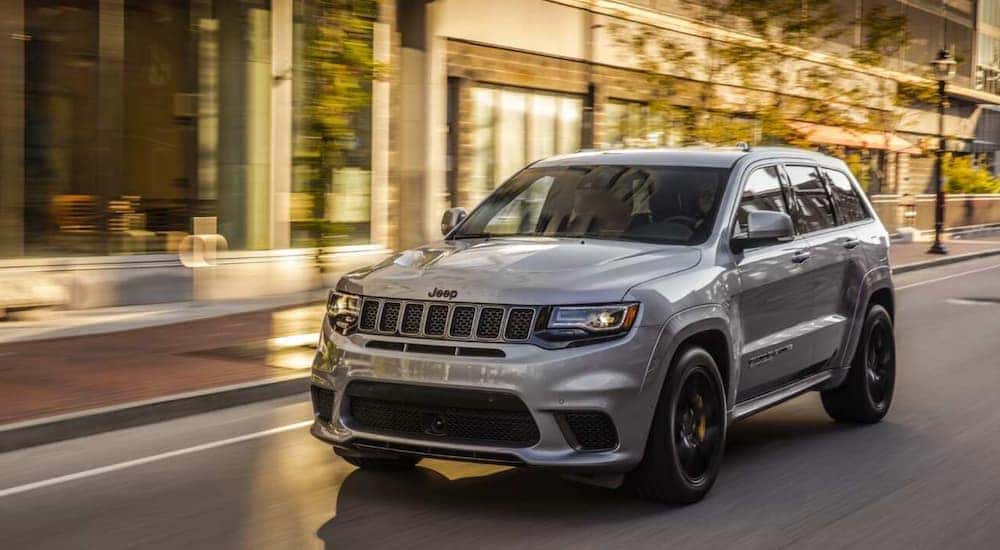 The 2011 model year featured a five-speed transmission, but this was upgraded to a six-speed transmission for the 2012 model year. Initially, the 3.6-liter V-6 was only available in the Laredo and Limited editions, while the 5.7-liter V-8 was standard on the Overland and Overland Summit, but this changed in 2013, with all 2014 Jeep Grand Cherokees available with either engine. A turbodiesel was also available for this fourth generation version except for the Laredo model. The turbodiesel has been rated to provide up to 24 miles per gallon in combined driving. Standard safety features include 4-wheel anti-lock disc brakes, traction control, and stability control, with an optional rearview camera and rear proximity sensor array. If these last two features are important to you (and they probably should be), then you should make sure they are included on the used Jeep Grand Cherokee you purchase.
The fourth generation Jeep Grand Cherokee is also roomier than the earlier version. It offers 105.4 cubic feet of passenger space, plenty of room for up to five passengers. It also has 36.3 cubic feet of storage space behind the second row of seats, and a full 68.3 cubic feet of cargo space when the rear seat is folded down.
Jeep also continued to produce the high-performance Jeep Grand Cherokee SRT8, which is now simply called the Grand Cherokee SRT. This features a 6.4-liter Hemi V-8 that produces 465 horsepower.
In 2013, the Jeep engineers took to the drawing boards and came up with some improvements to the 2011 fourth generation redesign. The changes included improved controls and an eight-speed automatic transmission option. There is also an improved optional 3.0-liter turbodiesel V-6 that produces 240 horsepower and 420 lb-ft of torque. The newer models also added many new safety features, including forward-collision warning, adaptive cruise control, and rear cross-traffic detection and collision avoidance systems. These are not on all Jeep Grand Cherokee models, so you will need to check to see which ones are featured on the vehicle you desire to purchase. One advantage of buying a used Jeep Grand Cherokee is that your buying power goes further. You can purchase a higher trim level or model used for about the same price as a lower trim level on a new Jeep Grand Cherokee.
All fourth generation Jeep Grand Cherokees come standard with the Uconnect infotainment system, one of the best in the industry. This includes a color touchscreen display, AM/FM stereo, Apple CarPlay and Android Auto capability, voice command pass-through to phone, and Bluetooth. Some upgrades to the UConnect system include SiriusXM satellite radio, a 4G LTE Wi-Fi hotspot, and a navigation system. Uconnect is setting the standard for entertainment, information, and vehicle connectivity.
Get the best of both worlds with a used Jeep Grand Cherokee: a midsize SUV that can handle your off-road adventures while still delivering your on-road needs. This is an SUV that does everything well, making the Jeep Grand Cherokee the most well rounded midsize SUV on the road today. Come into our showroom at Orange Coast CJDRF, and drive out with the used Jeep Grand Cherokee that won't break the bank.