Jeep – The Ultimate Social Distancing Vehicle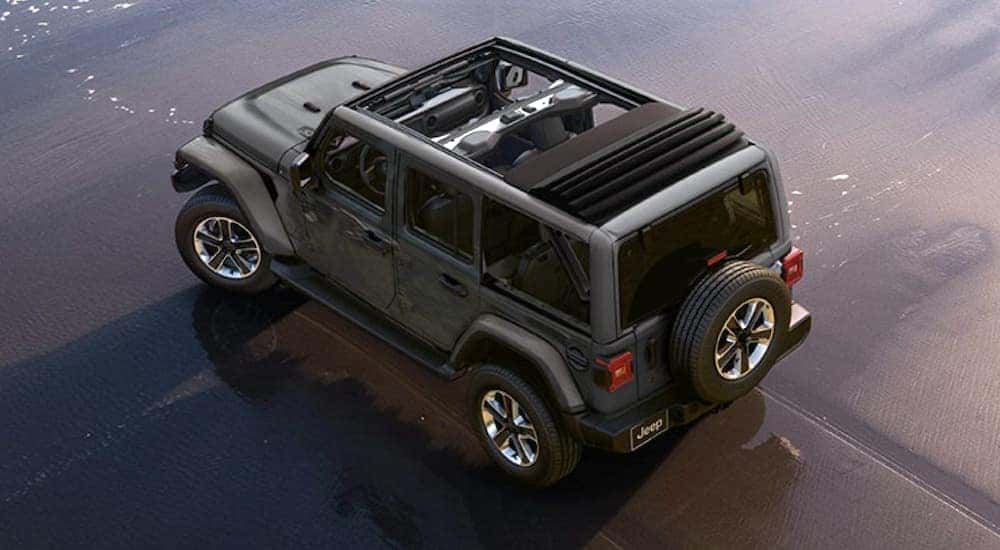 Please keep in mind that locations may have restrictions due to current health concerns.
Around Memorial Day, the Fourth of July, and our other national holidays, our inner patriotism starts to come out. We thank those veterans among us for their service and remember those who fell to protect our way of life. The many freedoms we enjoy certainly did not come for free. Our national holidays give us time to reflect on the past while spending quality time with family. Perhaps you spend these days getting together for a barbeque with loved ones or kicking back with a cold brew out on the deck. Whichever way you like to honor our great American traditions, it's hard to ignore the fact that things are a little bit different this year. Social distancing is still in full swing as we all do our best to protect ourselves and others from the spread of COVID-19. Some things are as American as apple pie, and the Jeep is one of them. Coincidentally, Jeeps are the ultimate social distancing machine. This rugged vehicle paints a picture of independence on the open road. We're proud to offer quality, affordable used Jeeps for sale at Orange Coast dealership.
Life, Liberty & Jeep
The founders of Jeep were real patriots, and their efforts are a celebration of American ingenuity. As the drums of war sounded across the Atlantic and Pacific, the U.S. army began ramping up the war effort. The U.S. army sought out bids from various manufacturers for all sorts of necessary items and equipment to support the war effort. In 1940, the feds were looking for a light reconnaissance vehicle to serve dynamic functions in combat. Although 135 companies we involved in the bidding process, Willy-Overland created a prototype known as "the quad." The initial design was developed into a boxy 4×4 design. After much testing, the army awarded Willy-Overland a contract for 16,000 revised models.
The Willys MA was mainly sent to our allies under the Lend-Lease program, while the Willy MB eventually evolved into the iconic Jeep we all know today. While it is a topic of much discussion, historians believe that the Willy became known as Jeep due to a contraction of the letters "G" and "P," or general-purpose, which was the armies nomenclature. During World War II, Jeep served in most theatres of war for the USA, Russia, and England. Jeep was as recognizable and familiar to U.S. army men as their own rifles. One MB was even rewarded a purple heart, a high honor typically reserved for soldiers wounded in action.
Eventually, Jeep settled into civilian life after the first C.J. or Civilian Jeep (the CJ-2A) was developed. Since then, Jeep has continued to symbolize a patriotic American creation that has transformed into a myriad of models still relevant today.
Social Distancing is Better in a Jeep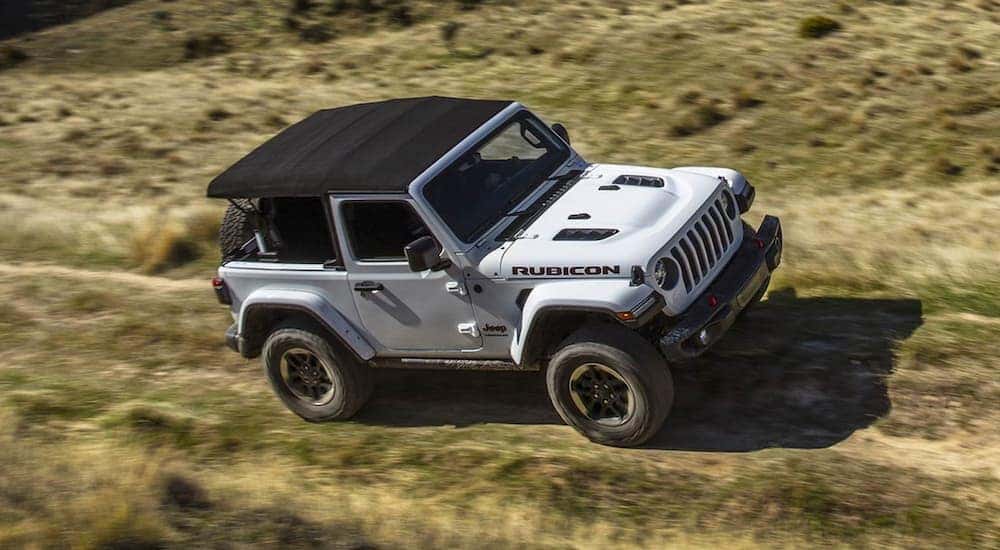 Social distancing is common practice in our current era of COVID-19. For the foreseeable future, it seems that social distancing practices are here to stay. COVID-19 has cast a shadow over many important holidays, such as Passover, Ramadan, and Easter. At first, it was difficult to determine what we could and should do as the transmissibility and virality were big question marks. However, as we have been moving forward and learning new things, there's a newfound cause for optimism. Unfortunately, social distancing procedures, along with wearing masks and frequent hand washing, are necessary at this time. That's why there's no better reason to spring for a Jeep.
Jeeps are reliable and all-American vehicles that represent the freedom to go wherever you want. Many models based on that very first prototype are still around. Modern improvements have made Jeep's easy-to-use convertible top a lifesaver in the heat. Feel the wind in your hair with excellent airflow and ventilation to keep you healthy and feel refreshed. A Jeep can push forward even through harsh terrain. Whether off-roading in wartime or on a social distancing adventure, Jeep rises to the occasion and gets the job done with ease.
Making the Most of Trying Times
Learning new ways to enjoy life while maintaining a 6-foot distance from others has forced many of us to reexamine how we live our lives. Getting back in touch with mother nature has been a positive side effect permeating through many households during the pandemic. Here in Southern California, we have no shortage of opportunities for outdoor exploration and fun. Within driving range, we are fortunate to have tons of beautiful national parks and natural treasures situated right here in our own backyards.
Joshua Tree and the Angeles National Forest are both close by. If you are looking to get out and take a little longer drive, you can head to Los Padres National Forest. Camping is an excellent option for spending extra time with family and friends. If you ride outside the city limits, you can find plenty of interesting possibilities with fishing and hiking galore. Take your Jeep to any of the close beautiful beaches. Huntington Beach is an ideal option for some fun in the sun. Relax on the shore, go for a jog, or cool down in the ocean. With a Jeep, your options are only limited by your willingness to get out there and immerse yourself in the world around you.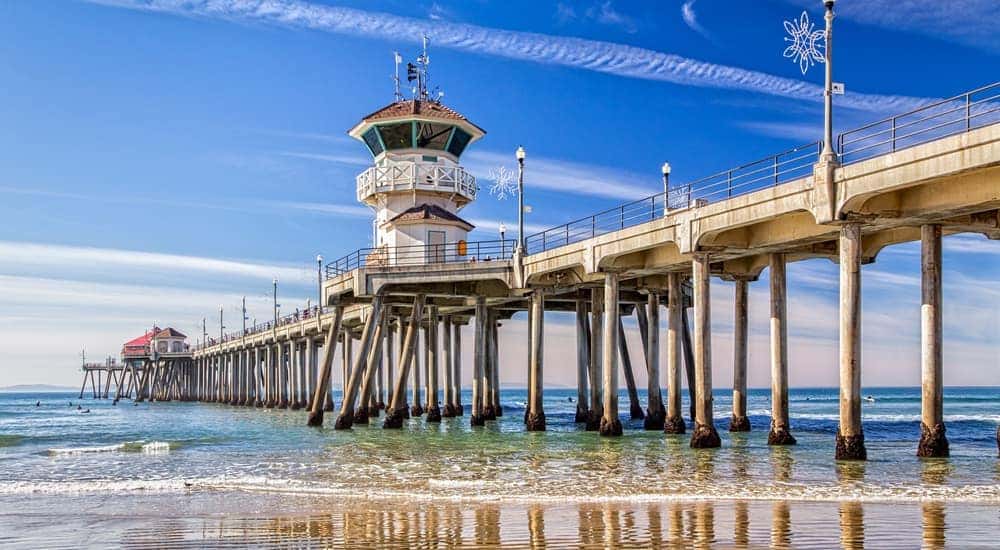 Why You Should Choose Orange Coast Dealership
Getting into a new ride at a reasonable price usually means choosing a used car. Used cars can be a significant investment, depending on the brand. Jeep has a famously excellent resale value, making this brand a smart choice for any savvy car-buyer. Here in Southern California, the easiest way to find an affordable Jeep is to see us at Orange Coast Used. We have a wide variety of used Jeep models in stock to fit your budget and suit your lifestyle.
At Orange Coast, we only procure the best vehicles. Our used and certified pre-owned Jeeps are part of our extensive inventory of quality cars and SUVs. From the Compass to the Renegade to the Cherokee, we have them all. When visiting our dealership, you won't be able to miss our first-rate customer service. As a family-owned and operated business since 1981, we've been awarded the FCA's Customer Service award due to our focus and dedication to our customers. We work hard to be the best in every aspect of our business.
During this pandemic, our dealership is committed to ensuring that you and your loved ones can safely avoid unnecessary contact and maintain peace of mind while shopping for your next vehicle. We get you in and out under 90 minutes, respecting your valuable time and protecting you from prolonged visits at our dealership. For your convenience, we can even deliver straight to you, further mitigating potential COVID-19 risk factors. These are just some of the many ways that we look out for our loyal customers.
Some additional steps we've taken to address the current needs of our community include procedures to minimize potential risk by thoroughly cleaning all of our facilities daily. Using electrostatic cleaning, our dealership vastly reduces surface bacteria by evenly spreading disinfectant across all surfaces. We have sanitizing gel available for customers and staff at all times. Social distancing is strictly observed in all of our facilities, along with wearing masks and gloves as a requirement for all employees. After a test-drive, we will sanitize the interior of the vehicle. A used Jeep from Orange Coast can change your whole perspective and brighten your outlook. Check out our site, give us a call or come in to embark on your new journey.