Ram Trucks: Fifth-Wheel Towing Guide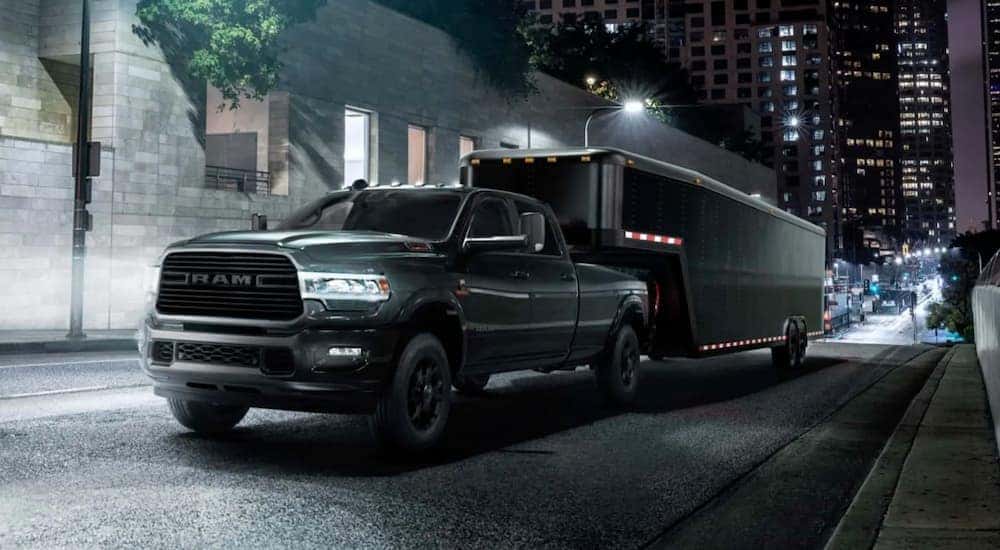 One of the biggest reasons to buy a truck, at least for many people, is the ability to tow trailers, campers, boats, and more behind your vehicle. Whether you're interested in a new or used Ram 2500, or any other Ram truck for that matter, your towing capabilities and needs should come into play when shopping for the right model. Ram has several different trucks available, from the light-duty Ram 1500 to the powerful Ram 3500, and the Ram 2500 lands right about in the middle of their offerings.
Since each of these models has a wide range of towing capacities available, it's important that you know what you need before you go shopping. Today, we're going to take a look at a pretty specific type of towing called "fifth-wheel towing" to see how each of the Ram trucks available stacks up. If you're not sure if you really need to consider fifth-wheel towing, then don't worry – we'll get into all the details below. By the end of this, you'll have a good sense of whether or not fifth-wheel towing is important for you and which truck can help you handle your towing needs.
What is Fifth-Wheel Towing?
Fifth-wheel towing, which is something a used Ram 2500 can be great for, is a form of towing that uses a non-conventional hitch. In conventional towing with a truck, the hitch connects to the rear of the truck's frame, just under the tailgate and license plate, and that connects to a trailer or camper to tow. With fifth-wheel towing, however, a hitch connects in the bed of the truck directly over the rear axle and attaches to the truck's frame.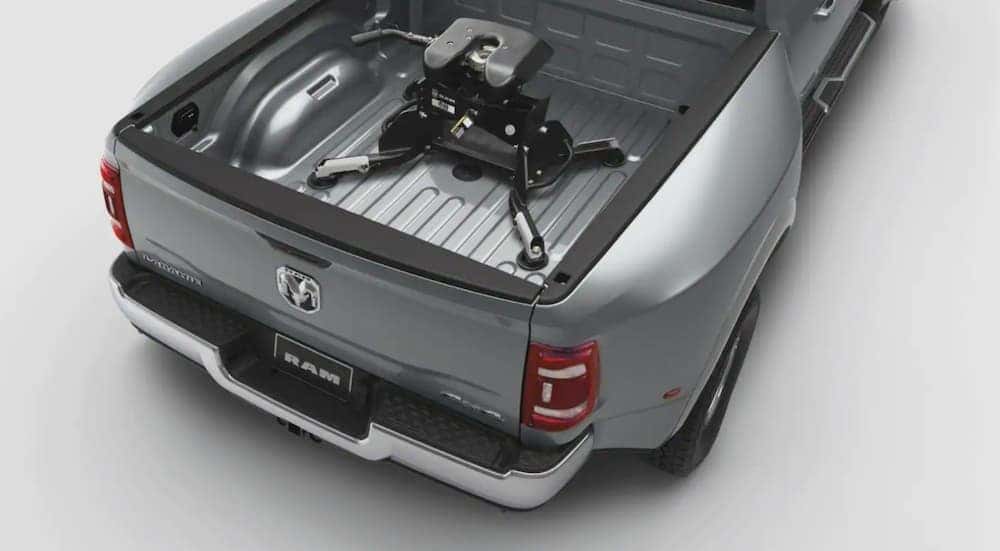 Fifth-Wheel vs Gooseneck Towing
There are two common types of towing that involve the bed of a truck: fifth-wheel and gooseneck towing. Fifth-wheel towing involves a large connection that goes into the bed with bars and a raised hitch, while gooseneck towing is installed under the bed and just has a hitch sticking up out of the bed. Both types of non-conventional towing will give you greater towing capacity than a standard hitch, but they don't quite do the same thing.
Fifth-Wheel Towing
Large, bulky connection
Fairly easy to remove
Very stable
More expensive than gooseneck
Best choice for RVs and large campers
Gooseneck
Smaller connection
Not easily removed
Less stable
Less expensive than fifth-wheel
Best choice for flatbed and livestock trailers
Both types of towing have their value, so we'll get into some more specific differences for them with regard to Ram trucks down below.
The Ram 1500 Classic and Ram 1500
So now that we have a good sense of what fifth-wheel towing is, let's see what Ram trucks are best for it. We'll start off with the Ram 1500 and the Ram 1500 Classic – which is basically the last generation's model that's still in production. To keep things simple, we'll look at the 2020 models of all of these Ram trucks. Even if you're interested in a used Ram 2500, the more recent the model you choose, the more power it's likely to have.
Technically, the Ram 1500 models can be used for fifth-wheel towing, but there's really no reason to do so. The Ram 1500 Classic has a maximum possible towing capacity of up to 10,680 lbs, while the standard Ram 1500 has a maximum towing capacity of up to 12,750 lbs when properly equipped. Both of these trailer weights are well within the capabilities of conventional towing, so long as you choose the right class of hitch. So while you could setup fifth-wheel towing on the Ram 1500, it wouldn't actually do much beyond possibly giving you slightly better stability.
In other words, it's really not worth it.
The Ram 2500
The Ram 2500, even a used Ram 2500, is a better option for fifth-wheel towing for a number of reasons. For one thing, this is a heavy-duty model that's designed to handle more weight, with a stronger frame to help support it. That means it can take better advantage of what fifth-wheel towing has to offer – though we'll see in a moment that it's still not the best choice.
Maximum towing capacity with a used 2020 Ram 2500 is 19,680 lbs when properly configured – that means a regular cab, 8-foot box, and the available 6.7L Cummins Turbo Diesel I-6 engine. It's worth noting that at such a high towing weight, you're pushing the limits of what a conventional hitch, even the highest class of hitch, can handle. While it's possible that a Class 5 hitch could handle that much weight, it would certainly be putting it to the test.
So, if you're interested in going above about 18,000 lbs of towing, which a used Ram 2500 can potentially handle, then a fifth-wheel or gooseneck setup would be best. Which one of these two options you choose really depends on what you're looking for, as well as the type of trailer or camper you need to tow behind you. If you're unsure of what you're looking for, then a helpful salesperson at your used Ram dealer can help you figure it out.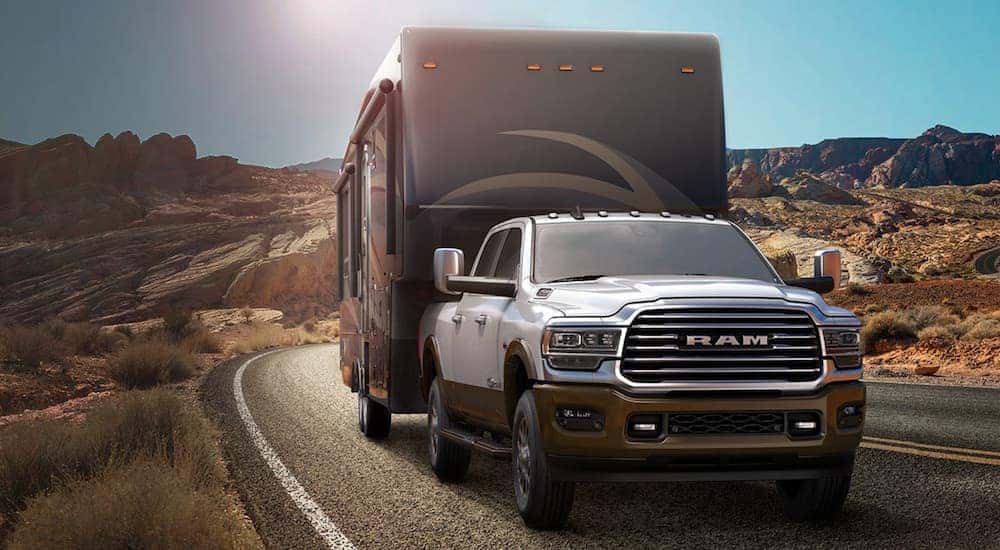 The Ram 3500
Now, let's take a look at the Ram 3500, the most powerful heavy-duty Ram truck on the road, and again we'll look at the 2020 specs to see what you might be able to get with a very recent, used model. This is much more fitting for fifth-wheel and gooseneck towing and can really get massive results with such non-conventional methods. So if the other Ram trucks fall short of what you need, then the 3500 should definitely be on your radar.
When properly configured, the 2020 Ram 3500 has a maximum towing capacity of up to 35,100 lbs. You need just the right setup for this much weight, including a regular cab, an 8-foot box with dual-rear wheels, and the High-Output version of the Cummins Turbo Diesel engine. But even most other configurations of the Ram 3500 have a maximum towing capacity of 20,000 lbs or more, and it's not hard to find a model that can handle more than 30,000 lbs. This much weight, however, goes well beyond what even the toughest conventional towing hitches can handle.
Ram indicates that if you're going to tow more than 23,000 lbs behind your truck, then you need to use a fifth-wheel hitch. We'd suggest looking at a fifth-wheel as soon as you surpass 20,000 lbs just to be safe. However, if you need to tow more than 30,000 lbs behind your truck, then Ram states a gooseneck hitch is required. So, with a used Ram 3500, assuming it's configured to handle the weight, we recommend a fifth-wheel or gooseneck setup for anything beyond 20,000 lbs and a gooseneck if you plan on towing more than 30,000 lbs.
Choosing the Right Truck
Now, with all of that said, which used Ram truck is right for you? Well, that depends on how much weight you need to be able to tow – and we didn't even look at other factors like payload capacity, configuration options, and much more. This is why there are so many different models and trims available when looking at different used Ram 2500 pickups and other trucks. Come visit us at Orange Coast Chrysler Jeep Dodge Ram Fiat today to discuss your options, and we'll help you find just the right truck and towing setup for what you need.