Taking on the World in a Used Jeep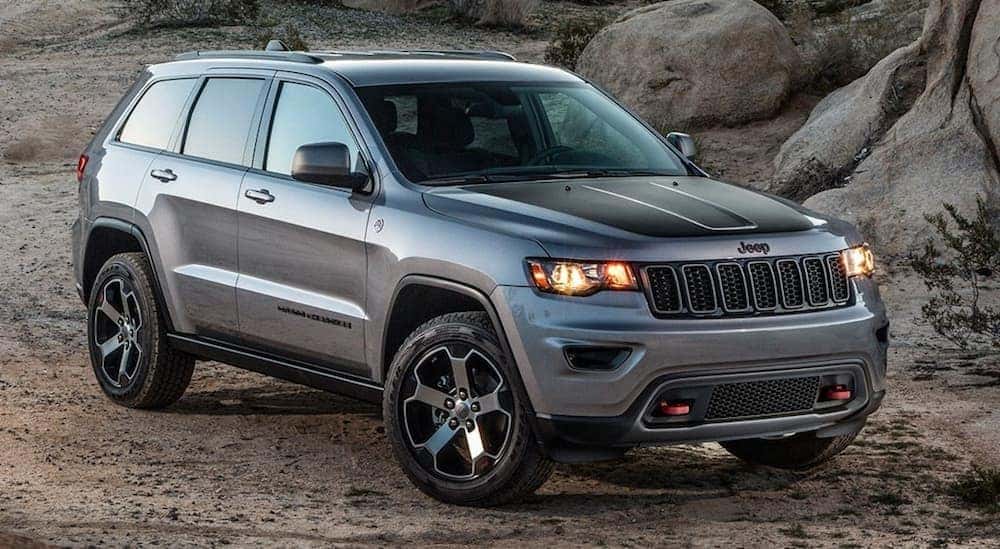 The Jeep brand is synonymous with adventure, with tackling the great outdoors and having no hesitation while doing it. From the ultimate rugged flagship the Jeep Wrangler to the family-friendly off-roader the Jeep Grand Cherokee Trailhawk, Jeep is filled with vehicles that are ready for a thrill, and when you buy used you can enjoy the fun of a Jeep but at a far lower price. Here at Orange Coast, we offer a wide variety of used cars for sale, Jeep models in particular. Plenty of our customers visit our dealership with an itch to drive a Jeep vehicle, and while the Jeep Wrangler is certainly the most capable of the bunch, it isn't the only model in the family lineup. To help you find the best used jeep model to enjoy some serious fun in the sun, we've put together this short-list of some of our favorite used Jeep models.
Off-Road Prowess
We'd be mistaken if we didn't start off our list with the Jeep Wrangler. Since its initial introduction in the 80s, the Jeep Wrangler has been the cream of the crop in terms of off-road capability. While other SUVs have attempted to compete with the Wrangler and may boast some seriously rugged specs, few vehicles truly compare to the Jeep Wrangler. The Jeep Wrangler hasn't changed a whole lot since its initial introduction. Intended to hark back to the days when Jeeps or GP (general purpose) vehicles took to the battlefields of Europe during World War 2, the vintage style of the Jeep Wrangler is often its main appeal.
That said, specs are important too. No matter what model you buy, you're in for a treat, as a 4×4 drivetrain graces each model. This means, you can take a Jeep Wrangler off the road and into the dirt right after you sign that dotted line; few models can boast that claim. The Jeep Wrangler is a fantastic fit for anyone who likes to explore truly remote parts of the world. It is important to note though, the Jeep Wrangler isn't necessarily fuel efficient. Big off-road tires and hefty off-road build can have some serious pay off when venturing through the red hills of Moab, Utah, but it can also cause some serious drag, which in turn can harm fuel efficiency. However, for many drivers, lower fuel economy ratings are a small price to pay for such incredible off-road specs.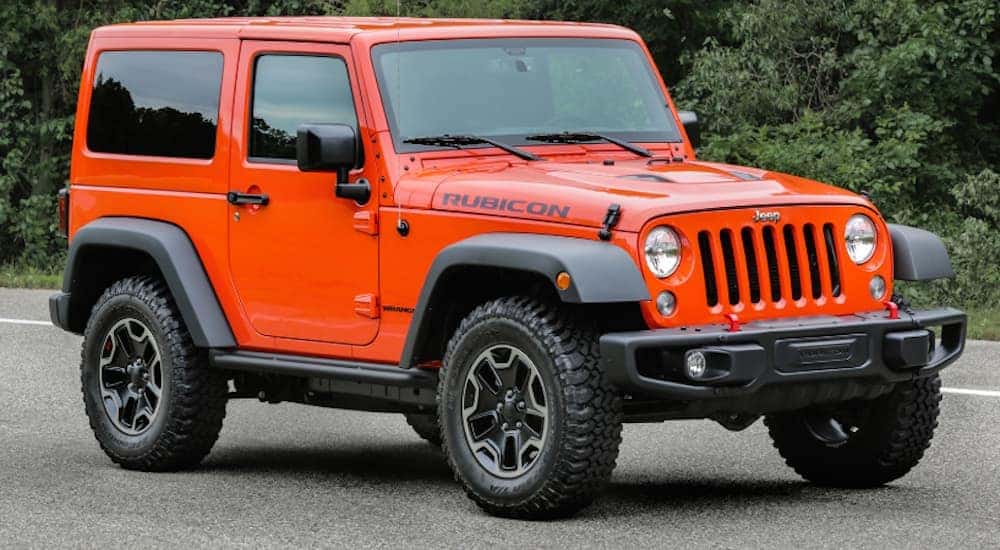 A great pick for campers and off-road enthusiasts alike, there aren't many obstacles that can stop a fully equipped Jeep Wrangler, and driving one isn't necessarily for the faint of heart. Thrill-seekers and true adventurers will love to sit behind the wheel of a Jeep Wrangler, as it is the most capable Jeep model yet.
Power and Practicality
The Jeep Grand Cherokee has always come second to the Jeep Wrangler; however, that is not to discount the Jeep Grand Cherokee's value. The Jeep Grand Cherokee has been in production since 1993 and is meant to cater to an audience who likes the style and capability of a Jeep, but also wants the comforts of a luxury vehicle. The Jeep Grand Cherokee, especially those from modern lineups, offer a diverse range of trims that give buyers the chance to create a Jeep Grand Cherokee of their specific liking. The Jeep Grand Cherokee can be transformed from a simple family car to a race-worthy SUV that can handle its own on the track. This full-size SUV can also be turned into a rather capable trekker with the Trailhawk edition. While it may not be able to compete with the likes of a Jeep Wrangler, it does hold its own in many scenarios. The Jeep Grand Cherokee of any year is also bound to have some pretty solid towing capacity. With robust V6 engines under its belt, the Jeep Grand Cherokee can haul everything from small cargo trailers to big live-in mobile homes.
The Jeep Grand Cherokee is a solid pick for any driver who wants the adventure of a Jeep Wrangler, but the size and comfort of a luxury full-size SUV. We often recommend this vehicle to big families who have an affinity for road trips. With the option of luxury comforts like leather upholstery, heated seating, and advanced infotainment systems, the Jeep Grand Cherokee is designed for a cushy ride even on long-distance cross-country road trips.
Commuter Comforts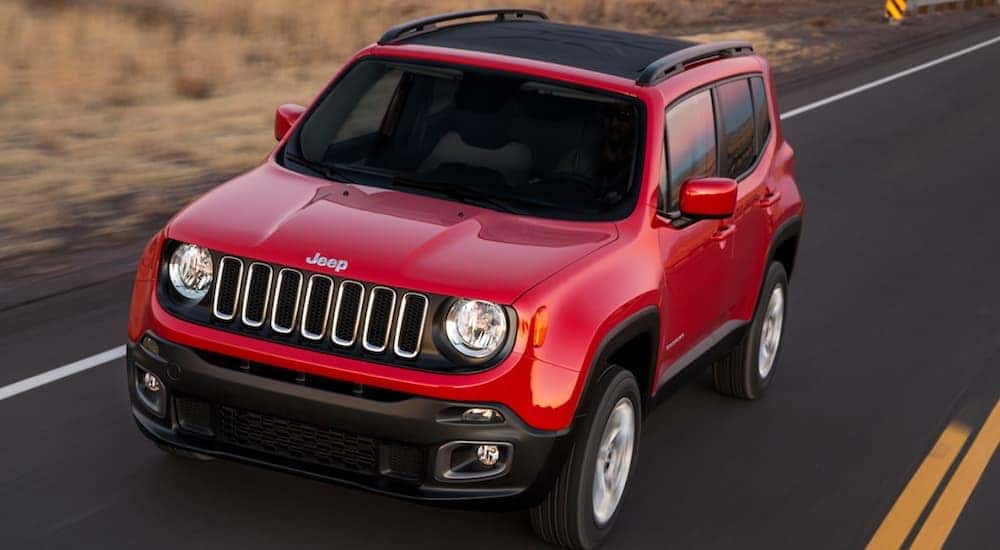 Not every driver is willing to spend the price tag of a Jeep Grand Cherokee, nor are they looking for a vehicle that guzzles so much gas on the road. Some drivers who visit Orange Coast are looking for a Jeep that can make for an easy commute on the weekdays and tackle the trail on the weekends; that vehicle is the Jeep Renegade. Often considered the black sheep of the Jeep family, the Jeep Renegade is a real standout as a quirky compact SUV that offers up solid fuel economy and some pretty impressive off-road capability. The styling of the Jeep Renegade feels like a remix of the Jeep Wrangler, with its classic round headlights and iconic front grille. However, there is something fresh about the Jeep Renegade that is simply hard to find in the lineups of other automakers.
The base model is pretty run of the mill, offering a decent compact SUV driving experience, with an engine that offers plenty of oomph and a cargo hold that'll definitely get the job done. The base model ground clearance isn't bad too, which gives even the cheapest Jeep Renegade the option of some light trail running. Although, if you step up to the Trailhawk model, you'll get a compact SUV that can hold its own with the Jeep Grand Cherokee and even the Jeep Wrangler in some instances. Utilizing Jeep's Tigershark engine, the Jeep Renegade Trailhawk can put out some serious torque, and the 4×4 drivetrain doesn't hurt too much either. Toss in increased ground clearance and a more robust suspension system, and you have a compact SUV that can outpace any of its competitors when out on the trail. Better yet, all models of the Jeep Renegade get decent gas mileage when compared to other members of the Jeep family lineup.
Buying a Used Jeep Model at Orange Coast
If you're looking for a car that is as adventurous as you are, Jeep is the way to go. We've only touched the surface in terms of the various used models that you'll find in our showroom; however, here at Orange Coast CJDRF, we are more than willing to fill out all the details. Jeep is a brand that has plenty of appeal for a wide variety of drivers. From the rugged adventurer to the weekend warrior, the Jeep brand has a vehicle for them all, and it is our job at Orange Coast to help you find it. Buying used, especially a used off-road trekker, can feel like an uphill battle, but with our help, you can find that perfect fit with as little stress as possible. Our entire auto buying process is transparent from start to finish, and we ensure that all of our customers get a full car history report, so they understand what kind of car they're taking home with them. The Jeep family lineup is filled with vehicles that are always up to the challenge, and our team at Orange Coast can help you experience them all one-on-one.