The Jeep Renegade Trailhawk: The Best Off-Roading Trim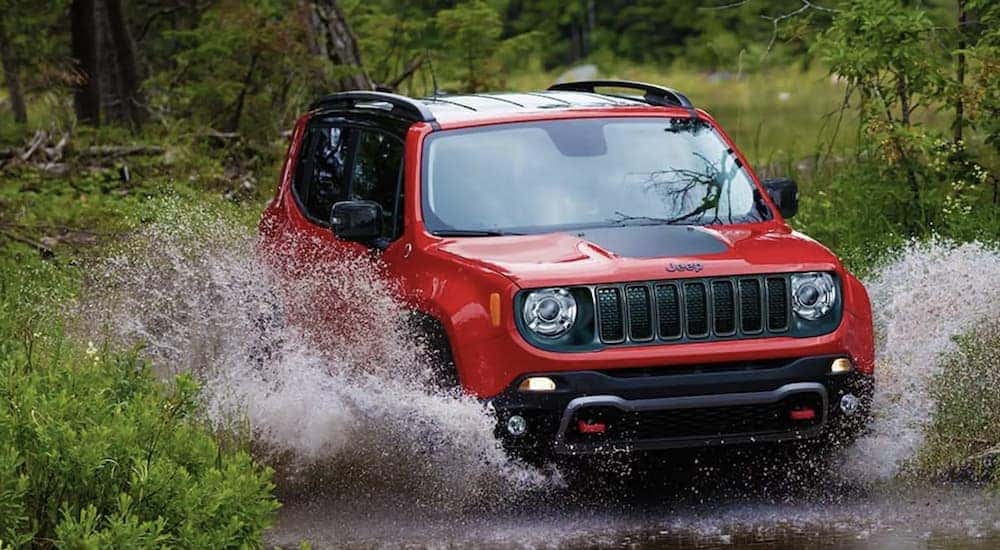 When you're looking for a Jeep Renegade dealership, you may be wondering if this subcompact model is as capable off-road as Jeep's other models are. The simple answer is yes, the Jeep Renegade is good off-road––especially when you choose the Trailhawk trim. The 2022 Jeep Renegade Trailhawk is a Trail-Rated 4×4 SUV that offers Terrain Modes and a two-speed transfer case. Put simply, when you're on a budget, but want a Jeep with off-road capability, the Renegade is the model for you.
What Does "4×4" Mean for the Renegade Trailhawk?
Many vehicles include 4-wheel drive capability, but there's a difference between a model that can handle some ice and snow, and one that's off-road-ready. So, what exactly makes the Renegade Trailhawk a capable 4×4 model, then? First off, the Trailhawk includes its own unique 4×4 system called "Jeep Active Drive Low." All Renegade models include the basic Jeep Active Drive System and the Selec-Terrain traction management system. The latter includes four drive modes: Snow, Sand, Mud, and Automatic. Each mode will optimize your engine and drivetrain to match the selected conditions.
Jeep Active Drive Low adds a two-speed transfer case with a 20:1 Crawl Ratio, giving you more traction and torque. Simply shift into 4-Low and enjoy access to a lower crawl speed for handling challenging terrain. This is necessary for hills and rock climbing and is especially handy in the mud and other slick conditions. Further, the Trailhawk adds Rock Mode to your list of Selec-Terrain modes. If you're looking for an off-road-ready Renegade, we highly recommend finding a Trailhawk for these reasons.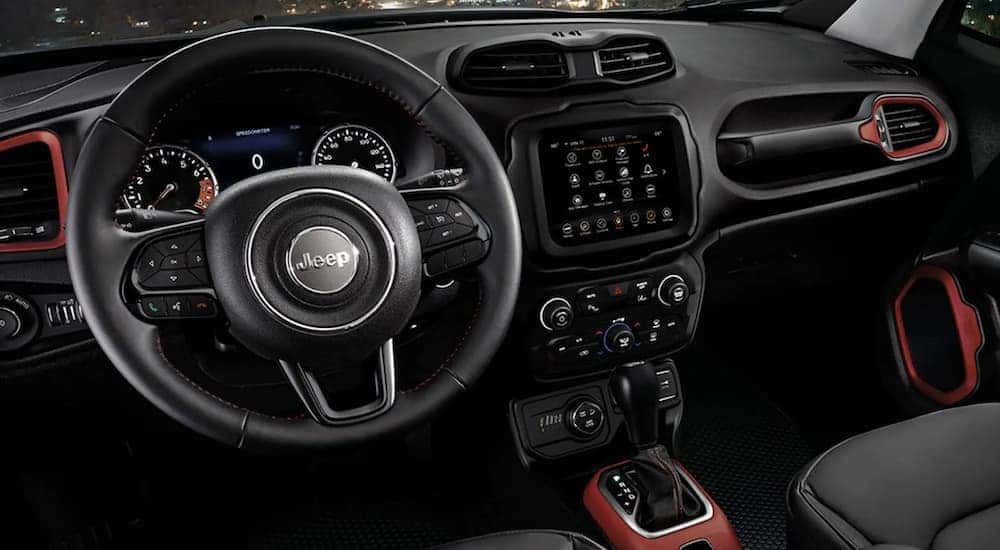 The Trail Rated Badge
You won't see that Trail Rated badge on just any subcompact SUV. Jeep only offers this credential to the most worthy models. A Jeep must undergo extensive testing before it is awarded the term "Trail Rated." The 2022 Jeep Renegade passed the following rests:
Traction – Thanks to the Renegade Trailhawk's nifty Active Drive Low 4×4 system, you can maintain traction and prevent slippage.
Water Fording – That creek isn't a match for your Renegade. The Trailhawk trim can push through up to 19 inches of water. Just make sure you know the water's depth before traversing.
Maneuverability – Logs, rocks, and winding roads are no match for the Renegade Trailhawk. Like many Jeeps before it, this model is easy to navigate, both on and off the trail.
Articulation – No, the Renegade Trailhawk won't speak to you, but it will make sure your wheels stay on the ground. Articulation is a measurement of how much suspension travel a vehicle has, which is a vital feature off-road.
Ground Clearance – Bottoming out can be dangerous and damaging to your vehicle. That's why the Jeep Renegade Trailhawk offers an 8.7-inches of ground clearance, helping you stay above the rocks, logs, and other obstacles.
Keep in mind that some Trail Rated models are considered more off-road capable than others. That being said, a Jeep can only receive this rating if it is capable of tackling all terrains. The 2022 Jeep Renegade Trailhawk has undergone extensive off-road testing and is certified as a true off-roader.
How About The Engine?
The term "off-roader" typically comes with one negative connotation, and that is fuel economy. However, the Renegade Trailhawk breaks this stereotype with a 27 MPG combined fuel economy rating. In fact, this model can get up to 32 MPG on the highway. Part of what makes this possible is the 1.3-liter turbocharged engine's Start/Stop technology.
Don't let this high fuel rating fool you; the Renegade Trailhawk is still perfectly capable of getting you where you need to be. Its engine pumps out 177 horsepower and 210 pound-feet of torque, allowing it to tow up to 2,000 pounds. For a subcompact SUV, that's an impressive rating. This weight is more than enough for you to haul extra equipment and camping supplies with you on your adventures.
What Else Does the Trailhawk Have to Offer?
Now that you know the 2022 Jeep Renegade Trailhawk can tackle mud, rocks, gravel, and dirt, you're probably wondering what else it can do. While all these off-road perks are fun, your daily driving experience is important as well. This is where Trailhawk-stamped leather seating, fun technologies, and impressive storage capacity come into play.
Dual-zone temperature control and a heated steering wheel help ensure that even once the fire goes out, you've got access to a warm Jeep interior. Furthermore, when it gets foggy or damp out, the Trailhawk's heated mirrors are ready to make sure you can see clearly. The new Renegade Trailhawk also comes with split-folding seats and an adjustable cargo floor, allowing for up to 50.8 cubic feet of cargo space.
The new Family Drive Alerts feature is our favorite tech perk that the Renegade Trailhawk has to offer. This feature allows you to add boundary limits and speed limits for your driver, as well as a vehicle locator. While the Family Drive Alerts feature is designed with teenage drivers in mind, it's a comforting feature to have if you're on the trails or camping for the weekend. While we don't expect that you're incapable of navigating the forest, anything can happen, so it's nice to have this vehicle pinpointer handy. In addition to this, this model has Wi-Fi capabilities, so you can work and connect remotely when necessary.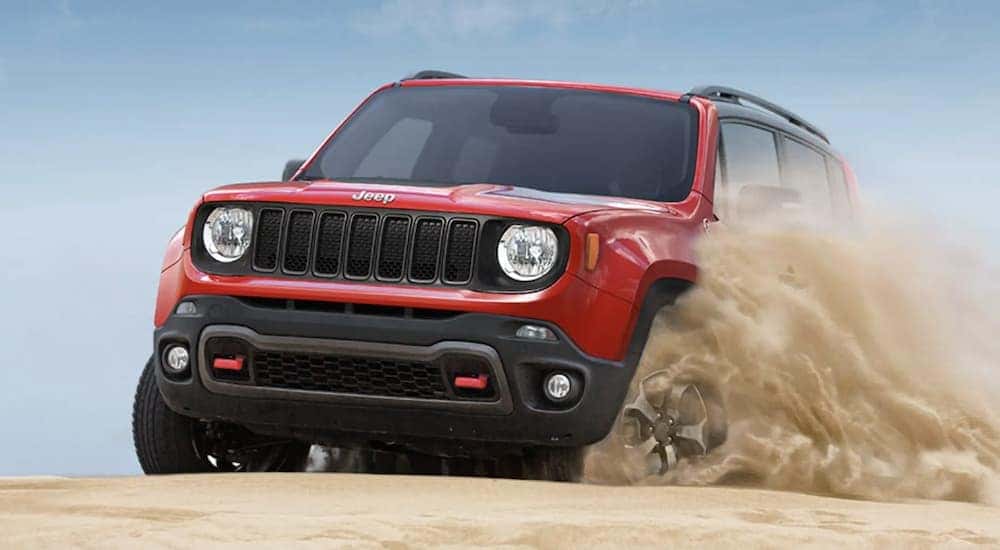 Safety Features
You'll also get a collection of driver-assist features. Many of these features are handy both on and off the road. The Renegade Trailhawk includes eight features, four of which are parking aids.
Blind Spot Monitoring and Rear Cross Path Detection – These two features pair up to help monitor your blind spots and safely back out of parking spaces.
Forward Collision Warning with Automatic Braking – Sends a warning when a potential frontal collision may occur. When you don't stop quickly enough, the Trailhawk will automatically brake.
Lane Departure Warning with Lane Keep Assist – This is a great one to have on long drives. It keeps you centered in the correct lane and sends an alert when you begin to drift.
Adaptive Cruise Control – Works like regular cruise control, except it adapts to the current traffic flow.
Now, let's take a look at the parking features. Rear Park Assist sends alerts when you're too close to an object and pairs with the Rear Backup Camera to help you avoid rear collisions. Front Park Assist works like Rear Park Assist, and Parallel and Perpendicular Park Assist use semi-autonomous driving to help you park. And like any good Jeep model, the Trailhawk is built using a steel frame and seven airbags to best protect you should an accident occur.
Why the 2022 Jeep Renegade is, in Fact, Good Off-Road!
You can see that the Renegade is more capable than most SUVs, and the Trailhawk trim adds even more features that make off-roading easy. The best part of it all is that it's family-friendly and a great daily commuter, thanks to its high fuel efficiency and safety features. If you like the subcompact SUV style and price, but you still want to hit the trails, consider the 2022 Jeep Renegade Trailhawk. It won't let you down.