Turn Your Dream Jeep into Reality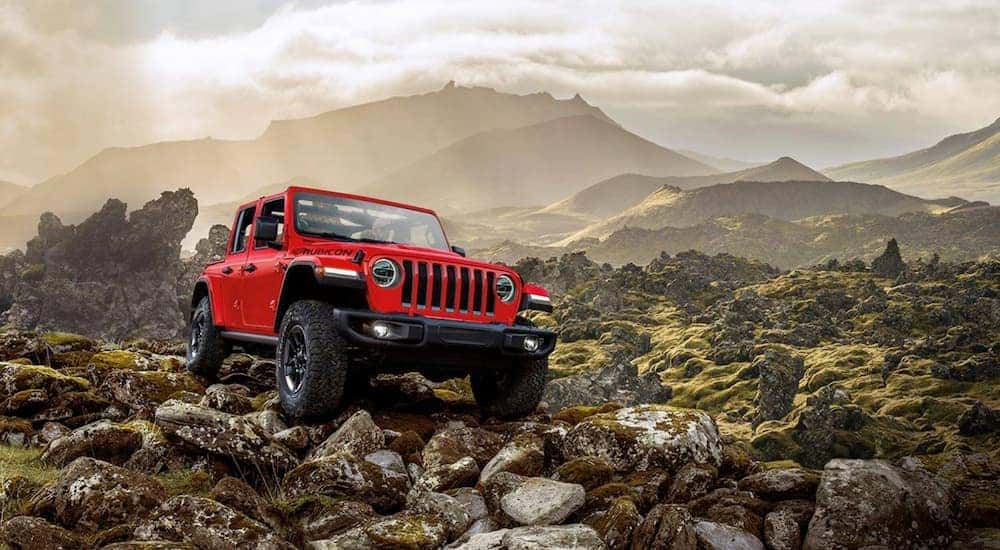 Here at Orange Coast CJDRF, we pride ourselves on being more than just the best new and used car dealer around with a focus on Chrysler, Dodge, Jeep, Ram, and Fiat. You can buy a used vehicle at a lot of different locations, which is why we push ourselves to be so much more than that. One of the key ways in which we do that is through our sister-lot: OC Motorsports, which is located right next door to our dealership. At OC Motorsports, you can realize just about any dream you might have for your new or used vehicle.
See a Jeep Wrangler here on our lot that you're interested in, but want to make some upgrades or modifications to it? We make it easy because you can head next door and talk to our friends at OC Motorsports to learn more about your options and see how you can turn a used Wrangler into the Jeep of your dreams. From lift kits and suspension adjustments to custom wheels and advanced lighting setups, OC Motorsports has you covered.
We have a lot of customers ask us about these kinds of options and who we would suggest for after-market modifications and changes. So we thought we'd take a moment today to discuss what OC Motorsports can do for you and how they enhance what we offer as your used car dealer.
What is OC Motorsports?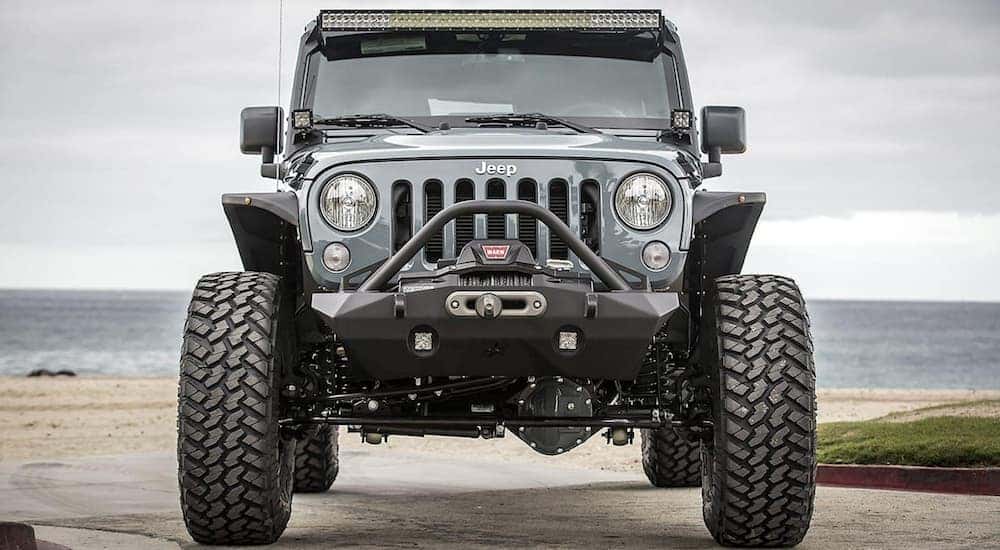 Photo Credit: OC Motorsports
OC Motorsports is our sister-dealer that specializes in custom and modified vehicles, including a limited selection of brand-new models available. They are much more than any other new or used car dealer, however, as they also focus on performing customization and modification on vehicles for you. So if you have a Jeep already, or you're interested in picking up a used Jeep here at Orange Coast CJDRF, but you want some after-market work done on it, then OC Motorsports is the place for you.
Because they are located right next door to us, it's easy for you to take a vehicle from here to there, whether you're shopping new or used. You'll find them right here in Costa Mesa, which means they provide service to customers and are easy to reach from all over the area, including Newport and Huntington Beach, Anaheim, and the greater Los Angeles area. They're open Monday through Saturday, and they're always happy to answer any of your questions about what they can offer.
What Kinds of Services are Offered?
Beyond selling brand-new vehicles, they specialize in providing after-market service and modifications to vehicles. Their skilled technicians don't only perform modifications, as they're completely happy helping you with an oil change, rotating your tires, or providing other routine and scheduled maintenance that you might need. Where their true passion rests, however, is in after-market work, including:
Jeep and Truck Lifts
OC Motorsports not only sells a variety of different lift kits and lowering kits for trucks and Jeeps, but they will also install them for you. They can also work with you to design and install a custom suspension system that lets you tackle trails you might not otherwise be able to handle.
Custom Wheels and Tires
Although standard wheels and tires on Jeeps and Ram trucks are great, sometimes you simply need more. Custom wheels from OC Motorsports can let you go on trails and over larger obstacles. They will work with you to pick out the right size and style for whatever you need.
Ring and Pinion Gear Installation
While lift kits and large tires might be flashy, altering the gear ratio on your Jeep or truck is one of the best ways to improve your performance. This can help you with towing, as well as with conquering truly demanding trails.
Jeep and Truck Accessories
No matter what kind of after-market or factory accessories you're interested in, OC Motorsports can help. They can install fifth-wheel and gooseneck hitches for serious pickup towing, add-on winches and body armor for a Jeep, and even install custom bumpers for you.
Custom Lighting
Functional modifications like lift kits and wheels are great, but sometimes you just want to show off. A custom lighting configuration can change the way your vehicle looks and also create a stunning impact anywhere you go. Trust OC Motorsports to handle your lighting needs and make sure you remain street legal.
Powder Coating
In addition to offering paint and vinyl work, OC Motorsports can also provide you with powder coating to ensure the longevity of your wheels and other components. This is especially important if you plan on hitting the trail and don't want to have your Jeep end up looking beaten and battered.
And More
Want something you don't see here? Contact OC Motorsports to find out how they can help and take your vehicle to the next level.
What Kinds of Vehicles do They Work on?
Although much of their work is done on various Jeep vehicles (who can blame them?), the technicians and professionals at OC Motorsports are also trained to work on Ram pickups, along with other trucks, SUVs, and cars. They utilize a wide range of after-market equipment and accessories so that they can handle just about any build or modification you can imagine. Give them a call or message them online today to find out more and see what they can do for you.
Why Choose OC Motorsports?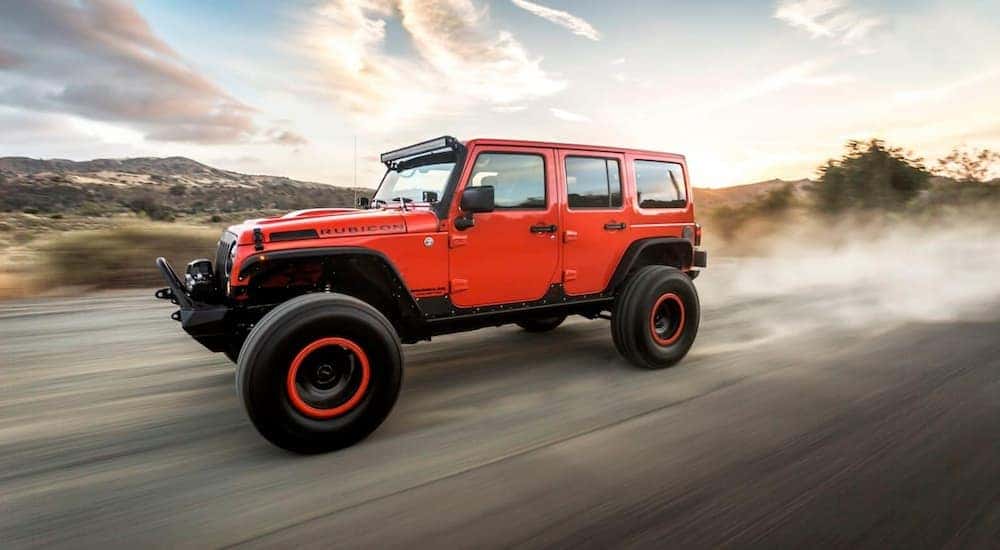 Photo Credit: OC Motorsports
When you have any kind of work done on your vehicle, even if it's simply a routine oil change, you need to know it's in the hands of someone you can trust. Any work done on your car, truck, or Jeep can have a serious impact on the longevity of your ride and even your safety. The last thing you want is to discover a mechanic left a belt off after working on it or skipped a step when installing an accessory in order to get the job done faster. The work that OC Motorsports does truly speaks for itself and demonstrates their commitment to safe and reliable service.
You might think you can save some money by installing a lift kit or making other modifications on your vehicle yourself. Although some of you may be fully capable and trained, this is technical work with a lot of aspects to it, and skipping something or missing a step can result in a catastrophic crash or serious personal injury. You need to be able to rely on your vehicle, and that means you need work done on it by someone you can trust.
The technicians and professionals at OC Motorsports are among the best in the industry, with a history and reputation built on great work at a reasonable price.
Want to Know More?
Whether you have a particular vision in mind or simply know you need some upgrades before you can tackle a demanding trail, OC Motorsports is here for you. They offer specialized work that you most often cannot get from the service center at other new or used car dealers. Give them a call today and see how they can turn your vehicle dreams into a reality.