Why Having Great Off-Road Gear Matters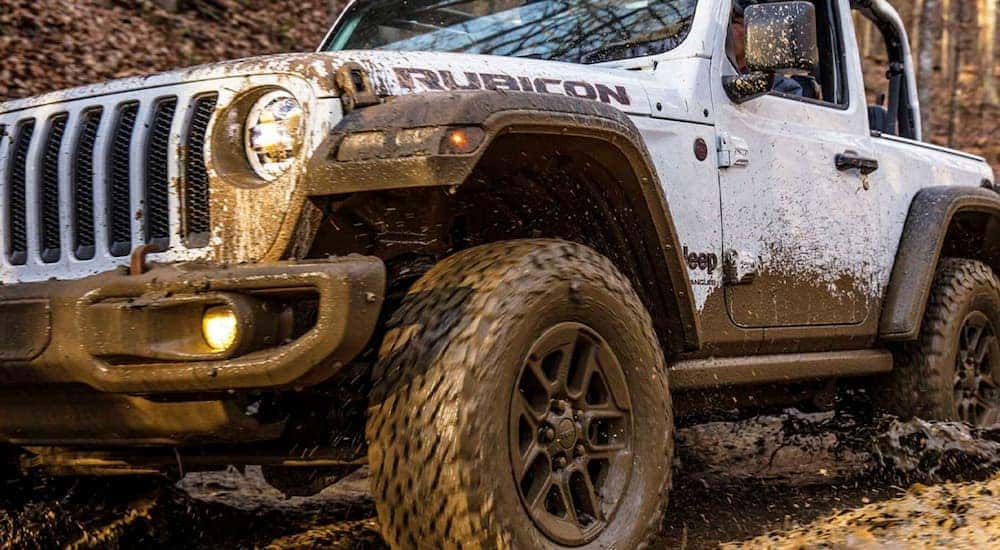 If you're interested in taking your vehicle off from the pavement and out into the varying terrain of the great outdoors, you'll want to be sure that your vehicle is up to the task. If you decide to push beyond the simple unpaved road, you'll want to equip your vehicle with a bit more robust assortment of gear. At Orange Coast, we know a thing or two about off-roading and can give you the tips and equipment to take on the trails safely. While we offer a plethora of Jeeps for sale that are ready to take on the great outdoors the moment you ride off of our dealership lot, we highly suggest upgrading your SUV with the gear necessary to tackle any kind of terrain without a second thought. And our good friends at OC Motorsports can help you develop the off-road trekker of your dreams.
What You'll find at OC Motorsports?
OC Motorsports is a leading parts provider, giving drivers a plethora of custom vehicles for sale. Staffed by a diverse team of finance and auto experts, OC Motorsports can be your leading partner in giving you the upgrades you need to turn your vehicle into an unstoppable force when out on the trail. The service and parts team at OC Motorsports is particularly skilled in what they do, giving you the kind of maintenance and modifications you can only expect from a leader in automotive servicing. From lift kits and suspension upgrades to custom lighting and gear installations, OC Motorsports does it all and more to make sure you'll never face an obstacle too great when out on the trail.
So, what kind of modifications do they recommend? The auto experts at OC Motorsports are well-versed in the subject of off-roading and are firm believers in the value of good equipment. Off-roading may be a thrilling way to experience the great outdoors, but it is also quite dangerous if you're not adequately prepared. If you embark on an off-road adventure unprepared, you can run the risk of finding yourself stranded, which can be quite disastrous when in remote areas. So, to help you stay better prepared, we've put together a shortlist with OC Motorsports of some of our top off-road upgrade recommendations.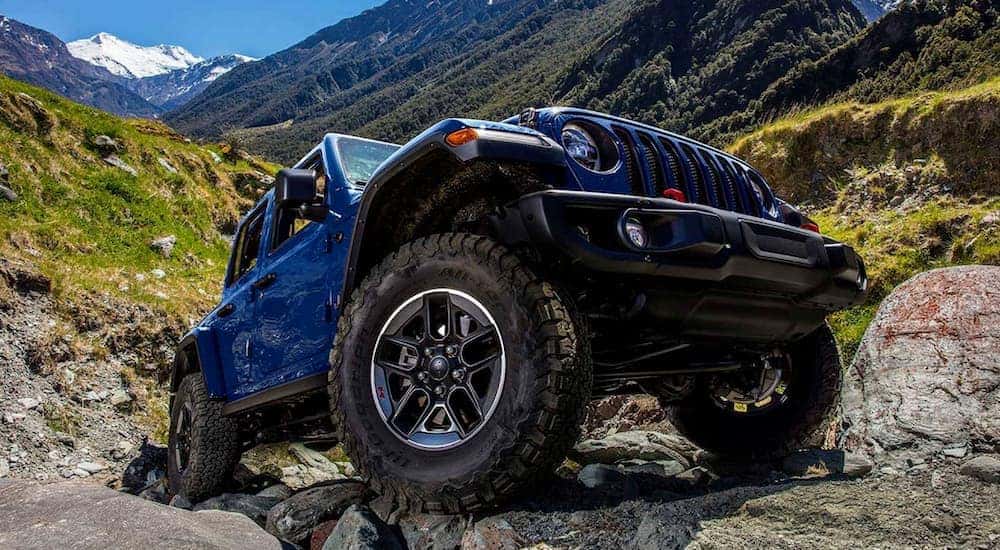 A Hefty Set of Tires
There are a number of upgrades and modifications that can play a huge role in your performance when off in the wilderness trekking onto rigorous off-road routes. However, at the top of every recommendation list is a hefty set of off-road tires. Off-road tires are a must-have if you hope to take on the trail, mainly because they play such a huge role in your vehicle's performance in general.
When you're locked to the pavement, your tires provide crucial weight support, and keep traction with the road and its varying conditions; the same can be said of off-road tires. Off-road tires may be much bigger, stronger, and grippier than your standard 'road-only' tire, however, they provide many of the same benefits. Off-road tires utilize much deeper tread grooves, which in turn means far greater traction when encountering the varying terrain of the trail. So, yes, that means you can chew through mud, snow, sand, and even rock without a second's hesitation.
Not only do off-road tires give you greater versatility, but they also are quite resilient when it comes to facing the kind of obstacles that are often encountered when out on the trail. This added durability truly comes in handy when you consider the fact that a flat tire in the middle of the remote wilderness can be less than ideal.
While off-road tires are central to any great experience on the trail, it isn't the only upgrade that our team at Orange Coast and the experts at OC Motorsports recommend.
The Higher, the Better
Ask any off-road expert, and they'll tell you that the higher you are off the ground, the better. Increased ground clearance can play a huge role in your experience off the pavement. This is mainly the case because the underside of your car is filled with components that are often quite delicate, and the higher you are off the ground, the lower your chances are of accidentally damaging any of these essential parts. You can increase the height or ground clearance of your vehicle by installing a lift kit.
Lift kits essentially raise the suspension of your vehicle, increasing the ground clearance, and providing extra protection when the trail gets rough. Working in assistance with greater ground clearance are skid plates. One can think of skid plates as a kind of shielding that you install onto the underside of your car and can protect against stray debris or the occasional difficult obstacle. With a solid lift kit, and a decent set of skid plates, almost any trail route can be accomplished with greater confidence. Keep in mind, however, that as the lift kits increase in inches, many vehicles need other parts replaced as well, like extended brake lines.
How to Get Unstuck
Sometimes, nightmare scenarios happen, and when they do, they can be quite devastating, especially when you're off-roading. One of the worst things that can happen when tackling the trail is getting stuck, though many times, its a simple tug out by a friend. But fortunately, with a winch installed, you can prevent the possible worse scenario. Winches aren't necessarily an essential tool for off-roading, but they can serve as your last-ditch vehicle-saver. With a winch, you can haul yourself out of ditches, riverbeds, and particularly sticky patches of mud or sand. With a great winch, even the most crushing failures on the trail can be resolved, which can certainly come in handy should you find yourself on a particularly challenging route.
With a great winch equipped to your vehicle, you can take on the wilderness with greater peace of mind, and an assurance that you'll have a way out, should you find yourself stuck.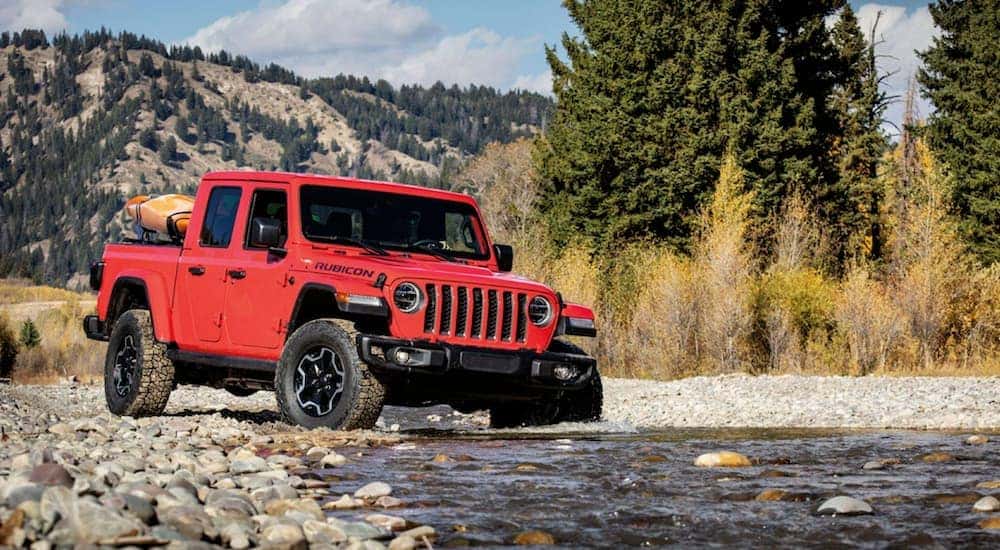 Upgrading with OC Motorsports and Orange Coast Jeep
If you're hoping to transform your SUV or truck into the ultimate off-road machine, you should be sure that you're receiving upgrades from an auto and maintenance expert that has your best interest in mind, and you can certainly find just that at OC Motorsports and Orange Coast CJDRF here in Costa Mesa, CA. Modifying your vehicle for off-roading can be a rather daunting endeavor, especially when you're unsure of what parts and upgrades to buy. This is precisely the reason why the team at OC Motorsports and our maintenance staff at Orange Coast are dedicated to being your personal guide to transforming your vehicle into a fully competent off-road powerhouse. Whether you're looking to install a lift kit to your vehicle or want to simply purchase a car that will roll off of the lot completely off-road ready, we've both got you covered. At OC Motorsports, you'll find a wide variety of factory and aftermarket upgrades that are all quality tested and installed by true auto maintenance professionals. At Orange Coast, you'll find not just parts and service experts, but auto retailers who have a wealth of knowledge and can help make all of your off-roading dreams a reality. So, before you hit the dirt, choose Orange Coast and OC Motorsports to be your main automotive provider.