5 Great Reasons to Buy a New Jeep Wrangler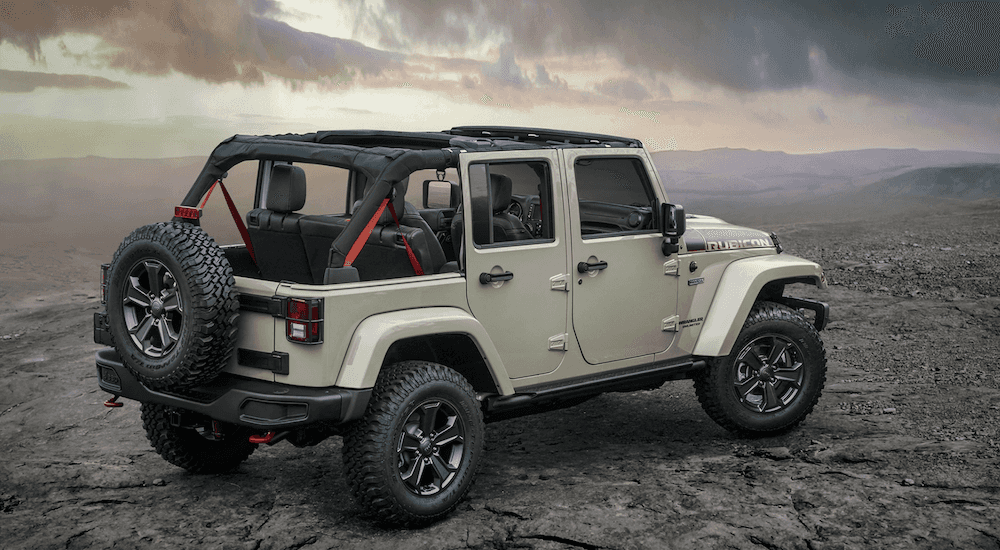 So, you love the great outdoors, you have large pets, and you love going to the beach. The typical sedan just doesn't cut it for you anymore. You want something that looks great and is fun to drive but can also take the punishment of the elements. But what kind of car do you need if all you want to do is go on long road trips, drive up mountain roads, or cruise sandy west coast beaches? The all-new 2018 Jeep Wrangler, of course! The function and appeal of owning a Jeep, especially one that has seen a complete design overhaul, is something to investigate. The next time you are in town, you should come check out the Jeep Wranglers at our Orange Coast CDJR Dealership. We have a ton of them in stock. You might be surprised by how much you can do with a Jeep that you might never have thought possible. You can obviously store more, and go off-roading, that's a given. But did you also know that you can do it in comfort and style? Our Jeep dealership has so many Wranglers in stock for you to test drive, so you can see for yourself. Especially if you enjoy owning an American made car with lots of horsepower, that still manages to be less gas-guzzling and considerably more eco-friendly than other vehicles in its class.
We want you to know what makes the 2018 Jeep Wrangler so popular. Here are five reasons why you should consider test driving one today:
The Jeep Wrangler is Affordable
New models of any car might seem expensive, giving you immediate sticker shock, but Jeeps are set apart, especially the Wrangler. At our Jeep dealership, you get the most bang for your buck. The Jeep Wrangler has always been a particularly outstanding buy. And it has only improved with every new model year, so it's worth it to pay just a little extra for all the new enhancements and features.
2018 is an exciting year for model overhauls, Jeeps especially. The Wrangler has so many newer features, including more efficient engines, higher-quality cabins, modern safety features, and all the latest technological upgrades. What you can expect from the newest model of Wrangler might surprise you and differ from what you might remember from years past. Did you ever think it would be possible to have a stylish Jeep? At our Jeep dealership, you should expect nothing less.
The Wrangler Looks Great Inside and Out
This car looks incredible. You must come take a look at it up close. The Wrangler has undergone updates to the exterior, interior, and under the hood. The stiffened body structure makes it look like a tour de force that can handle anything. Beyond that, it has a unique, cantilevered bikini soft-top configuration, an all-new modern headlight design, and new X-shaped tail lights. This new Jeep even has a leather interior that is to die for!
And just one look at the wheels and you know that Jeep Wranglers are powerful machines ready to take on anything you throw at it.
The Wrangler Has Tons of Power
A 368-hp 2.0-liter turbo engine makes the Wrangler the most powerful four-cylinder Jeep on the market. The 2018 Jeep Wrangler engine out-muscles all other 2.0-liter turbocharged engines including the 350-hp Porsche 718 Boxster S and Cayman S.
The all-new JL-generation Wrangler is leading in power in 4×4 vehicles. It's been tested driving on rocky terrain, hilly trails, and up mountains, but drives car-like on the road. With a well-weighted steering wheel, you know it's built for hard-cornering. With its firm brake pedal, it has a short 178-foot stop from 70 mph.
Jeeps Are Very Safe
You might not know that the 2018 Jeep Wrangler has a reputation for being safe. The more adventurous you are though, safety might not be much of a concern, but it should be! When driving a Jeep, you feel you have a cage of steel keeping you at a safe distance from other drivers. The Wrangler has that great visibility that most Jeeps have but is able to maintain it in all weather conditions. The Wrangler is also tough with high-strength steel beams and has one of the highest crash test ratings.
But if that isn't enough, you should know that the 2018 Jeep Wrangler is also highly equipped with all the latest state-of-the-art active safety features. It also has time-tested passive safety systems that will bolster your protection. When driving the Wrangler, you can feel safe knowing you have advanced front and side airbag systems, protecting you on all sides.
And if you worry about handling backing up, the improved visibility is also coupled with both Blind Spot Monitoring and Rear Cross Path Detection. The radar-based sensors detect other vehicles behind you, and the blind spot monitoring alerts you if there is a vehicle in your blind spot. What's safer than that?
The Wrangler Gets Great Gas Mileage
Fuel isn't cheap, but the Wrangler does a great job of maintaining horsepower without guzzling gas. The 2018 Jeep Wrangler has a 21.5-gallon fuel tank and gets 18.5 mpg on the highway. That's a competitive number among other Jeep models on the market.
Visit Our Orange Coast Jeep Dealership Today!
At our Orange Coast Jeep Dealership, we rise above the competition as we want to provide a valuable service to our communities. We do our best to serve our customers and ensure they never leave us dissatisfied.
We want our customers to know how fun it is to own a Jeep. If they are buying new, the 2018 Jeep Wrangler is an excellent choice.
When it comes to pre-owned, we want to make a promise to our customers that they will find a used Jeep that will provide the needs and fun that comes with owning one. We strive to help our customers search our inventory for the perfect car for them. The 2018 Jeep Wrangler is one that we have a lot of in stock, so it's worth checking out with your local Jeep dealership today!