A Look at Ram Trucks, Awards, and the Night Edition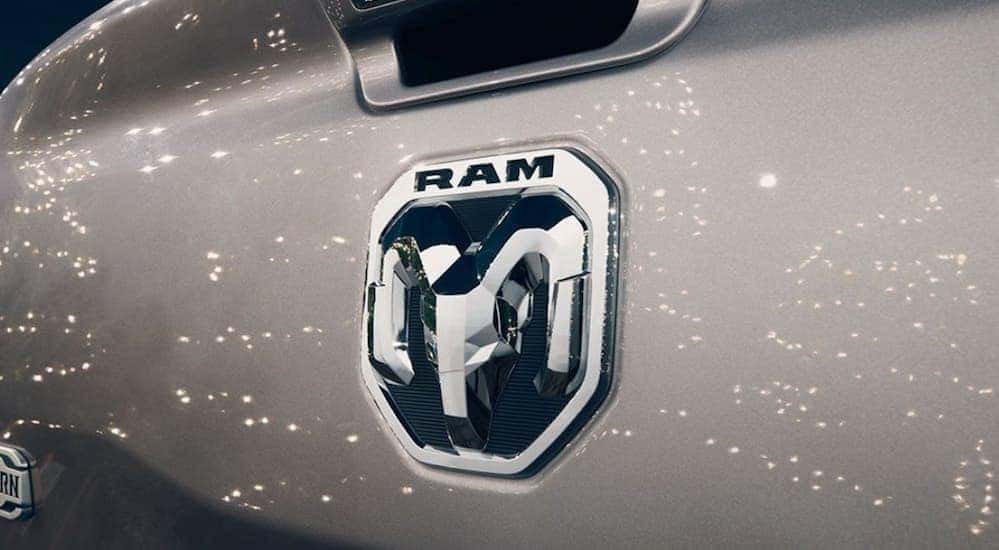 At Orange Coast CJDRF, we believe in getting behind brands that have proven time and again that they're reliable and trustworthy. That's why we back the Ram brand wholeheartedly. They've been around for a long time (over 100 years if you follow their entire history), and they know what they're doing. Although the creation of the Ram trucks brand was just nine years ago, it's still a familiar and well-known sight to see the curving horns logo adorning a hefty pickup.
The nice thing about Ram trucks splitting off from Dodge is the fact that you now have a stand-alone division whose sole purpose, more or less, is to create and innovate new trucks (and a couple of vans). If anything, the focus has really been primed, and the results haven't been disappointing. In fact, Ram trucks are more than competing for their share of the pickup market, just like they've always been doing.
So, let's take a look at the Ram truck lineup, some of the awards they've been winning, and that terrific-looking Night Edition.
Awards
First off, Ram trucks are winning awards. If you build it, they will come. In the form of awards, that is. Well, what kind of awards are we talking about? And do they even matter? Let's check them out.
Truck Trend's 2019 Pickup Truck of the Year
Truck Trend is an offshoot of the ever-popular Motor Trend magazine. It became a stand-alone publication in 1997 and is definitely popular amongst truck, SUV, and crossover enthusiasts. For your information, Motor Trend magazine has a monthly circulation of over one million readers.
Does it matter? Yes, for sure. Motor Trend is an extremely well-known magazine, so Truck Trend is also popular with a more focused group of readers. It's all about trucks, and the Ram 1500 came out on top.
Consumer Guide Best Buy Eighth Year Running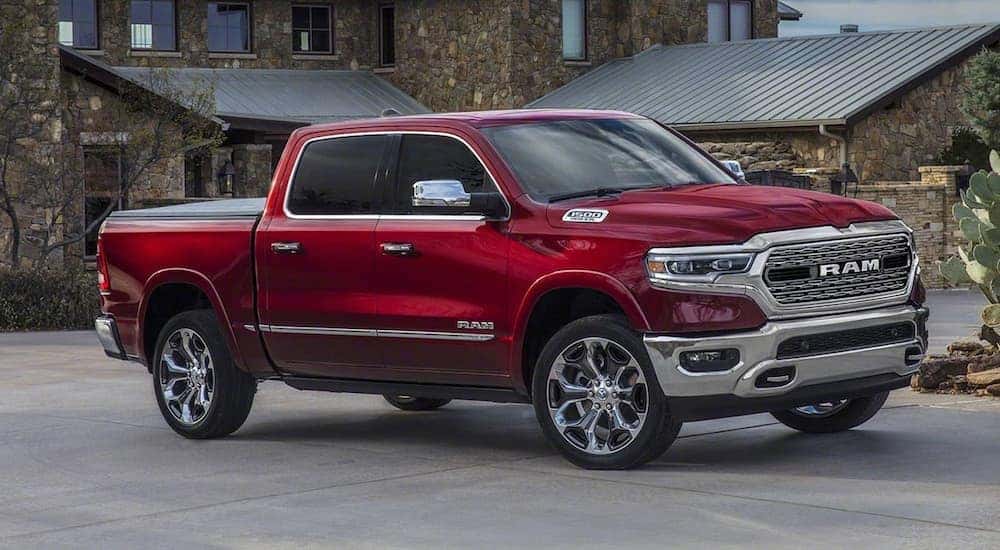 Does it matter? Yes, it does. The Consumer Guide is a well-known company in the automotive industry. They test drive more than 150 new vehicles every year to stay updated on the latest additions and changes — all in an effort to help consumers like you. According to Consumer Guide, the Ram 1500 is a Best Buy because, "It offers an unbeatable ride/handling combination along with a high level of refinement, classy interiors, and some unique features. Furthermore, the V6 engine is no slouch, and has very respectable EPA fuel-economy ratings too."
It should also be noted that the Ram 1500 has won this award eight years in a row. Talk about some true competitiveness coming out of the Ram camp.
Awards from the Texas Auto Writers Association
Awards coming from a Texas-specific group of individuals may seem unimportant at first glance, but believe me, it's important. If you want a truck to be making waves anywhere in the United States, there might be no better place than Texas. Except for maybe California. According to the Federal Highway Administration and the US Department of Transportation, there were more than 13 million trucks registered in Texas in 2017. With that number of trucks in the state, it almost seems like they might know a thing or two about a decent pickup.
The Texas Auto Writers Association awarded Ram trucks with four awards. Three for the Ram 1500 and one for the Ram 1500 Rebel. The Ram 1500 won the Official Truck of Texas, Full-Size Pickup Truck of Texas, and the Official Luxury Truck of Texas awards. The Ram 1500 Rebel won the Off-Road Pickup Truck of Texas award. From the wording on these awards, you can see Ram trucks can satisfy a range of needs with their offerings, whether it's for luxury or offroading.
Also, a fun side note. The Golden State (California) had almost 15 million registered trucks in 2017. Not that it's a competition, of course, but us West Coasters know a few things about trucks as well.
Ram Trucks Unique Features
What makes a truck unique are its features, and it's no different when it comes to a Ram. When you're in as fierce a market as pickups, you better bring your A-game because there's no mercy from the competitors in the United States' best-selling vehicle market.
Multifunction Tailgate
Through ingenious engineering and a need to solve everyday problems, the Multifunction Tailgate was born. It's such a simple solution, but then again, the best ones usually are.
The issue with a normal tailgate is that it will inevitably get in the way. Sometimes it's not so easy to put it down and do what needs to be done, like stepping up, loading or unloading items, or washing out the bed. With the Multifunction Tailgate, you have 60/40 split doors, so you can open either side (or both sides) without having to put the gate down. Of course, you can still put the entire tailgate down and fully close it like normal.
Well, are you sacrificing some utility for this versatility? No, sir. The tailgate can still hold up to 2,000 pounds.
RamBox Cargo Management System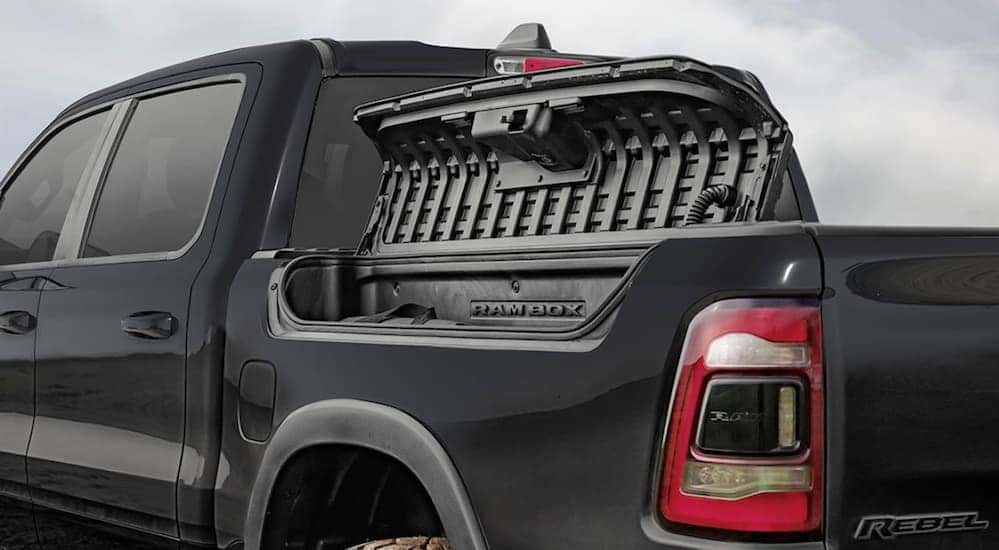 The RamBox Cargo Management System is something you won't find elsewhere. This innovative feature gives you storage bins right where you need them. Store what you need to inside these weatherproof, lockable, illuminated, and drainable bins. They also come with 115-volt, 400-watt outlets. Now tell me that isn't useful.
Night Edition
At first mention, you'd imagine a sleek, completely black behemoth of a vehicle. And, your imagination would be partly correct. The Night Edition is available on the Big Horn and Laramie models, but it's not just a completely black trim. Actually, it's a lot of black accents with your choice of exterior colors, including white, if you so desire. A white Night Edition Ram has a nice ring to it, doesn't it?
Along with black accents, which include the RAM logo, you'll also find a beautiful, premium interior. The interior has black seats and plenty of black accents throughout. A premium interior feature on the Night Edition is the inclusion of the Uconnect 4 with an 8.4-inch touchscreen or the available Uconnect 12.0 with a 12-inch touchscreen (largest-in-class).
Depending on which model you choose, you'll also have 20-inch satin black aluminum wheels (Big Horn) or 22-inch black forged aluminum wheels (Laramie).
If that weren't enough, the Night Edition has multiple engine options available, including the 5.7L HEMI V8 engine with eTorque Mild Hybrid System. Yes, that sentence is correct — HEMI, V8, and Hybrid System altogether. You can still have the performance you crave with the fuel-saving technology you need.
We hope you're as excited about Ram trucks as we are here at Orange Coast, especially with their amazing features and new editions. If you have any questions, please don't hesitate to give us a call and chat with one of our friendly professionals. We would love to have you stop by our Costa Mesa dealership to check out our vehicles and look forward to showing you around the lot in person.