Customizing Your Ram 1500 With Mopar Accessories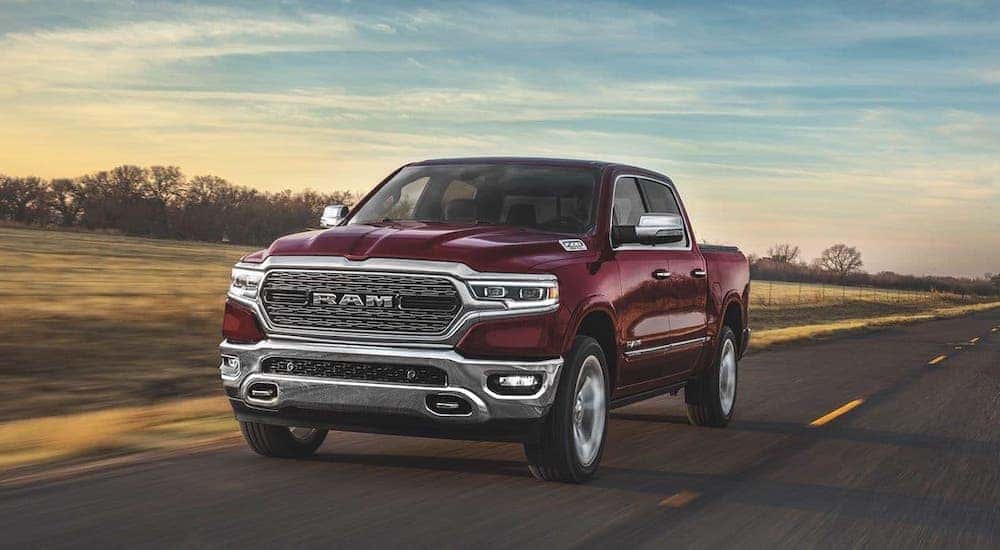 When Ram separated from the Dodge name in 2010, there was a general air of unease among fans of the then Dodge Ram pickups and some confusion as to what it would mean moving around. Dodge Ram trucks had been a thing for such a long time that just the actual wording has continued to trip people up since that moment, and now it's been over ten years. To the surprise of many people, the separation has proved beneficial, and Ram trucks are doing some amazing things. If nothing else, their popularity has soared with the increased focus on becoming their own unique truck entity while Dodge focuses on performance cars.
At Orange Coast CJDRF, we believe in offering our customers unique vehicles at affordable prices, which is why we wholeheartedly back the Ram brand and its mission to provide the world with the most reliable, tough, and work-ready line of pickups on the market. Once you've experienced the capabilities and features of a truck like the Ram 1500, you'll be a fan for life. Come on down to the dealership in Costa Mesa, CA, to test drive a 2020 Ram 1500 today and see what all the buzz is about. And to further discover what this pickup is capable of, make sure you read on to see what kinds of Mopar accessories you can add to the Ram 1500 to really customize it to suit your wants and needs.
Why Customize?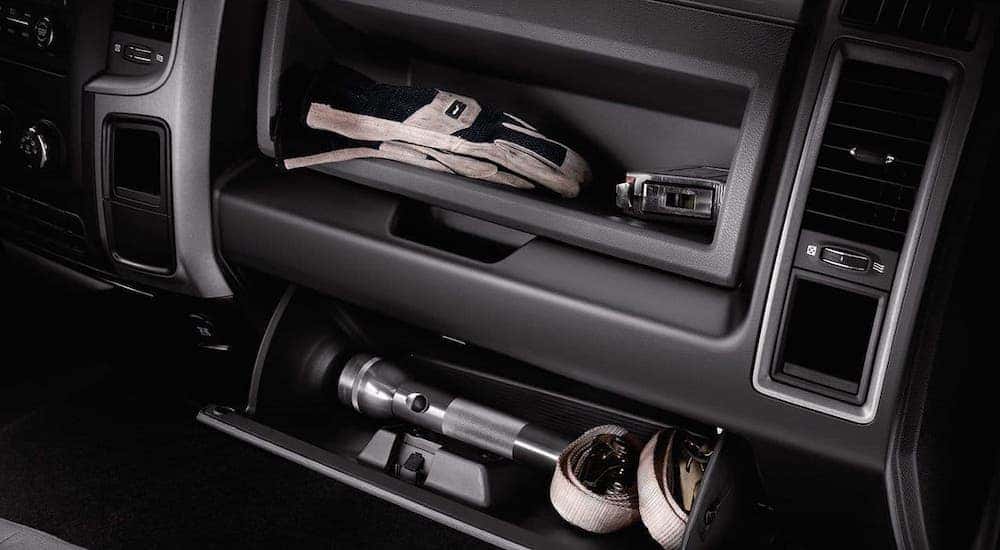 If you've never even considered adding on additional parts to one of your vehicles, then you're in for a treat. Vehicle customization can be done to any vehicle, really, but the most common vehicles to have some add-on parts would be trucks and SUVs. Trucks and SUVs are the most common vehicles to benefit from customization because it comes with the territory. If you're going off-roading or putting in some rough and rugged work, you might want a few pieces added to your vehicle to make the tasks it's intended for go a lot smoother. For example, if you carry a lot of expensive tools in your Ram 1500 truck bed, you might want a strong and secure tonneau cover to keep those tools protected when you aren't near the pickup.
Exterior Mopar Accessories
There are so many different Mopar accessories out there that it would just take too long to mention all of them here. However, we've separated them into two categories: exterior and interior. We'll just pick some of the highlights for you so you can get a feel for what's available and what might fit your lifestyle.
As was mentioned above, a popular accessory for your truck bed is a tonneau cover. These covers can come in different forms, but three different options would be a soft roll-up cover, a hard-folding cover, and a one-piece cover in body color. Depending on what you need it for, a soft-roll up cover would easily protect your cargo from passing glances and inclement weather. It would also be very easy to move so you could access your cargo. The hard-folding cover would be much more suited for protecting your gear, as would the one-piece cover. The hard-folding cover could make for easier bed access, though.
Another popular add-on would be side steps or running boards. These would be installed below your doors on both sides to either elevate the overall look of the Ram 1500 and provide a functional step for getting into the pickup. Common options offered through Mopar include matte black running boards, off-road-style running boards, and stainless steel side steps.
For the more adventure-minded, sport utility bars and off-road light kits will make sure you can pack all your gear with ease and still see where you're going. Sport utility bars attach to the pickup box utility rails (which are sold separately) and provide the perfect elevated position from which you can attach different types of carriers for your gear. One example would be a carrier like the bed-mount cargo carrier where you can store gear and securely hold it down with a cargo net. Another optional carrier is the ski and snowboard carrier that can hold up to four snowboards, six pairs of skis, or a combination of boards and skis. Having a carrier attached to sport utility bars makes it so you still have all of the truck bed space available for other gear or equipment.
Lights like the off-road 5-inch LED light kit will offer an additional, bright lighting source when you need it in off-road situations. This particular light kit can easily be attached via a bracket mount that would fit perfectly on top of a cab protector rack, which is an industrial-grade steel rack that protects your pickup cab from shifting loads within the truck bed.
Interior Mopar Accessories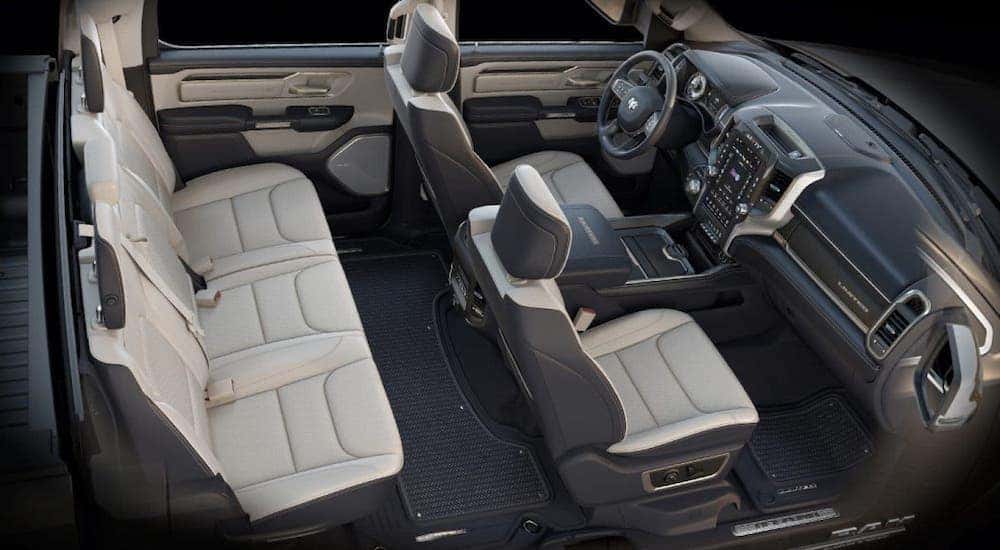 Moving to the inside, the more popular accessories you'll find here are mainly designed for convenience and aesthetic purposes. Premium black Katzkin leather seats featuring Rebel red Ram's head logos make for a very stylish complement to the overall look of your Ram 1500. Plus, the interior will feel a whole lot more luxurious. To protect that luxurious feel, you can add a variety of different floor mats to keep your truck's floor in pristine condition. This includes premium carpet floor mats with the Ram's head logo for the front, for Quad Cab rear configurations, and Crew Cab rear configurations. You can also go for the more rugged all-weather mat kits to make sure water and debris aren't getting into places they shouldn't be.
To protect your valuables, a locking console or cargo bin locks would be great additions. The locking console is easy to install and still allows for full use of the armrest and lid. The cargo bin locks are designed for use with the Crew Cab configuration's in-floor storage bins. So if you have some items you'd like stored securely, then the\ stainless steel locks on the cargo bins would do the trick.
Make Your Ram 1500 Unique
All Ram trucks are unique in their own way already, but once you begin customizing them with Mopar accessories, you'll find that they begin to take on an even more unique personality all their own. Your unique personality, to be exact. If you're into kayaking, camping, off-roading, dirt-biking, or any other variety of activities, then Mopar customizations could greatly benefit your experience. With just a few additional pieces and parts, you could have a fully outfitted adventure pickup ready to hit the road and have some fun. Or, if you use your Ram 1500 for more work-oriented tasks, you could head that way with your customizations. Whichever way you look at it, it's just making an already great truck even better.
We want you to have the best truck-buying experience possible, which is why we try to make the process as simple and convenient as it can be. We always have plenty of new and used vehicles in stock, ready for you to check out either on our easy-to-use and intuitive website or just straight down at the dealership where one of our friendly sales professionals would be happy to assist you. If you have any questions about Mopar accessories or any of our vehicles, be sure to give us a call, and we'll be sure to help you out. To schedule a test drive, feel free to reach out today to get set up with an appointment.