Dodge Vehicles: The Ride You Won't Want to Miss Out On

Dodge was first founded in 1914, giving them over a century of experience in the automotive world. While many manufacturers can fake talent and quality, you can't fake experience, but that is just one reason you won't want to miss out on the great Dodge vehicles in the area surrounding Los Angeles. Dodge vehicles are everything a driver could dream of in their vehicle. Stylish, affordable, and most of all fun to drive as you explore the world around you.
Can't-Miss Vehicles
Dodge vehicles are known for their affordable performance vehicles that allow you to embrace freedom and experience the world in powerful style. While Dodge has manufactured nearly a hundred unique models, these are some of the top show-stopping namesakes that you won't want to miss out on:
DODGE CHARGER
The Dodge Charger is a stunning sedan that never fails to beat the odds with its muscle car attitude. Inside and out, the Charger has a personality you can't ignore with its dynamic built and luxurious detailing. As for under the hood you will easily see where it got its namesake with speed to power to spare. Seating five comfortable passengers for the thrilling ride, the Charger is always ready to prove its potential.
MSRP: $28,995
Horsepower: 292 to 707 hp
MPG: 19 city / 30 highway
Curb weight: 3,934 to 4,575 pounds
Dimensions: 198-201″ L x 75″ W x 58″ H
DODGE CHALLENGER
If you are ready to challenge every expectation and limit set by the modern automotive world, the Dodge Challenger is the way to go.  As a fierce sedan with seemingly limitless performance potential, the Challenger fits up to five passengers and gives drivers the ride of their life. The style has a retro touch that can't be mimicked, but it still has all the modern luxuries drivers know and love. Some vehicles have set the mold, but the Challenger knows how to break it.
MSRP: $27,595
Horsepower: 305 to 797 hp
MPG: 19 city / 30 highway
Curb weight: 3,894 to 4,448 pounds
Dimensions: 198″ L x 76″ W x 56-58″ H
DODGE JOURNEY
The Dodge Journey is a sort of mix between an SUV and a minivan that offers style, convenience, and power, all at an affordable rate. Anyone who is ready for their next adventure will be thankful to have the Journey as a traveling companion with its flexible space and bold power. The Journey inspires a thirst for life from its drivers, and what more could you possibly want from your vehicle?
MSRP: $22,995
Horsepower: 173 to 283 hp
MPG: 19 city / 25 highway
Cargo Space: 10.7 ft³, 67.6 ft³ with seat area
Dimensions: 192″ L x 72″ W x 67″ H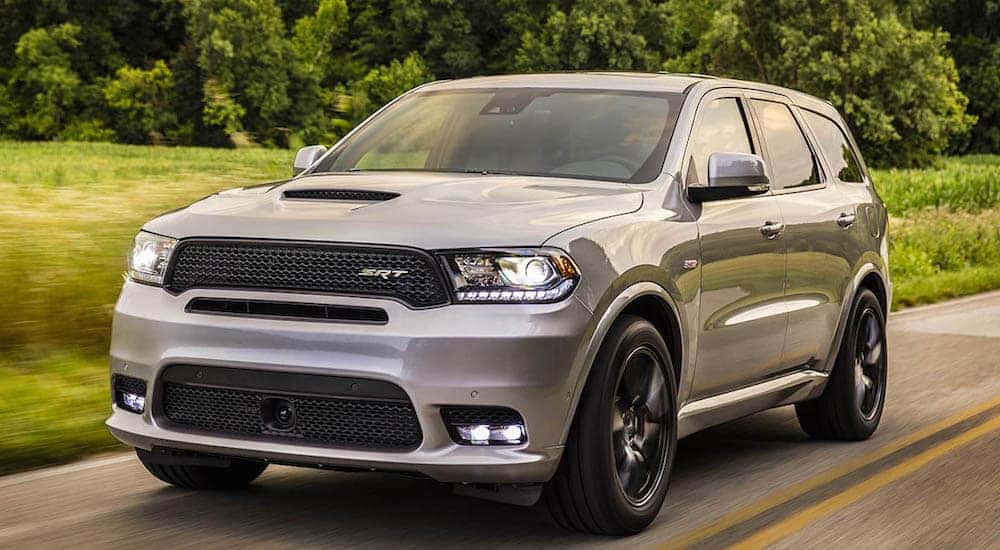 DODGE DURANGO
The Dodge Durango is an SUV that loves to make a bold impression with its striking exterior aesthetic.  As for the interior, the Durango is packed with every feature you could dream of having in a vehicle, and the space is used so efficiently that there will always be a space for everything you need to travel with. This model can also tow up to 8,700 pounds. Basically, the Durango is safety, technology, power, utility, and even fuel efficiency all combined into one brilliant SUV.
MSRP: $29,995
Horsepower: 293 to 475 hp
MPG: 19 city / 26 highway
Cargo Space: 17.2 to 47.7 ft³, 84.5 ft³ with seat area
Dimensions: 201″ L x 76-77″ W x 71-72″ H
DODGE GRAND CARAVAN
As Dodge's largest model, the Dodge Grand Caravan provides a seemingly limitless space as well as a sense of strength that comes guaranteed with every Dodge vehicle. The Grand Caravan is a minivan that will allow you to bring all your loved ones along for the journey, as well as any cargo they may come with. It is also beyond affordable for the amount of space and power you will be receiving. Overall, it is a convenient option that never fails to have exactly what you need.
MSRP: $26,250
Horsepower: 283 hp
MPG: 17 city / 25 highway
Cargo Space: 33 ft³, 143.8 ft³ with seat area
Dimensions: 203″ L x 79″ W x 68″ H
Can't-Miss Qualities
When it comes to vehicles there are a number of qualities that make them perfect for your lifestyle, but there are a few that deserve extra attention:
Performance
Performance is not only how fast, powerful, and resilient your vehicle is, but also how well it controls itself. Generally known for their performance vehicles, Dodge has always had a way of exceeding expectations in this category. When it comes to performance around Los Angeles, Dodge vehicles know how to work strong and smart.
Style
When it comes to style, you need to consider both exterior appeal as well as interior aesthetics. While many may say style is a minor factor when deciding a vehicle, it is actually one of the more important things you must choose. A driver and a car work best when they are in sync, and the best way to get in sync is to find a vehicle that has a style that matches your own. Dodge vehicles have an exterior boldness that makes you feel bold, confident, and one of a kind, while the interior makes you feel right at home and always comfortably control.
Safety and Technology
We are in a modern era where amazing advancements are being made every day, especially in the automotive world. When it comes to cars, technology and safety generally go hand-in-hand due to both promoting efficiency and a connection with the vehicle. While power that performs is the main mantra at Dodge, they also know how to really keep up with the latest tech and safety features. At Dodge, the main point is to allow brawn and brain the ability to come to together seamlessly to make your life on the road that much easier, safer, and more thrilling.
Price
Speaking of thrills, nothing is more thrilling than a fairly priced vehicle that assures you will get the most bang for your hard-earned buck. A well-balanced vehicle with endless potential seems like a fairy tale in today's market, but Dodge seems to have found a way to make even the wildest of dreams come true.
Can't-Miss Dealer
While the vehicles themselves are impressive enough on their own to make you see why you can't afford to miss out on them, the dealership you buy them from is just as important in making the most out of your Dodge experience.
Orange Coast CDJR
If you are looking for a Los Angeles Dodge Dealer, you are lucky enough to have the best Dodge dealership at your service just a short drive away. At Orange Coast CDJR we provide a service experience that is desired to assure your satisfaction. We do this by personalizing your experience here to your specific needs such as location, price point, and time restraints. For example, if you are in the Los Angeles area we would recommend something that does excellent in traffic by keeping you comfortable, looks like it could stun a crowd with its exterior appeal alone, won't interfere with living costs, and will allow you to experience everything the beautiful and sunny state has to offer a star such as yourself.