Explore the Great Outdoors in the 2020 Jeep Wrangler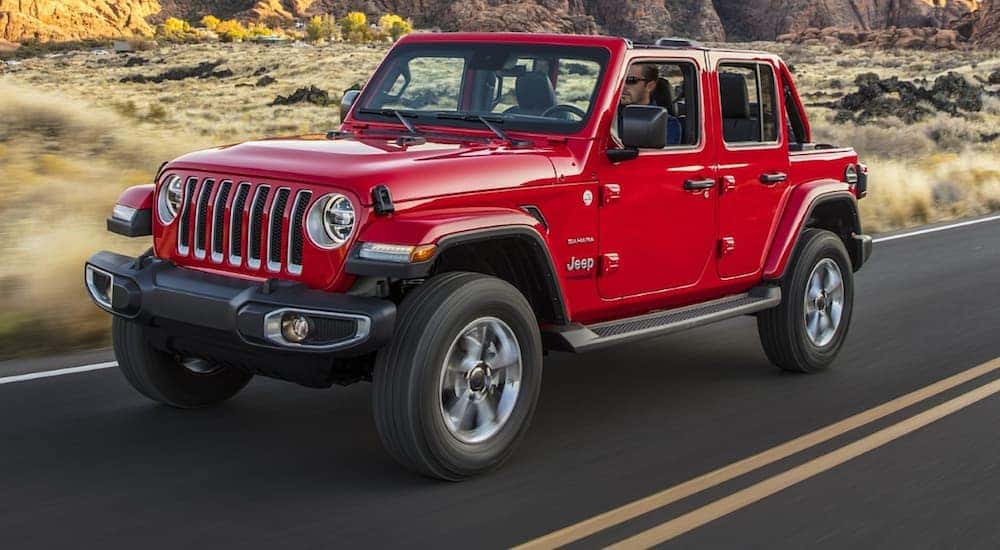 Boasting numerous upgrades and special editions, the new 2020 Jeep Wrangler is the ideal vehicle for anyone who leads an adventurous lifestyle. Whether you enjoy hitting the Algodones Dunes or driving up to Big Bear, this rugged ride can get you just about anywhere. If you are searching for a Jeep Wrangler for sale in Orange County, CA, look no further than Orange Coast CJDRF. We've got a great selection of new and used Wranglers for you to choose from.
Versatile Body Style
One of the coolest things about the Jeep Wrangle is how customizable it is. Available in two body styles, you can choose between having two doors or four doors. You can also choose between a hardtop or a soft top, both of which are removable. The doors can also be removed for a more extreme off-roading experience. This is a great option if you will be traversing through rocky or forested terrain and don't want to scratch up the doors on rogue tree limbs, or simply love the open-air feel on the way to the beach. It can only seat four to five people, though. So, grab your favorite friends and head out for the adventure of a lifetime!
Wheels for Days
As we mentioned before, the Jeep Wrangler is one of the most customizable vehicles in the auto industry. This is especially true for the mid-size SUV market. There are various wheel sizes and designs to choose from based on the trim level. Please note that trim levels vary between body styles as well.
The base Sport model rides on 17-inch steel wheels painted black. The next trim is the Sport S, which comes standard with 17-inch silver aluminum wheels, but you can also choose to upgrade to the granite crystal wheels in the same size. These granite crystal wheels come standard on the Sport Black and Tan trim as well. Another option is the Sport Altitude. It rolls on larger 18-inch wheels that are painted in glossy black for a darkened aesthetic.
For the four-door (Unlimited) Sahara version, it can be fitted with 18-inch wheels with either a polished silver finish or a grey finish. If you opt for the Sahara Altitude, you can also get the same size wheels in glossy black.
The Rubicon trim comes standard with 17-inch polished silver wheels with decorative black pockets for a shadowy look. Also available are the same size wheels that have been blacked out with a polished lip.
As for special editions, the Willys rides on 17-inch gloss black wheels, and the Freedom Edition features 17-inch aluminum wheels finished in satin chrome.
Capable of Anything
When it comes to capability and performance, it's hard to beat the Jeep Wrangler. This nifty ride can do just about anything. Want to drive through a creek? The Wrangler is designed to water ford like a boss with high air intake to prevent engine compartment flooding, sealed electrical connections, and moisture-resistant body opening. If the water is under 30 inches, you're good to go!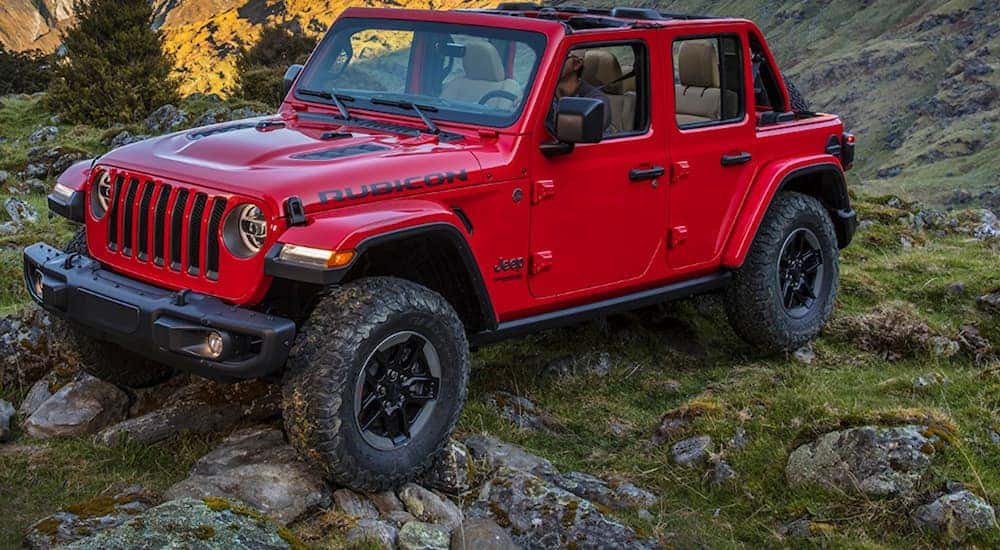 Want to sail across the desert sands? The Wrangler has three different 4×4 systems that provide you with optimized traction control. You can race through the dunes with ease.
Headed up a rocky incline and get stopped by a fallen tree? No worries! High ground clearance and protective underbody skid plates enable you to drive over logs and rocks without damaging the underbelly of the vehicle. Enhanced axle articulation and a great suspension also keep you ground while going over uneven terrain.
If that isn't enough, you can also monitor all of these features using Off-Road Pages. This system will provide you with all of your off-roading stats, including transmission temperature, driving modes, suspension height settings, wheel articulation, and so much more.
The Heart of an Athlete
What's under the hood is essentially the heart of every Jeep Wrangler for sale. With five different powertrains to choose from, you can decide which one is right for your active lifestyle.
The standard powertrain is a 3.6-liter V6 engine coupled with a 6-speed manual transmission. Together, they produce 285 hp and 260 lb-ft of torque. An 8-speed automatic is optional. It can tow up to 3,500 pounds and has an average fuel economy set at 21 mpg combined (17 city/25 highway). That isn't too shabby for a mid-size SUV. When mated with the new mild-hybrid system known as eTorque, you get enhanced rock crawling capabilities.
Next is the turbocharged 2.0-liter 4-cylinder engine paired with the 8-speed automatic transmission. This powertrain generates 270 hp and 295 lb-ft of torque. The maximum towing capacity stays the same at 3,500 pounds, and the fuel economy is set at about 22 mpg combined (21 city/24 highway). Again, you can get this powertrain with the eTorque mild hybrid system, which adds optimized rock crawling capabilities.
Coming soon is a 3.0L EcoDiesel V6 engine that pumps out 260 hp and an impressive 442 lb-ft of torque. Not many details have been released about this powertrain yet, but it will surely be one to beat.
Brains and Beauty
Slipping behind the wheel of a Jeep Wrangler for sale is an experience all by itself. Equipped with the latest advanced technology (brains) and well-appointed cabin materials (beauty), you will be grinning from ear-to-ear.
Even the base Sport model has the features you want. First, you'll notice a 5-inch touchscreen monitor displaying the infotainment interface. This intelligent system operates with Bluetooth connectivity for hands-free calling. A USB port has been provided for charging your mobile device, and the 8-speaker stereo system delivers high-quality sound. Safety features include cruise control and a rearview camera.
The Sport S adds power lock/windows, air conditioning, and leather wrapping on the steering wheel. The bigger Altitude model adds a rear window defroster and several exterior features like a hardtop and rear window washer.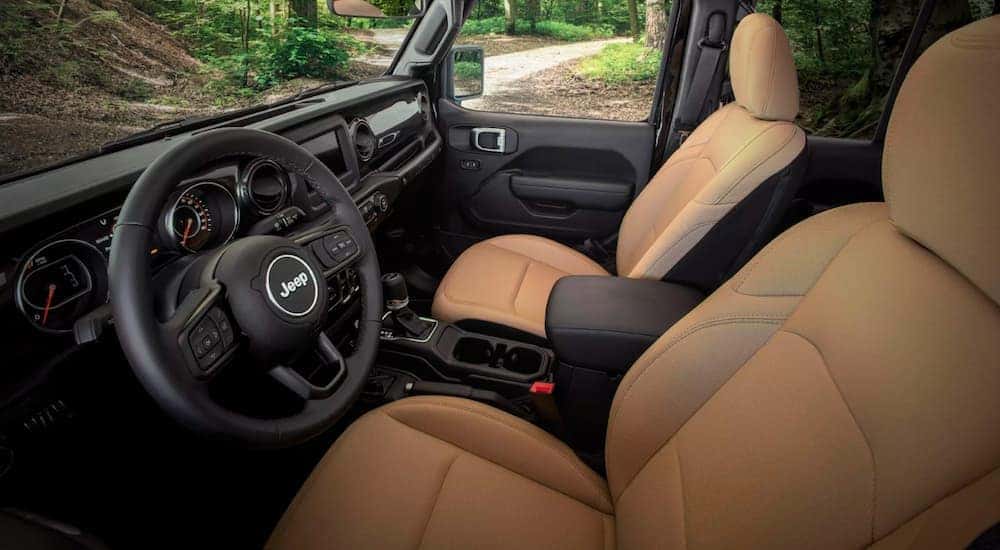 The mid-level Sahara trim, which happens to be the most popular model, includes upgrades such as a 7-inch touchscreen displaying the infotainment system, satellite radio, and compatibility with Apple CarPlay/Android Auto for seamless audio/app integration. As a reminder, the Sahara and the Sahara Altitude are only available in the four-door Unlimited body style.
The top-tier trim is the Rubicon. Inside, the cabin is equipped similarly to the Sahara. Many of the differences are external, including low-ranging gearing, heavy-duty axles, electronic lockable differentials at the front and back, rock rails, and an electronically disconnecting stability bar. Optional features include heated leather seats, a 9-speaker Alpine stereo system, navigation, and a larger 8.4-inch touchscreen interface.
Let's not forget about the special edition Wranglers! There are three that are built off of the Sport S trim. First is the Black and Tan, which features the same infotainment system as the Sahara and a few off-roading enhancements like side rails and all-terrain tires. Next is the Willys model. This one adds the heavy-duty shocks, brakes, and rails from the Rubicon. Finally, the Freedom Edition offers up military-themed graphics, tinted windows, and a soft top.
Finding Your Wrangler at Orange Coast
With so many fun things to do in Orange County and surrounding areas of California, the Jeep Wrangler is the ultimate vehicle. Cruise the PCH with the top off, take friends camping off the beaten path, watch the waves in your doorless Wrangler, and so much more. We know how well the Jeep Wrangler fits the Orange County lifestyle, and we want to make sure you find the perfect match. If you know what trim you're looking for and want to take a test drive or simply need more help deciding, we have a great sales staff ready to help. Come on down to Orange Coast today and take a look at our Jeep Wranglers for sale.