Exploring the Innovative 2020 Jeep Gladiator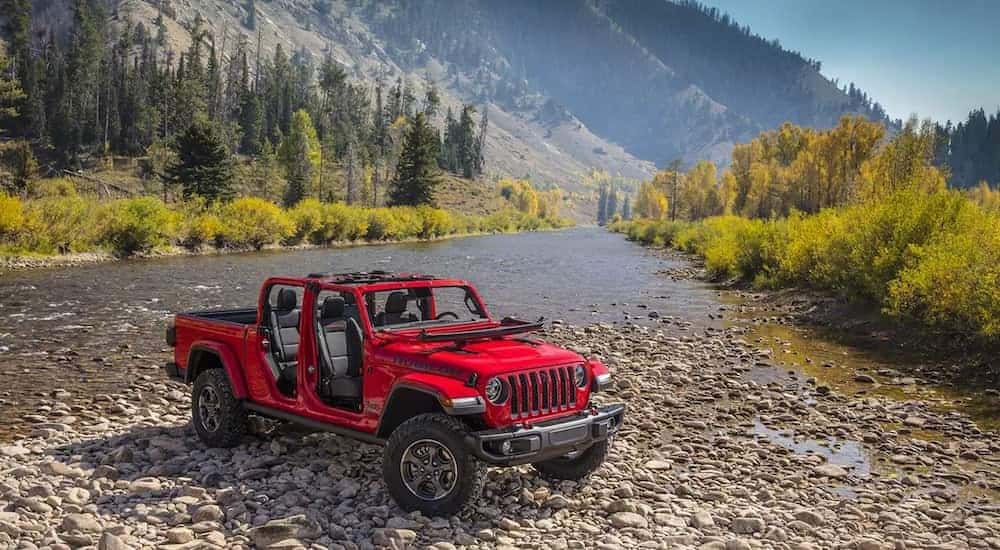 The 2020 Jeep Gladiator is just about ready to hit dealership lots. While it shouldn't be much surprise, the nameplate has already established itself as one of the (if not the) most impressive pickup trucks in the industry.
The Jeep pickup was once one of the brand's beloved models, as it was on the road for nearly three decades between 1960 and 1990. The brand decided to revive the nameplate after close to 30 years on hiatus. Announced at the 2018 Los Angeles Auto Show, the 2020 Jeep Gladiator is believed to be hitting dealers as soon as April 2019.
Fortunately, you don't have to leave the comfort of your own house in order to explore everything the innovative nameplate has to offer. Below, we've explored every aspect of the 2020 Jeep Gladiator, providing you with the context you to need to understand that the nameplate is, in fact, a perfect target.
Performance
The 2020 Jeep Gladiator may not look like any of the brand's other vehicles, but it certainly performs like one. The pickup can be equipped with a pair of incredible engine options, allowing drivers to truly test the limits of their brand-new ride.
It starts with the 3.6-liter V6 engine, which has proven to be one of the top V6 options in the entire segment. Accompanied by either a six-speed manual transmission or an eight-speed automatic transmission, drivers can take advantage of a practically-unmatched 285 horsepower and 260 pound-feet of torque. Thanks to these power specs, the pickup is also capable of delivering up to a best-in-class 7,650-pound towing capacity, thus making the nameplate the ultimate worksite hero
If you're looking for even more power, you could consider opting for the 3.0-liter turbodiesel V6 engine. This system is capable of delivering all of the muscle you could possibly want from a new pickup truck, including 220 horsepower and 442 pound-feet of torque. Accompanied by an eight-speed automatic transmission, drivers will be hard pressed to find a more hulking and intuitive pickup truck elsewhere.
Convenience
Pickup trucks generally provide more than unmatched power, as drivers are usually enticed by the utility of a truck. Well, in that case, they'll appreciate the exterior amenities that engineers included in the 2020 Jeep Gladiator. If you're looking for a vehicle that can accompany you on the worksite, then these features will certainly be appreciated.
It starts with the incredible 1,600-pound payload, which means drivers will never have issues fitting any of their equipment or construction gear into their truck bed. While many pickup owners usually have to pick and choose what they're going to fit inside of their truck, this will never be an issue when it comes to the 2020 Jeep Gladiator.
Engineers added a number of additional amenities that will prove to be useful during any long day on the worksite. The three-position tailgate makes it more-than-easy to fit all of that cargo inside of your new ride, while the roll-up tonneau cover means your tools will always be protected from the elements. The exterior even includes an 115-volt power outlet, meaning you can always keep your favorite power tools fully juiced.
Interior
Pickup trucks aren't necessarily known for their interiors, but Jeep has already made a lot of progress in bucking that trend. That will be especially clear when it comes to the 2020 Jeep Gladiator, as the interior is adorned with a number of technological amenities that will prove to be useful during any excursion.
The available largest-in-class 8.4-inch touchscreen provides quick and easy access to an assortment of applications (via the Uconnect 4C NAV interface), providing you with unmatched convenience and entertainment during your journey. Meanwhile, the inclusion of the Apple CarPlay and Android Auto compatibility means drivers can seamlessly connect their smartphone to the unit. That way, if you ever want to make phone calls or send text messages, you won't have to compromise safety by taking your eyes off the road. Instead, these functions are easily accessible via the accompanying touchscreen. The interior even includes an "industry-exclusive" Bluetooth wireless speaker, meaning you can jam out to your tunes even when you're not in the pickup.
Of course, engineers also did an admirable job of including a number of amenities that help to boost the overall opulence of the pickup truck. For instance, the available leather-trimmed seats are both sporty and elegant, providing customers with the luxury features they're surely seeking. The interior also includes innovative storage spots, meaning you'll never struggle to find a place to hide your most valuable cargo or equipment.
Off-Roading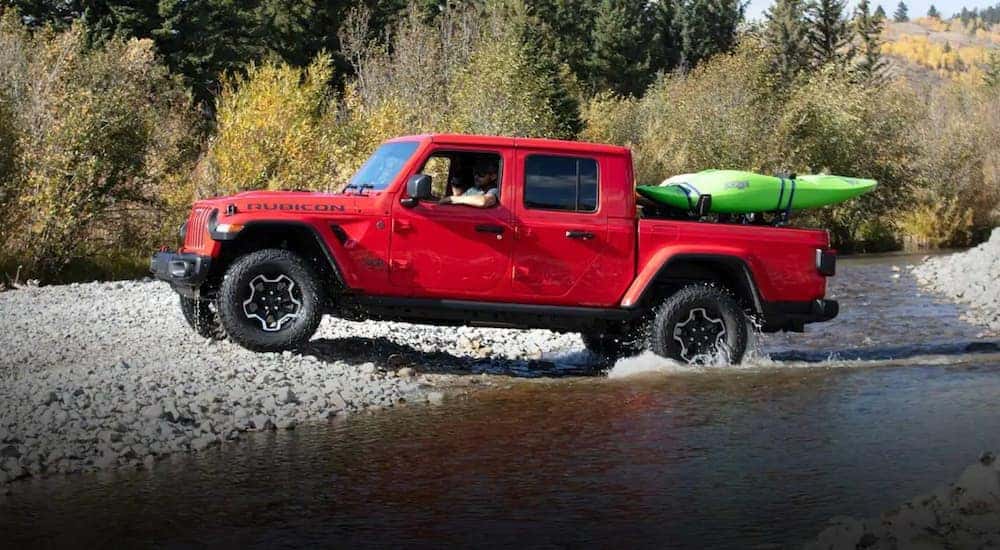 It wouldn't truly be a Jeep vehicle is the ride wasn't capable of traveling off the beaten path, right? Well, engineers certainly recognized this, and that's why they added their renowned off-roading capabilities to the 2020 Jeep Gladiator.
The vehicle's off-roading ability is mostly attributed to the vehicles 4×4 capability, which prepares the pickup truck to take on any kinds of difficult off-road conditions. The accompanying heavy-duty Dana 44 front and rear axles will play a role in your ability to overcome any unexpected obstacles, assuring that you'll always be able to make it home safely.
If you decide to opt for the Rubicon variation of the pickup truck, you'll also have access to an assortment of exclusive off-roading features. Specifically, this version of the nameplate includes amenities like wide-track axles, a disconnecting front sway bar, and hulking 33-inch all-terrain tires. Drivers will even have access to the industry-exclusive forward-facing TrailCam Off-Road Camera, assuring you'll always be able to anticipate any sudden obstacles that come across your path.
Design
The 2020 Jeep Gladiator is one of the more unique pickups on the road, and this mostly has to do with the brand's beloved structure. The vehicle is one-of-a-kind thanks to the renowned "boxy" exterior, square front end, and signature grill.
The brand was so determined to include all of the famous Jeep amenities that the nameplate has legitimately established itself as one of the most unique vehicles on the road. For instance, the 2020 Jeep Gladiator is the only open-air pickup truck in the entire industry (the brand offers both hardtop and soft top options). Plus, drivers can choose to fold the windshield and remove all four doors, providing them with the open-air construction that has practically become synonymous with Jeep.
To top it all off, the brand also included some striking color options, like the Punk'n Metallic (orange) paint or the Firecracker Red option. That way, as if your 2020 Jeep Gladiator wasn't already sticking out from the crowd enough, the exterior color will basically command other drivers' attention.
If you're impressed with everything the innovative 2020 Jeep Gladiator has to offer, then it's time to start shopping. If you live in the Costa Mesa, California area, your only stop for your brand-new Jeep pickup truck should be Orange Coast CDJR.
Why Orange Coast CDJR? Well, besides incredible, unmatched pricing, the dealership is focused on providing customers with an unmatched buying experience. Their array of services will come in handy throughout your car search, while the helpful sales team can help guide you throughout the entire process. Best of all, the flexible hours means you'll always be able to find time to visit.
So what are you waiting for? If you want to start enjoying Jeep's brand-new 2020 Gladiator, then head out to Orange Coast CDJR today!