Finding a Quality Used Jeep Wrangler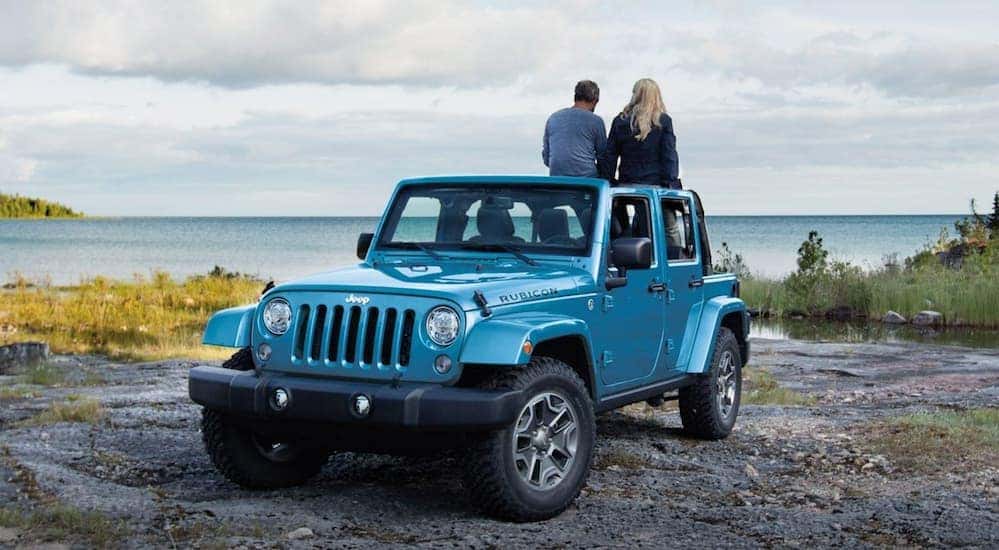 The classic Jeep Wrangler offers some of the best resale value to be found across the automobile industry. That's because this off-roading machine is virtually unmatched in its ability to handle challenging conditions. Conquering rocky roads, muddy trails, and sandy passageways is a fundamental component of the Wrangler's DNA. As a result, its value doesn't really change with age. If you're on the hunt for one of these amazing Jeeps, searching "used car dealerships near me" will lead you to us, but there are a few important things to know about the Wrangler first.
The Jeep Wrangler won Kelley Blue Book's Best Resale Value Award in 2009 and again in 2012. For three years in a row (2011, 2012, and 2013) it also won Canadian Black Book's Best Retained Value Award. Despite having some added experience under its belt, a used Wrangler brings impressive functionality to new owners. Here's why a used Jeep Wrangler just might be the best thing that's ever happened to you, both now and for years to come.
Appealing Options to Choose From
Depending on the year, two-door and four-door varieties are available. Starting with "Unlimited" versions introduced in 2004, the Wrangler was sold as a longer vehicle with two doors. The extra space (which equals over 20-inches) has been popular with buyers for decades, and the first four-door models were released in 2007 as the JKU. By 2017, 75% of new Wranglers were sold as bigger four-door models, bridging the best of both worlds in capability and comfort.
The majority of used Wranglers on the market now are part of the 3rd generation, which was produced between 2007-2018. New features that came out in the early models included remote power door locks, power windows, and navigation. Some models were also equipped with electronically detachable sway bars (which was standard on the Rubicon). Third generation Wranglers are referred to as the JK models. The lights, auxiliary systems, engine, transmission, and parts of the braking are computer-run, modernizing the classic off-roading Jeep.
Made under the era of DaimlerChrysler, these third generation Wranglers underwent a complete redesign of the body and chassis to improve upon an already iconic vehicle. It's separate body and frame design has rigid live axles in the front and back. It can be driven without doors, and has fold-flat windshield for ultimate versatility. Other than 4×2 models, the Wrangler JK offers high and low gearing with part-time four-wheel drive systems.
New safety features for stability control were introduced to reduce the risk of skidding by improving traction and power to all four wheels. A secondary traction control system with an electronic limited slip differential ensures that you can keep the vehicle under control no matter where you drive it. To optimize braking and prevent the wheels from locking up, its anti-lock braking system is specially tuned for off-roading terrain. It keeps constant contact with the surface of the road.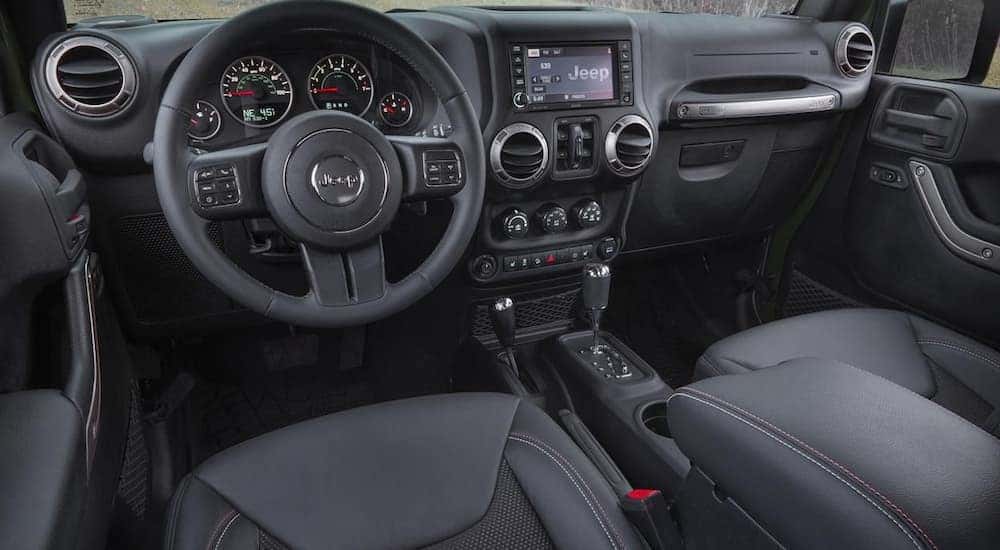 In 2009, Hill Start Assist was added as standard to keep the Wrangler from rolling backward on steep slopes. When using a trailer, Trailer Sway Control was available to monitor movement and active Electronic Stability Program to prevent swaying off track. In 2010, models that were equipped with the MyGig radio also included the UConnect infotainment system as standard. The soft top was modified, making it easier to fold and open up, and vanity mirrors were also added, along with sun visors with better coverage than previously offered.
Interesting Editions Released Through the Third Generation
For 2009, the X model was produced as a special release Rocky Mountain edition. It was mounted on impressive 32-inch tires with 17-inch wheels. Visual upgrades, including body-colored fenders, were optional. A six-disk changer in the dashboard and a black tubular side step helped define this exclusive styling.
In 2010, an Islander Edition and Mountain Edition were manufactured. The Islander Edition restyled the base Sport model also with 32-inch tires and black tubular side steps. Islander Edition seats, a blue-accented leather steering wheel, and rubber slush mats were added to improve upon the already rugged Wrangler. The Mountain Edition also had its own distinctive look. Sleek black styling is seen on the tail light protectors, black fuel filler door, graphite dash enhancements, and black grille and hood decals.
The 70th anniversary in 2011 brought a Special Edition Sahara model for the Wrangler and Wrangler Unlimited. Leather seats in black or dark olive with chestnut accent stitching, and piping and perforated leather inserts add luxury to the interior. The leather steering wheel also has chestnut accents. Floor mats are made of berber with chestnut binding to match the seats and steering wheel. It has Mopar brushed aluminum sill plates, 18-inch polished wheels, and an automatic shift knob with satin chrome cap and bezel that truly shine. A 70th anniversary logo can be found on the radio screen, and 70th anniversary badges are placed throughout to mark this momentous vehicle's release.
The Last of JK Wranglers From 2014 and Beyond
Still part of the third generation, 2014 brought some high-tech upgrades that drivers today can appreciate. A 6.5 UConnect touchscreen radio became optional on Sport models. It includes hard drive storage and Sirius XM radio. 32-inch off-road BF Goodrich tires were also optional with semi-gloss black 17-inch Rubicon aluminum wheels.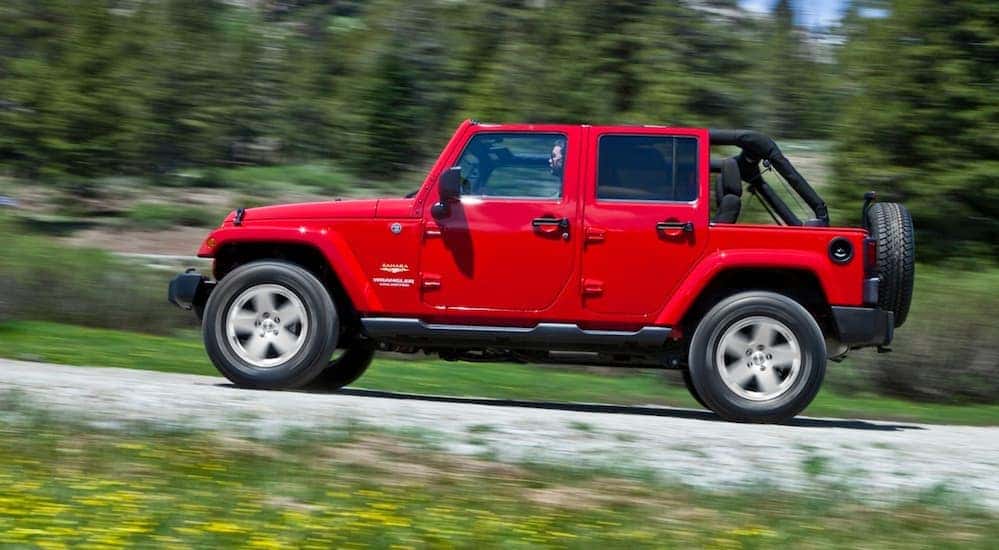 In 2015, new exterior paint colors like Tank (dark olive green), Sunset Orange, Copper Brown, Baja Yellow, and Firecracker Red were introduced. An eight-speaker audio system became standard, but a nine-speaker system with subwoofer was also available as part of an upgraded package. Higher-grade models, including the Willys Wheeler W, Freedom Edition, and Sahara, had an available tan roof option, but black and body-color roofs were still available if preferred.
Newer Used JL Wranglers
2018 was the beginning of the fourth generation. More powertrains were introduced on these JL Wranglers, including a 2.0-liter Turbo I4 and 3.6 liter Pentastar V6 gasoline engines. A modernized look was created with a zipperless soft top and improved windshield. In 2018, iSeeCars recognized the Jeep Wrangler as having the lowest depreciation over five years of ownership.
Your choice of three different 4×4 systems were made available on 2019 Wranglers. The Selec-Trac 4×4 automatically toggles between two-wheel drive and four-wheel drive as needed. In the face of difficult driving conditions, constant four-wheel drive is maintained using the system's Smart Lock feature. For crawling steep rocks and flat towing, the Command-Trac 4×4 system shifts on the fly. The strongest grip available is found on the Rock-Trac 4×4 system. It comes standard on the Rubicon for optimal torque and performance.
With 2020 Wranglers now on the market, it's not unheard of to find a barely used 2018 or 2019 model with fabulous features that drives like new. If you're looking for a relatively new/slightly used Wrangler, we have lots of selection to choose from at Orange Coast CJDRF in Costa Mesa, CA. There's a good chance you could even upgrade to a newer model within a few years and still reap the benefits of a good trade-in value. If you prefer to check out our inventory from a few years back, we're happy to help you find a Wrangler that meets your needs. Shop our selection at Orange Coast for the best quality used Jeep Wranglers available, and discover your new favorite brand of subcompact SUVs.