Jeep's in Pop Culture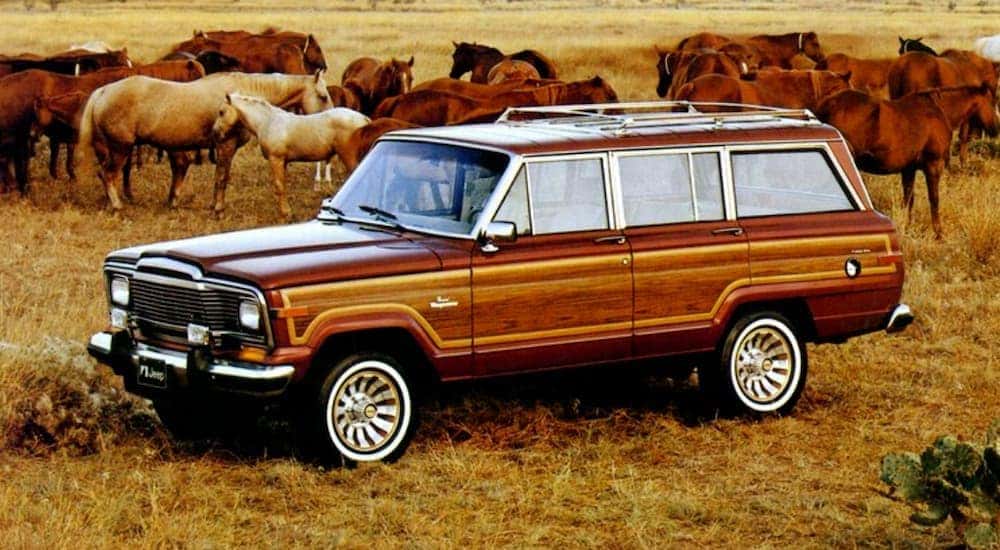 If you've ever flicked on the television in the past thirty to forty years, chances are you've seen a Jeep somewhere in the mix. From the Jeep Wrangler, to the outdated models like the Commander and the Wagoneer, Jeep has captured the hearts of Hollywood, and in turn, has captivated their viewers too. It's hard to argue against why directors and scriptwriters opt for Jeep models in their movies and TV shows; maybe they simply photograph so well. That said, Jeep models aren't only eye-catching they're also fun to drive too. Rugged, outdoorsy, and often packed with plenty of utility, there are many reasons to love a Jeep. If you're looking for a Jeep dealership near you that understands the appeal of the Jeep and is committed to helping you take one home with as little headache as possible; Orange Coast CJDRF ought to be your dealership of choice. At Orange Coast, we are big Jeep fans and are always excited when we spot one in the wild, especially when it's on the big screen.
Jurassic Park (1993-Today)
Whether you're a big-time Jeep fan or know very little about the brand, chances are you've spotted the Jeep Wrangler in any of the Jurassic Park movies. From the iconic Jeep Wrangler Sahara in the original 1993 film to the Wrangler model spotted in the recent adaptations, the Jeep Wrangler is an iconic model of the Jurassic Park franchise. Typically decked out in a thematic paint job, in these movies, the Jeep Wrangler is intended to be a vehicle capable of traversing the rugged terrain of Jurassic Park, navigating through prehistoric predators and dense jungle alike.
The 1993 Jeep Wrangler Sahara and the Jeep Wrangler of today are very similar in terms of exterior design and overall capabilities. The Wrangler is a staple of the Jeep brand and is a popular pick for Hollywood movie and TV show producers. While best identified in the Jurassic Park series, this rugged SUV has appeared in more than just the dangerous dino park. The 2018 Super Bowl Jeep Wrangler commercial even recreated a chase scene with Jeff Goldblum (Dr. Ian Malcom).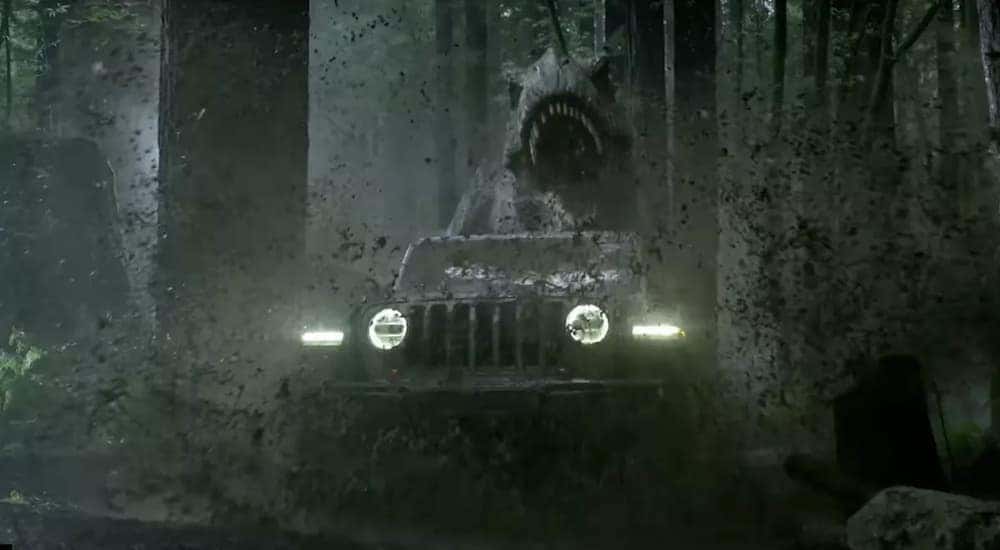 Furious 7 (2015)
The 2015 Jeep Wrangler JK also made a spectacular appearance in the 2015 film Furious 7, although at first glance, you may not have recognized it. In a film filled with decked out vehicles, the 2015 Jeep Wrangler JK appeared as a super armored car ready to take on the big screen. In the film, this super upgraded Jeep Wrangler was dropped from a cargo plane, an attempt to show off the awesome durability and power of Jeep's flagship vehicle. While maybe not as an iconic appearance as its spot in Jurassic Park, the armored Jeep Wrangler in Furious 7 certainly inspired many a Jeep driver to upgrade a Wrangler of their own.
While Jeep is often portrayed as an automaker that designs vehicles up for a serious adventure, they're also put into films that have very little big-budget action. That said, the leading actors still use the power and rugged capability of the Jeep to venture off the grid with simplistic ease.
Breaking Bad (2008-2013)
Two discontinued Jeep models appeared in the popular TV drama Breaking Bad. In a story about a New Mexico high-school chemistry teacher gone rogue, Jeep vehicles are used predominantly as a focus of utility and off-road power. Take the 2006 Jeep Commander driven by DEA Agent, Hank Schrader, who uses this Jeep SUV not only to tout his 'tough-guy' persona but to unwittingly track our main protagonist through some seriously remote parts of New Mexico. While the Jeep Commander is no longer in production, it is still closely related to other existing popular vehicles like the Jeep Compass.
While Jeep is often portrayed as an inherently 'masculine' vehicle, a Jeep SUV is also driven by the main female protagonist of this show. Skyler White, the wife to the high-school chemistry teacher and blue-meth creator Walter White, drives a 1991 Jeep Grand Wagoneer. Complete with exterior wooden accents, and a classic 'family-van' appearance, the Jeep Wagoneer is featured a lot throughout the series and certainly looks good on screen too as it cruises through cozy neighborhoods and busy streets of the New Mexico suburb.
The A-Team (1983-1987)
Breaking Bad isn't the only TV show of recent memory that is a fan of Jeep models that are no longer in production. The A-Team also used vehicles that, while were big hits at the time, now have been dropped and readopted into the Jeep family lineup. You may recognize the Jeep Renegade of today; however, the Jeep CJ-7 Renegade of the mid-80s looked very different. More similar in appearance to the modern Jeep Wrangler, this open-air Jeep model was a popular pick for both TV producers and Jeep fans alike. That said, the Jeep Renegade wasn't the only Jeep model in the hit TV-show; The A-Team was jam-packed with the Jeep brand, used to haul weapons and explosives for the gung-ho group of mercenaries.
Funnily enough, iterations of the Jeep CJ series appeared throughout the 70s and 80s. While a big hit on The A-Team, it also appeared in shows like the Dukes of Hazzard and Charlies Angels, and in The Terminator, driven by Sarah Connor. In Charlie's Angels, our three female private-eye detectives road around in a 1980 Jeep CJ-5, which was popular then, and is still big now amongst classic collectors. Meanwhile, in Dukes of Hazzard, Daisy Duke drove a 1979 Jeep CJ-7 "Golden Eagle" through 119 different episodes. So needless to say, the 70s and 80s was the time of the Jeep CJ-5 and CJ-7.
The Walking Dead (2010-2016)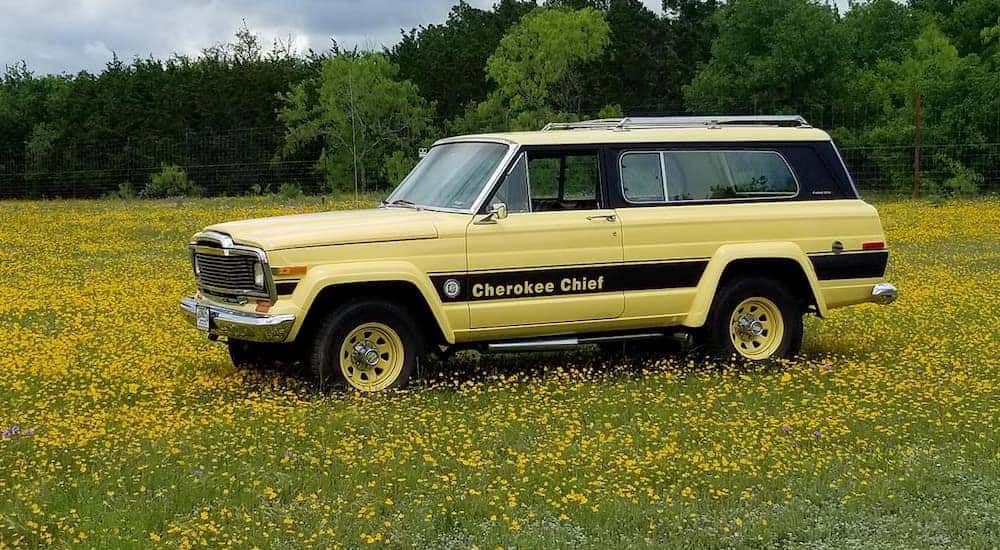 On the subject of vintage Jeep models, the hit zombie-filled TV-show, The Walking Dead, used a 1979 Jeep Cherokee throughout the show to transport our main protagonists through the undead filled Georgian countryside. While the Jeep Cherokee is still in production today, it looked very different in 1979. Looking more closely related to the Jeep Wagoneer we mentioned earlier, the 1979 Jeep Cherokee was a charming people hauler with some serious durability. Considering The Walking Dead takes place in modern times, the fact that our rag-tag group of survivors used one through a good portion of the show should say something about Jeep brand build quality.
Buying a Jeep at Orange Coast
As you may already be able to tell, Jeep is a popular brand when it comes to showcasing rugged power on the big screen. Whether driven by a group of female detectives or used by scientists venturing through a recreation of the Jurassic period, Jeeps are clearly vehicles that are up for the task when you need to blaze your own trail. Here at Orange Coast in Costa Mesa, we're big believers of the Jeep brand, as a result, have plenty of the top Jeep models in our showroom. From classics like the Jeep Wrangler to long-term favorites like the Jeep Cherokee, we've got it all at Orange Coast. From the test drive to the moment you drive one of our vehicles out of our showroom, we make the car buying process as simple and straightforward as possible. To us, you should never be intimidated when buying a car and should receive assistance from auto experts who always have your best interests in mind. While we can't all be on the big screen, we believe that everyone should be able to drive a car that has been.