Let's Dive into the 2019 Ram 1500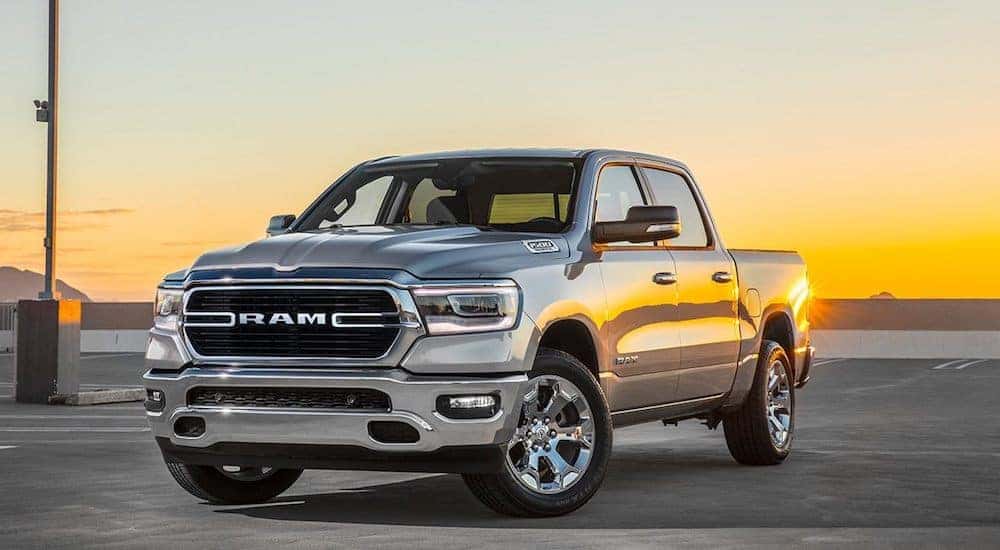 Years ago, those shopping for pickup trucks had limited options. Nowadays, the market is filled with impressive targets, and it can be difficult for customers to narrow down their list as they're pursuing the ideal ride. Well, there's no need for stress, as one upcoming vehicle seems to be the perfect target for any driver. The 2019 Ram 1500 has taken things to a whole new level with incredible performance, intuitive and advanced technological features, and an array of dependable safety functions. In other words, you'd be hard pressed to find a more impressive pickup truck, even in this incredibly deep segment. To help prepare you for your impending visit to a Ram dealership in Orange Country, we've delved into all of the 2019 1500's top attributes. When you've finished reading about everything the nameplate offers, you'll be itching to visit that nearby truck seller.
Check out our full Ram 1500 Inventory
Let's Dive Into: Performance
Ram has always been known for its ruggedness and off-roading prowess, and that will certainly be the case once again in the 2019 Ram 1500. Each of the three available engine offerings manage to pump out a whole lot of power, meaning you'll be more than prepared for whatever obstacles or terrains come your way.
The 5.7-liter HEMI V8 engine is as hulking as it sounds, as the eTorque technology really helps to accentuate the vehicle's towing capabilities (it also manages to deliver an extra 130 pound-feet of much-appreciated torque). Owners can ultimately anticipate 395 horsepower and 410 pound-feet of torque, all leading to a best-in-class 12,750-pound V8 towing capacity. If you're looking for the ultimate worksite companion, you don't have to look much further than this variation of the Ram 1500.
Next up is the 5.7-liter HEMI V8 engine. While this particular unit doesn't include the flashy torque emphasizer, it still manages to deliver a whole lot of power. Drivers can anticipate an impressive 395 horsepower and 410 pound-feet of torque, culminating in an 11,610-pound towing capacity.
Finally, the 3.6-liter Pentastar V6 engine with eTorque may be the smallest of the three offerings, but the system still manages to pack quite a punch. Drivers will enjoy the best-in-class 305 standard V6 horsepower, as well as the equally-impressive 269 pound-feet of torque. While this offering may be more adequate for those seeking a standard commuter, the 7,730-pound towing capacity will still make the truck plenty versatile.
Of course, performance isn't solely determined by the power of the engine. Rather, a number of mechanical features also assure that owners of the 2019 Ram 1500 can anticipate one of the best driving experiences in the class. The class-exclusive TorqueFlite eight-speed automatic transmission makes the pickup incredibly easy to handle, while the improved aerodynamics and air suspension system accentuate the accompanying specs. There's even an available 4×4 off-roading package, allowing you to truly be prepared for whatever weather or road conditions come your way.
The Ram 1500 has always been known for its performance and drivability. However, it's pretty clear that engineers have found a way to somehow improve this attribute in the 2019 model.
Let's Dive Into: Technology
There are many reasons to love the 2019 Ram 1500's interior, and a big reason for that sentiment can be attributed to the number of technological amenities that are included in the cabin. While you may have previously thought that modern, sophisticated technology was often reserved for classy sedans, Ram is looking to provide this optimal driving experience to all of their customers.
The Uconnect 4C NAV system will be of particular interest to customers, as the unit provides quick and easy access to a number of useful applications. Drivers can choose from the largest-in-class 12-inch touchscreen or the 8.4-inch touchscreen (which is accompanied by the Uconnect 4 technology). Thanks to the Apple CarPlay compatibility, you'll also be able to seamlessly connect your smartphone to the unit, meaning you can quickly and safely access many of your phone's basic functions.
If you're going to be using that smartphone compatibility to jam out to your favorite tunes, then you should consider opting for the available Harman Kardon Premium Audio System. With the ability to crank out 900 watts via the class-leading 19 speakers, occupants will be able to experience a listening experience unlike anything else. Plus, thanks to the vehicle's Active Noise Cancellation (which includes best-in-class "Interior Quietness in Real World Conditions), drivers will never be distracted by the howling wind or the roaring engine.
While Ram is seemingly renowned for their performance and drivability, the brand has done a lot to improve the overall driving experience. Thanks to their selection of technological amenities, we'd say the brand's engineers more than succeeded in their pursuit.
Let's Dive Into: Safety
You'll never have to worry about you or your occupants' well-being when you're behind the wheel of the 2019 Ram 1500. After all, the vehicle is equipped with more than 100 standard and valuable safety/security functions, assuring that you're always in the best hands.
A number of technological features are intended to help drivers avoid accidents from happening altogether. The new Blind Spot Monitoring system, which includes the Rear Cross Path technology and Trailer Detection, promises that you'll always be familiar with everything that's happening around your pickup. Meanwhile, the LaneSense Lane Departure Warning-Plus will alert you when it's unsafe to switch over, while the Smart Cruising allows drivers to take a brief break without compromising safety. There's even the Guide Parking feature, which will help drivers make their way into any tight parking spot.
If you do find yourself in a crash, the Ram 1500 will do everything in its power to keep you protected. The high-strength steel will absorb the majority of a collision's energy, and the advanced airbag technology will deliver the utmost cushion during a crash. The vehicle is even equipped with largest-in-class 14.9-inch brakes, assuring you'll have optimal stoppage power.
While shopping for a pickup, we're sure you're particularly focused on the vehicle's performance and amenities. However, there's no denying how important safety can be, and the 2019 Ram 1500 more than delivers in that regard.
There's no denying how impressive the 2019 Ram 1500 is. Similarly, there's no denying how Orange Coast CDJR is the perfect place to purchase your brand-new pickup. Located in Costa Mesa, California, the business delivers all of the services and advantages that you'd be seeking from a dealership.
For instance, the dealership is stocked with more than 1,000 cars, and that includes more than 300 used vehicles. That way, the dealership can even serve those customers who may be operating on a limited budget. For optimal convenience, the dealership allows customers to begin their buying experience online, meaning you won't even have to leave your couch to express interest in a particular ride.
If you're looking for some financial guidance, the finance department will figure out a logical payment plan that makes sense for both sides. There's even a reputable service department, meaning you'll never have to rely on sketchy mechanics to fix up your recent purchase.
So what are you waiting for? If you're itching to get behind the wheel of the 2019 Ram 1500, then head out to Orange Coast CDJR today!