Our Favorite Off-Road Upgrades and Accessories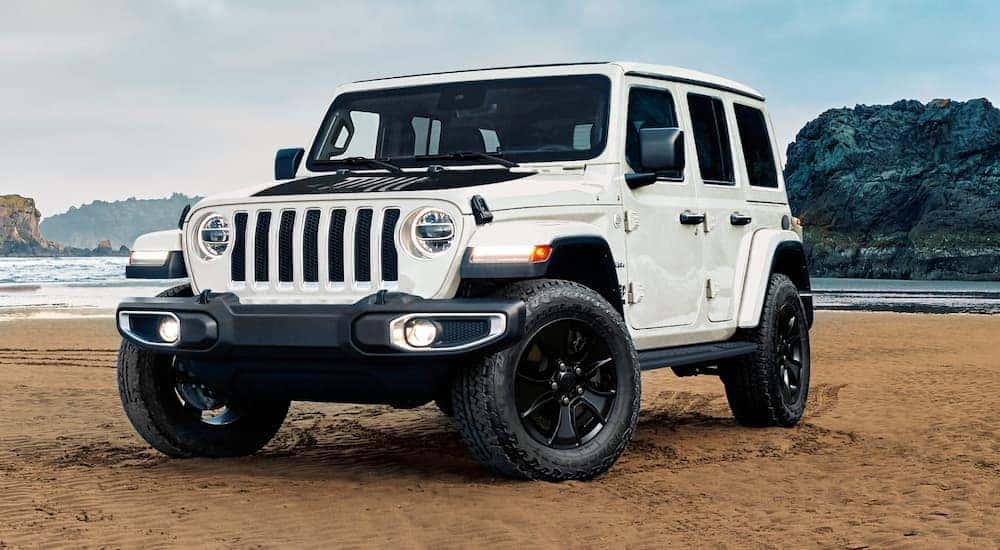 Not just any car can handle the rough and tumble of the trail. Sure, light graded paths and unpaved highway may be easy to overcome, but this is nothing compared to what can be found in some of the hills and mountains that sit east of Costa Mesa, CA. At Orange Coast, we understand that a successful off-roading experience requires a car that isn't just powerful or high off of the ground, it requires a vehicle that is equipped with the gear necessary to overcome any off-road obstacle. Plenty of the local drivers who visit us for an adventure-vehicle are often on the hunt for a Jeep for sale, when in truth, it can take more than the stock Jeep equipment to make a competent trekker. In this blog post, we'll go over some of our favorite Jeep upgrades and accessories to hopefully help you develop an SUV that is ready for everything and anything when out in the wilderness.
Off-Road Tires
Your main ally in tackling the trail is a solid set of tires. Even when on the pavement, your tires play a major role in providing weight support and traction. Without a great set of tires, you can find yourself at risk for hydroplaning, flat tires, or worse. This fact is compounded upon when you trade the pavement for dirt, mud, snow, sand, or rocky terrain. Off-roading can impose a lot of strain on your tires, which is why you want to have a set that doesn't just provide you extensive traction, but extensive durability as well.
When purchasing a new set of off-road tires, you want to know you're getting a high-quality tire specific to your needs. For this reason, we highly suggest that you purchase a set of off-road tires from one of our vendors. Off-road tires from a brand supported by the service center you frequent can give you the kind of peace of mind that you need when you're challenging nature, and venturing down the road less traveled.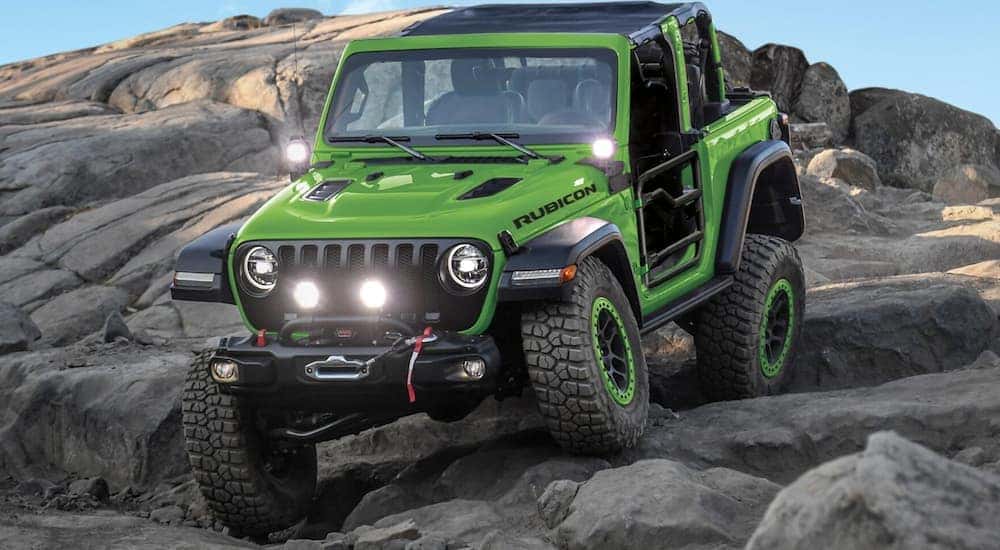 Mopar Skid-Plates
Your vehicle is filled with intricate components, components that can be rather sensitive to things like rock, gravel, and the elements; this is where your skid plates come in. Skid plates provide an extra layer of protection for the undercarriage of your vehicle. When venturing off into the wilderness, you'll likely encounter any number of obstacles from large rocks, to snow, and mud. You can think of a great skid plate as a shield against the elements protecting your sensitive components from getting banged against and potentially broken. For this reason, skid plates are incredibly central to the performance of your vehicle when venturing off of the pavement, which is why you should purchase a set that is up to par in terms of quality and durability.
While aftermarket skid plates may be able to do a decent job at protecting your vehicle's undercarriage, they don't compare to what you can purchase from Mopar. Mopar skid plates are rigorously tested to withstand the elements and hold their own against the kind of debris that you'll likely experience when out on the trail. This is particularly true if your vehicle bottoms out. Bottoming out is when the undercarriage of your vehicle scraps against the ground or obstacle, which can impose sudden serious damage. So, before you embark on your next off-road adventure, we highly recommend that you invest in a set of Mopar designed skid plates.
Mopar Lift Kits
Being high up off the ground is hugely important when tackling the trails. For this reason, our auto parts experts will always recommend increasing the ground clearance of your vehicle using a Mopar lift kit. Lift kits essentially raise the height of your suspension by two or more inches, depending on the kit itself. Lift kits can play a tremendous benefit when venturing off into the wilderness, as they can make overcoming some of the most challenging obstacles much easier.
Of course, you shouldn't just invest in any ordinary lift kit from an aftermarket vendor, and we highly suggest getting a lift kit from the Mopar factory. A Mopar manufactured lift kit, is likely to be better optimized for your Chrysler, Dodge, RAM, or Jeep brand vehicle. And in truth, few parts of your vehicle are as essential during off-roading as your suspension, so the last thing you want is a less than quality lift-kit added to your vehicle. Off-roading can be rather rigorous, and having the best gear can truly make the difference in your overall experience behind the wheel.
The Benefit of Factory Off-Road Accessories and Parts
If you're thinking of upgrading your Jeep SUV and turning it into a performance and off-road champion, you should consider investing in factory-made parts over the alternative of buying from a third-party manufacturer. When you buy accessories from Mopar, you'll get parts that work seamlessly with your vehicle, and have little to no issue with compatibility. You can also be assured that the quality of the parts you're purchasing live up to expectations.
There is more benefit than just the quality of Mopar parts, as you'll also get to take advantage of warranties that provide further protection in the unlikely event that one of these parts or accessories breaks. These warranty coverage plans can vary depending on the details, however, more often than not, if a part breaks, the owner can expect a brand new replacement 100% free of charge.
Mopar parts also undergo extensive testing when it comes to performance, and the same cannot always be said of aftermarket parts. When you purchase accessories through Mopar, you can get behind the wheel without a single second thought, knowing that the parts you purchased are designed to work optimally with your Chrysler, Dodge, RAM, or Jeep brand vehicle.
When it comes to off-roading, you should be sure that the parts you buy are of the highest quality, and are ready to stand up against the beating they can experience when out on the trail. Fortunately, you can find this incredible quality, performance, and value when you purchase through Mopar.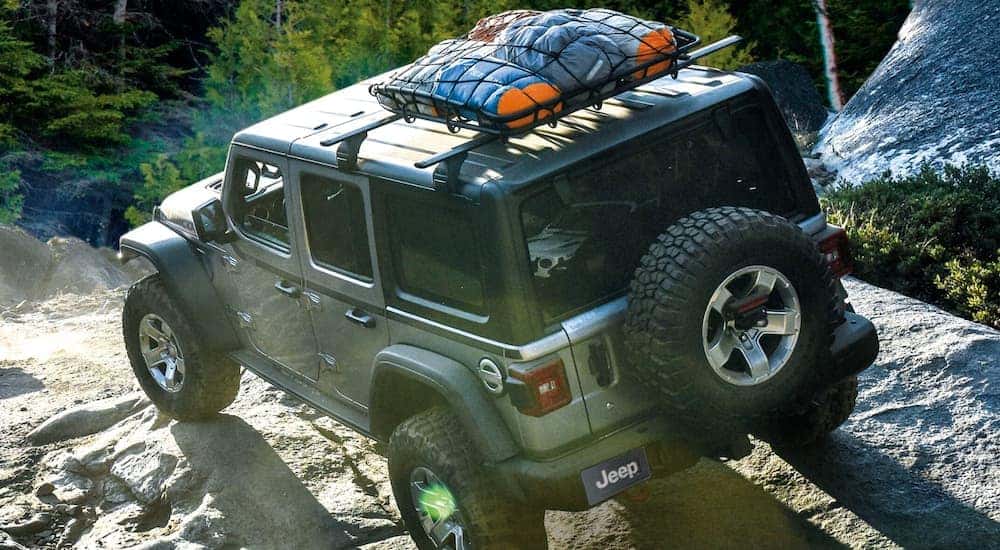 Buying Mopar at Orange Coast
While buying Mopar is highly recommended when attempting to upgrade your SUV to become off-road ready, so is ensuring that you buy from a dealership that puts your interests first no matter what. At Orange Coast, we're pretty well-versed on all the things you need to make the most out of your off-roading experience. Not only are we a dealership home to a plethora of great vehicles and capable retailers, but we're also home to off-road enthusiasts who often share the same passion for venturing into the great outdoors. There may be plenty of dealerships in Costa Mesa, CA, but there is only one Orange Coast. We're known throughout Southern California for our impeccable services and our commitment to excellence no matter what. From top-notch auto maintenance services to dealers who will go the extra mile to ensure that your car buying experience is as seamless as possible, we do it all and more to be the very best in everything that we do.