Our Favorite Tech for the 2020 Grand Cherokee: Alexa Skills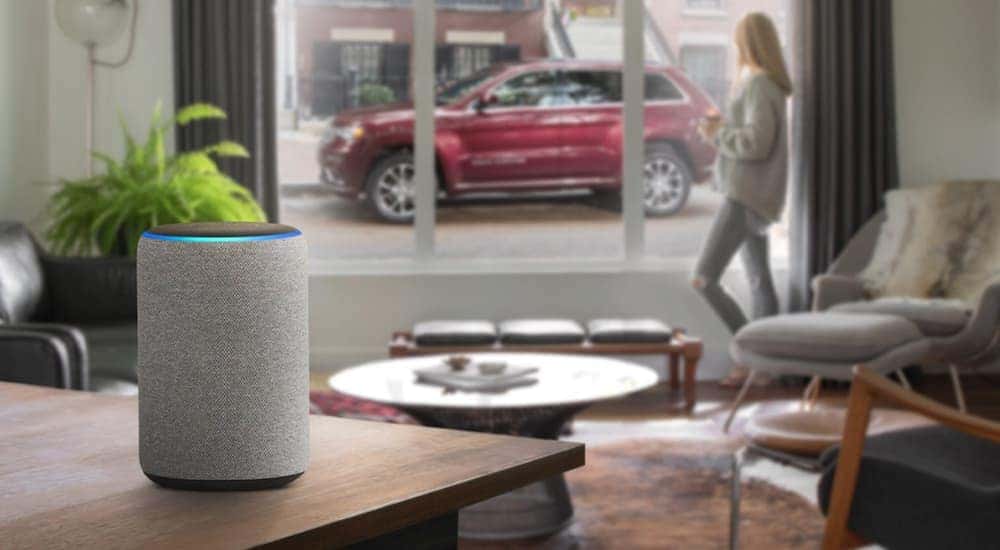 When looking for a Jeep for sale these days, you are bound to come across something you did not expect to find in your search. With Jeep's attention to luxury and interior refinement, its reputation as an off-road warrior is now matched by its sophisticated sensibility. So what exactly is driving this renaissance in luxury and refinement from Jeep? Their latest tech is a big part of it, and we would like to mention some of our favorite tech features that you will find in the 2020 Grand Cherokee.
Who wouldn't want their own virtual assistant when they hit the road? With the new Cherokee technology, not only can you stay in touch with your friends and family wherever you go, now you can talk to your Cherokee the same way you talk to your house. That's right; now you have access to Alexa in your vehicle and your house. With a specific skill app for Alexa, Jeep has a bunch of commands you can give to your vehicle.
These are the kinds of commands that you will wonder how you ever managed to live without. Imagine it's a bit chilly outside, and you know you really should warm up your Grand Cherokee before you get going for work. Luckily, your Alexa will open the garage door for you—and now, from the comfort of your bed or the couch, you can start your Grand Cherokee as well. This will come in handy on those cold mornings when you're running late and need to warm up the car, for sure.
We're referring to Jeep Skill for Amazon Alexa, and there are many more features available for your convenience. So let's take a look at how this technology can change your life—and possibly save your life, depending on the situation. Whether you need to control your Cherokee from your house or from afar, Jeep's new technology is truly a game-changer that will benefit you in more ways than simple convenience, which we think is the point of technology—to be useful and entertaining.
Remote Start Vehicle
So we've mentioned how you can start your Cherokee from the couch or bed and how convenient this will be on a breezy or chilly day, especially, but what about those days you park in the sun on the hot asphalt? You couldn't find a parking spot in the shade, and it's over a hundred degrees outside, and you're dreading sitting down on your Nappa leather seats that surely have been baking in the sun. With a touch of a button, while you're shopping or finishing lunch, now you can start your Cherokee and fire up the A/C from anywhere. Your family will appreciate how thoughtful you are, and you'll appreciate how quiet and content your kids are as they settle in, in the cool cabin after a fun day of shopping.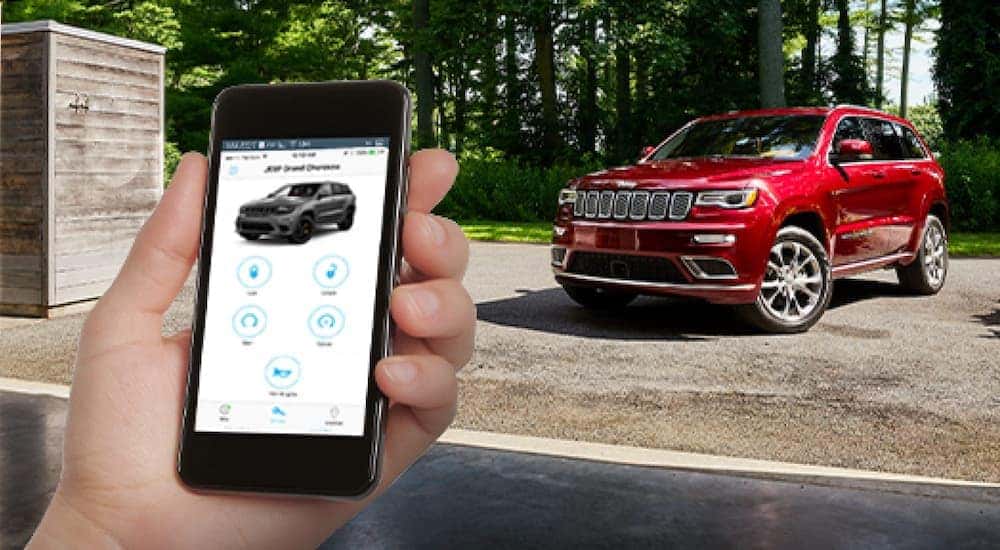 Vehicle Finder
If you think extreme weather can be a nightmare at times, remember those times you told yourself you'd remember where you parked? And by the time your flight landed, or you finished your shopping on Christmas Eve, you couldn't recall even which level you parked on? Or maybe it wasn't even this garage? Maybe you took the shuttle to the wrong garage? Well, those days of panicking are over with Jeep's skill app.
Utilizing SiriusXM Guardian, you will be able to track down your vehicle from anywhere. Which is a great option to have, but what if you are so turned around, you don't even know where to start in getting back to your vehicle? Not only can you view your vehicle location on your smartphone, but you can also ask your phone for directions to it from wherever you are. Now you won't have to try to recall "E7"—or was it "A9"?—when you return from a red-eye flight. In fact, if you hand off your phone to your kids, they'll most likely be able to guide you to your vehicle in no time. What was previously a stressful "event" for the family, is now a fun exercise in family ingenuity.
Vehicle Health Report
When introducing this exciting new technology, Jeep said that it will allow customers to minimize the everyday stresses of busy lifestyles by keeping them connected to their vehicles. And nowhere is this more evident than with the vehicle health report summary. Who has time to keep up with their vehicle's maintenance? Seriously, we all consider ourselves as fairly knowledgeable about our vehicles—we've come to identify them, so we're emotional invested in them (some of us even name our vehicles), but every once in a while a oil change slips our mind, or we let a rattle in the engine go on a little too long.
With the system report on your phone via Uconnect, you can now see crucial vehicle information, along with a snap-shot summary, and, if you choose, more in-depth information. You'll receive a monthly report delivered to your inbox, so you won't have to worry about keeping up with scheduled maintenance or monitoring any actions you might need to take to keep your vehicle running at its best.
Send and Go
If you don't want to spend the time to locate a destination while in your vehicle, now you can look up destinations on your phone and send them to your Uconnect touchscreen. This is a really convenient option to be able to send an address to the navigation system from your home. You can find a restaurant from your couch, send it to your vehicle, and it will be loaded in your navigation system before you even start your Cherokee.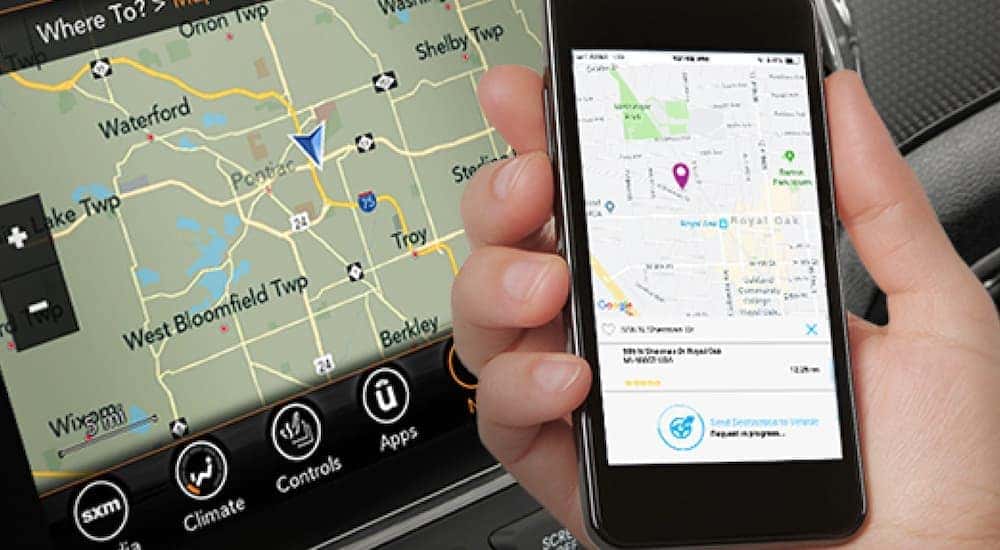 SOS Call
While the Alexa skill features we've discussed so far provide a variety of ways to stay conveniently connected to your vehicle, the SOS feature brings a sense of security to your driving experience. With SOS Call, you can connect to an operator to have a first responder dispatched, or for roadside assistance at the scene of an accident. Not only has Jeep made your life more convenient, now they have developed a feature that could potentially save your life.
Technology You Can Count On
There is no better way to experience this technology than to see it in action for yourself. Come on out to Orange Coast Jeep and talk to our expert staff. We are open seven days a week for your convenience. Our goal is to provide our customers with the easiest and most convenient experience they have ever had.
Be sure to ask about the many other tech features in the 2020 Grand Cherokee. From innovative and user-friendly technology like Apple CarPlay support and Android Auto integration to SiriusXM All Access Package Navigation to integrated Voice Command, the Cherokee is loaded with technology to keep you connected to the things and people most important to you and your family. Make every drive you take exceptionally informative, entertaining, and unique. Stop by Orange Coast in Costa Mesa and see how this technology has the potential to completely change your driving experience, reducing any car-related stress and uncertainty, so that you can focus on what's important in life.