Top Three Ram Trucks That Know How to Attack the Automotive World with Style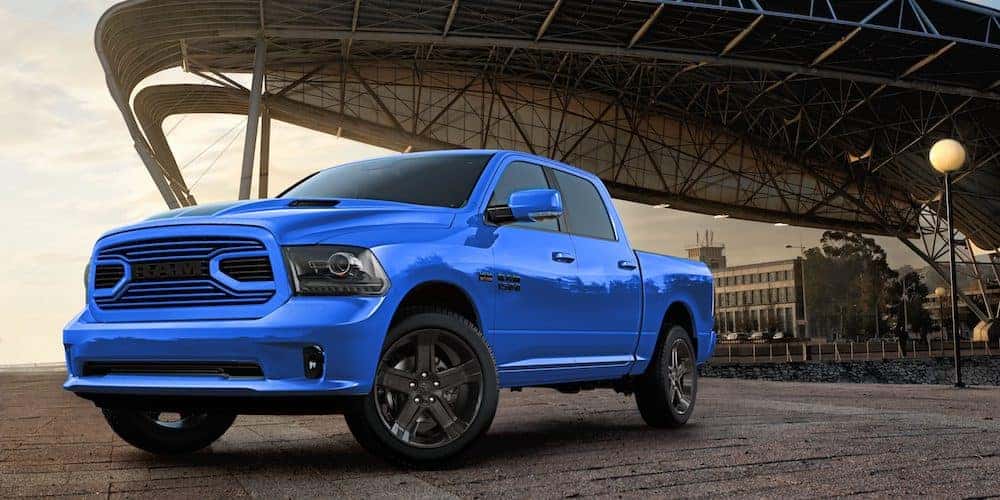 Ram trucks have always honored their namesake by fighting to be the biggest, strongest, and best performing pickups in any automotive line. With that said, even the truest Ram fanatic may not be completely sure which of their large variety of pickups to invest in at this time; that's why we are here to assist you.
Currently, three Ram trucks are dominating the world of pickups more so than ever before with their raw might and appealing features. These three would be the Ram 1500, Ram 2500, and Ram 3500. They may sound very similar, and in fairness, they do come from the same quality Ram family, but they most certainly have their own unique personalities when it comes to getting the job done. A few things to look at when deciding to go for one of these Ram trucks are the cab configurations options, engine outputs, and towing ability that you require.
Model Overview
Ram 1500
The Ram 1500 pickup truck starts from around $25,000 to $30,000 new. The gross vehicle weight rating is 6,025 to 6,945 pounds with the dimensions 209-238 inches in length 79-82 inches in width and 74-78 high. With nine unique trims levels, this model offers the most trim selections. The trims in affordability include the Tradesman, Express, Big Horn, Rebel, Sport, Night, Laramie, Laramie Longhorn, and Limited.
Ram 2500
Starting at approximately $32,000 the Ram 2500 pickup truck is bigger than the 1500 with a gross vehicle weight rating 8,500 to 10,000 pounds. This model is 230-259 inches in length 79-80 inches in width and 76-81 inches high. The 2500 has seven trim levels to choose from such as Tradesman, SLT, Big Horn, Laramie, Laramie Longhorn, Power Wagon, and Limited.
Ram 3500
New, the Ram 3500 pickup truck is roughly $33,000, and the extra price is a reflection of its larger size. The dimensions of the 3500 are identical to the 2500, but the gross vehicle weight rating increases to 10,100 to 11,400 pounds. This model has six trim levels which are highly reflective of the Ram 2500 minus the Power Wagon.
Cab Configuration
Ram trucks offer several customizations to choose from when purchasing. One of the biggest decisions is picking which cab is right for you. Ram trucks come in Regular Cab, Crew Cab, Quad Cab or Mega Cab. Many buyers are unaware of the difference between these cabs though, especially when you combine them with bed or box length options. So, here is a brief breakdown.
Regular Cab
Regular Cab describes a pickup with two full sized doors, one on each side of your Ram truck and no rear seating. With Ram, you can get your Regular Cab truck in either a 6-foot four-inch bed or an 8-foot bed.
Quad Cab
The Ram truck Quad Cab configuration is two full-sized doors and two half-sized doors, one full and one-half door on each side. There is a rear seating for this configuration, but it is fairly limited. A Ram truck Quad Cab only comes available with a six-foot-four-inch bed/box.
Crew Cab
Crew Cab configuration means four full-sized doors and full-sized rear seating with plenty of legroom. Ram trucks with Crew Cabs can have either a five-foot-seven-inch bed or a six-foot-four-inch bed.
Mega Cab
Ram trucks with the luxurious Mega Cab configuration have four full-sized doors but also offer a little extra cab space. The bed for this configuration is six foot four inches.
Engine Outputs
What's under the hood is just as important as what your Ram truck looks like. So, here is an overview of the engine options of all three of these Ram truck models:
Ram 1500
The Ram 1500 has many engine options when you break it down. Here is a list of the available engines for the 2017 and 2018 Ram 1500:
2017
3.6L Pentastar® V6 Flex Fuel 24V with WT / 8-speed automatic
5.7L HEMI V8 with WT and Fuel Saver Technology / 8-speed automatic (Only with Regular Cab and Crew Cab)
5.7L HEMI V8 with WT and Fuel Saver Technology / 8-speed automatic (Only with Quad Cab Only)
3.0L EcoDiesel V6 / 8-speed automatic
2018
3.6-Liter V6 24-Valve VVT Engine
5.7-Liter V8 HEMI® MDS VVT Engine
Ram 2500 and 3500
The 2500 and 3500 of 2017 and 2018 both share identical engine options. Here is the breakdown:
2017
5.7L HEMI® Bi-fuel CNG / gas engine /383 hp / 400 lb-ft of torque / 6-speed automatic
5.7 HEMI v8 gas engine / 383 hp / 400 lb-ft of torque / 6-speed automatic
6.4L HEMI v8 gas engine with MDS /410 hp / 429 lb-ft of torque / 6-speed automatic
6.7L Cummins Turbo Diesel engine / 350 hp / 660 lb-ft of torque / 6-speed manual
6.7L Cummins Turbo Diesel engine / 370 hp / 800 lb-ft of torque / 6-speed automatic
6.7L Cummins Turbo Diesel engine / 385 hp / 900 lb-ft of torque / 6-speed AISIN® heavy-duty automatic
2018
6.4-Liter Heavy-Duty V8 HEMI® with MDS / 410 hp / 429 lb-ft of torque
Dual Alternators Rated at 440-Amp
6.7-Liter I6 Cummins® Turbo Diesel Engine / 370 hp / 800 lb-ft of torque
Towing Capability
The most noticeable divider between these three Ram trucks is their raw towing ability. Max Gas Towing is the full amount that when properly equipped your Ram truck can haul, and the max gas payload is how much passenger and cargo weight the truck can handle. The Ram 1500 has a Max Gas Towing of 10,640 pounds and a Max Gas Payload of 1,900 pounds. The Ram 2500 has a Max Diesel Towing of 17,890 lbs. Lastly, the Ram 3500 has a Max Diesel Towing of 31,210 pounds and Max Gas Payload of 7,390 lbs. Basically, as the number of the model gets larger, so does the weight it can carry.
The Ram truck line will always be a powerhouse, but it's important to know all the details before buying so you know exactly which truck your lifestyle requires. The Ram 1500, 2500, and 3500 are all well-crafted and ready to haul even your toughest loads, so no matter which you decide to invest in you will be pleased. Go to Orange Coast Nissan to learn more about quality new and used Ram trucks and how you can get them at an affordable rate.