Which Jeep Model Should You Lease?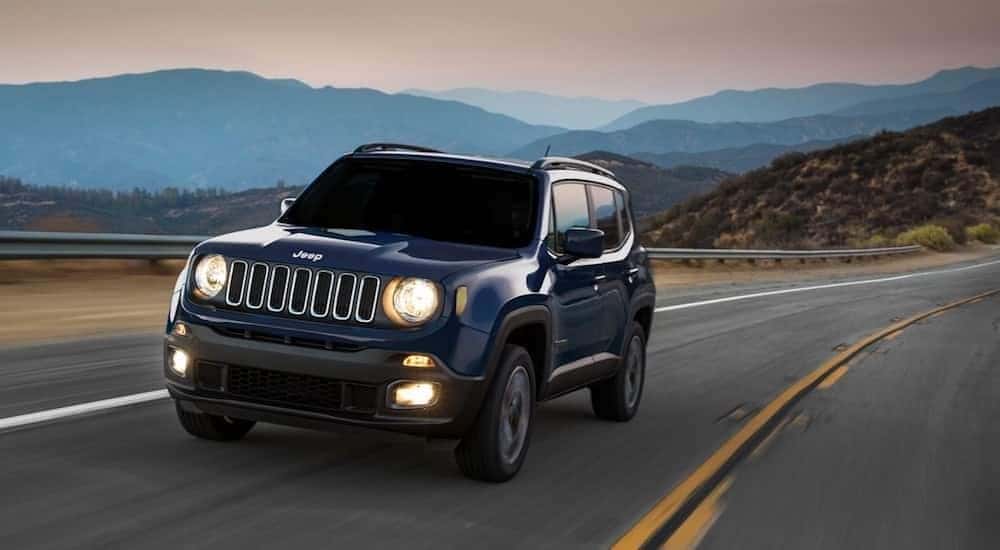 If you're searching for a new SUV, you may find that you're not ready to commit to such a large purchase. In that case, it makes plenty of sense to decide to lease a new vehicle. If you decide to go with this route, you'll find that there's no better option than a Jeep lease.
For starters, the benefits of a lease are rather obvious. Customers don't have to deal with the financial disadvantages that accompany the purchase of a brand-new car, especially the inevitable depreciation. Furthermore, you won't feel obligated to run the vehicle into the ground; rather, when you've had enough of the nameplate, you can easily move on to a replacement.
Similarly, the benefits of a Jeep lease are undeniable. The brand has continually cranked out some of the most impressive vehicles in the entire class, and each of their nameplates manages to appeal to many different types of customers.
We've explored some of the most logical Jeep lease options below, and we've detailed what kind of buyers these vehicles might appeal to. Take a look for yourself, and you may have more clarity when it's time to go lease your new SUV…
Commuting: 2019 Jeep Cherokee
When you're shopping for a leased SUV, you will probably be seeking a vehicle that can serve as the optimal commute companion. In that case, you'll surely be searching for a vehicle that delivers unmatched efficiency, and in that case, you won't find a better option than the 2019 Jeep Cherokee. Each of the three engine options manages to deliver a surprising amount of fuel efficiency, and they'll also provide drivers with a whole lot of power. In other words, you won't find a more impressive assortment of engines included in another SUV.
The 2.4-liter TigerShark MultiAir 2 Engine is one of the brand's most impressive offerings. The unit delivers plenty of power at 180 horsepower and 170 pound-feet of torque, but drivers will truly learn to appreciate the incredible efficiency specs. Thanks to fuel-saving technologies like dual variable valve timing and a flow-control valve intake manifold, drivers can anticipate a 31-mile-per-gallon highway fuel efficiency. This vicariously means that drivers can capitalize on a 489-mile highway driving range, so you'll have the ability to complete both ends of your commute without having to visit the gas station.
The 3.2-liter Pentastar V6 engine is the next step up, promising drivers 271 horsepower and 239 pound-feet of torque. Similar to the other options on this list, owners will be most enticed by the incredible fuel economy, including the 29-mile-per-gallon highway fuel efficiency. Despite these incredible numbers, the accompanying power specs aren't compromised in any way; rather, owners will still be able to capitalize on the 4,500-pound towing capacity.
Finally, while the 2.0-liter turbo engine may be the smallest of the bunch, it still packs the most power. Drivers will appreciate the 270 horsepower and 295 pound-feet of torque, allowing them to truly push the pedal to the metal. Even with all of this power, drivers will be most impressed with the unmatched efficiency specs. At the end of the day, drivers can anticipate a 31-mile-per-gallon highway fuel efficiency, allowing them to save some extra money at the gas pump.
SUVs aren't generally known for their efficiency, but each of the 2019 Jeep Cherokee's engine offerings manages to deliver unmatched fuel economy specs. That's a big reason why the nameplate makes for an excellent choice for those hoping to lease a potential commuter.
Adventuring: 2019 Jeep Compass
The Compass is more than prepared for your upcoming adventure. While the nameplate's accompanying engines will provide you with the ability to travel off the beaten path, the vehicle's other amenities truly help to emphasize the adventurous sentiment.
The 2019 Jeep Compass provides owners with more than enough space to fit all of your luggage for your adventure. The vehicle delivers a respectable 27.2-cubic-feet of space behind the second row, meaning you'll have plenty of space to fit everyone's luggage (assuming you're going to be adventuring with your family). However, you can unlock up to 59.8-cubic-feet of space, so you'll certainly be more than ready for any solo adventure.
The brand's engineers made it incredibly easy to take advantage of all of that cargo space. The 60/40 rear seats can easily be folded so you can capitalize on that maximum cargo space, and you can even fold the front passenger seat to fit any oddly shaped cargo. The adjustable cargo floor provides another clever place to hide your most valuable cargo, as do the various cargo spots that are located throughout the interior.
Besides the incredible storage options, the 2019 Jeep Compass can prepare drivers for their impending adventure. The panoramic dual-pane sunroof will allow the fresh air to quickly flow into the interior, while the incredible BeatsAudio Premium II Audio System will provide occupants with an unmatched listening experience. Including nine speakers, a 12-channel amplifier, and a subwoofer, you'll truly be able to get into that adventuring mindset.
While you won't want to go too hard in your leased Jeep, the 2019 Jeep Compass still provides all of the amenities you could possibly want on your adventures.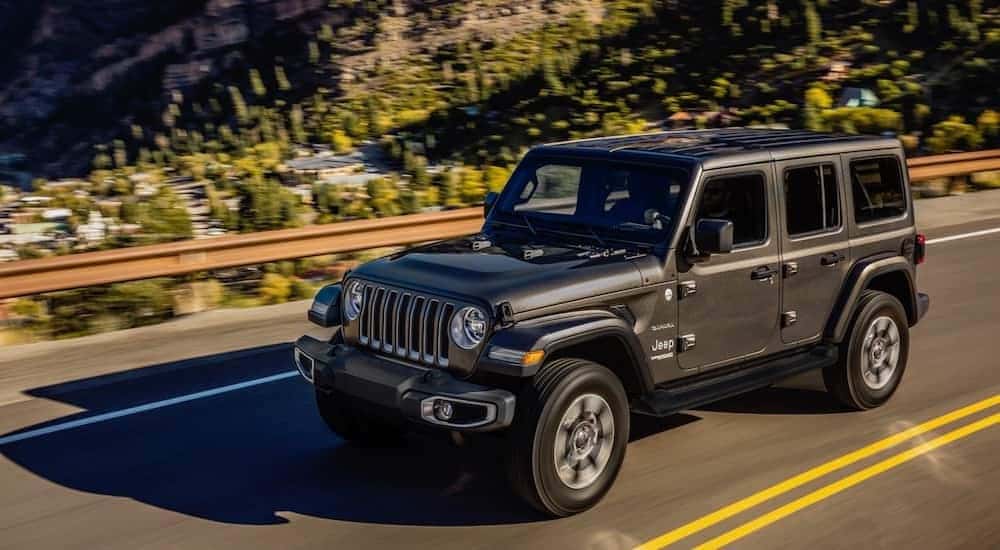 Personalization: 2019 Jeep Wrangler
The 2019 Jeep Wrangler is known for many things: power, muscle, ruggedness, durability. However, many customers may be unaware that the nameplate also provides customers with the ability to truly customize every aspect of their brand-new SUV.
It starts with the exterior, where customers can choose from 10 incredible paint offerings. The various options include:
Granite Crystal Metallic Clear Coat Exterior Paint
Sting-Gray Clear-Coat Exterior Paint
Hellayella Clear-Coat Exterior Paint
Ocean Blue Metallic Clear-Coat Exterior Paint
Billet Silver Metallic Clear Coat Exterior Paint
Punk'n Metallic Clear-Coat Exterior Paint
Mojito! Clear-Coat Exterior Paint
Bright White Clear Coat Exterior Paint
Firecracker Red Clear Coat Exterior Paint
Black Clear Coat Exterior Paint
Next, customers will have to choose from a pair of striking wheel options. Regardless of which offering you end up opting for, you can be assured your fellow drivers will be gawking at your ride. The options include:
18-Inch x 7.5-Inch Polished Wheels w/ Gray Spoke
18-Inch x 7.5-Inch Tech Gray Polished Face Wheel
The options don't end there! There are a handful of "tops" that drivers can choose from, and there are even a handful of available upholstery offerings. Thanks to the wide array of options, you'll be hard pressed to find another 2019 Jeep Wrangler that's identical to your own.
The Best Place For Your Next Jeep Lease? – Orange Coast CDJR!
Now that you have some idea of what Jeep model you're going to pursue, it's time to get started on that lease. If you live in the Costa Mesa, California area, then there's no better place to pursue that SUV than Orange Coast CDJR.
The dealership has an assortment of Jeeps to choose from, and their helpful sales team will guide you through the entire leasing process. Best of all, the finance department can work with you to determine a payment plan that makes sense for your specific budget.
Thanks to the dealership's flexible hours, you'll never struggle to find a time to visit the premises. So what are you waiting for? If you're looking to opt for a Jeep lease deal, then head out to Orange Coast CDJR today.