With RamBox the Possibilities are Endless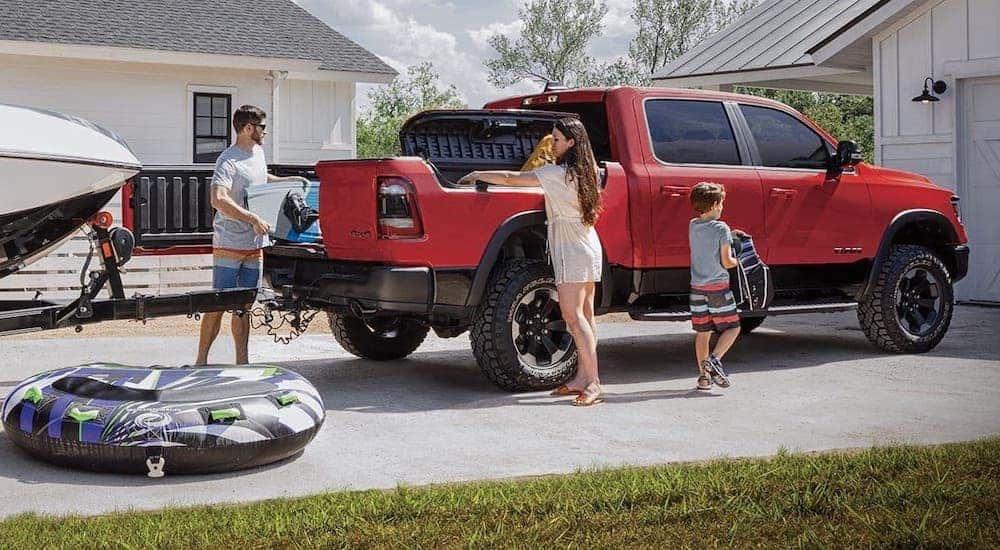 Ram trucks are among the most innovative on the market, and nowhere else is this more apparent than with their segment-exclusive cargo management system, RamBox. The RamBox Cargo Management System offers an ingenious way of maximizing the storage space for your precious cargo. Just when you thought pick-up trucks could not possibly find ways to be more useful, Ram went and made a truck that utilizes every inch of space to maximize its utility.
And you don't have to be a tradesman to appreciate the utility of this pick-up bed. This is a feature that anyone can appreciate. The possibilities are endless with the available storage offered by the RamBox. Whether you are heading out to finish a construction project or are taking your family camping, you'll appreciate the extra storage space. That's because you'll have a secured storage container for your tools and gear, or if you are lucky enough to be headed out camping, 140 12-ounce cans!
So, really, when we say the possibilities are endless, we are not exaggerating. At Orange Coast, we have a good idea of what our customers are looking for in a truck, and the Ram 1500 checks all of the boxes. One of the comments we often hear is how it can be possible no one thought of this earlier. It just makes too much sense.
So, what exactly are Ram Boxes? Let's take a look at all of the features and uses for this cargo management system and see if it makes sense for your lifestyle (spoiler alert: we have yet to run into anyone who could not use more storage space). You will not find this feature on any other truck in the segment, which definitely makes the Ram full-size and heavy-duty trucks ones to keep at the top of your list.
Cargo Capacity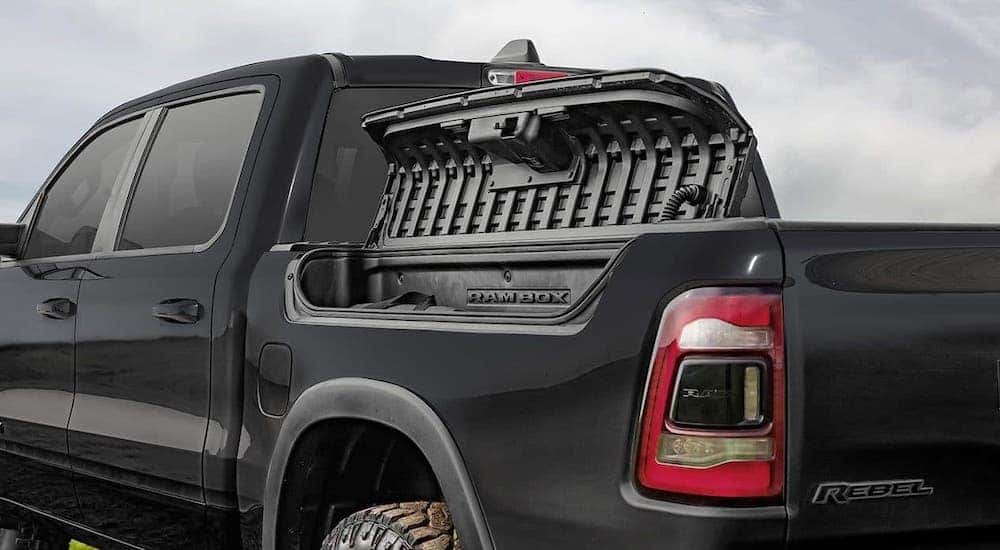 The RamBox Cargo Management System is made up of two storage bins that run the length of the pick-up bed and are as wide as the wheel well. They are available in two different bed lengths: the 6-foot, 4-inch bed, available in the Quad and Crew Cab models; and the 5-foot, 7-inch bed, available in the Crew Cab models. The boxes fit into the space over the wheel well, so they provide a great deal of extra cargo room. The longer bed adds 8.6 cubic feet of storage space, while the Crew Cab bad receives an extra 7.3 cubic feet of storage space.
If you consider how much space a truck toolbox takes up—a low-profile truck box is generally around 8 cubic feet—then this is a tremendous value and a much better use of space. You are still able to stack 4×8 sheets of plywood with the Ram Boxes, whereas with a truck box, your space would be limited. This is a concession every truck owner makes when they put a truck box on their truck, but now you have the option of using the space much more efficiently, similar to how utility beds are set up, to maximize space for ultimate efficiency.
Drainable
While we already mentioned there's space for your chainsaws and other tools, what about when you're not on the job and are using the extra storage space as a cooler? Or what about when you need to clean the compartments? Well, Ram is way ahead of you—each compartment is outfitted with a drain for your convenience. When you need to hose it down or drain the ice, just pull the plug. This is a very simple yet convenient feature and one you will surely appreciate.
Central Locking
If you're worried about security, Ram has you covered there too. Ram Boxes use AllSecure Central Locking System, which is controlled via remote keyless entry, so you can always be assured that your valuables will be safe. This provides a secure storage option for your valuables and peace of mind, whether you are on the job site or are leaving your truck parked at a trailhead or parking garage for an extended period of time.
Divider/Extender
What else is included with this cargo management system? How about an adjustable bed divider and extender for increased versatility and utility? That's right, you get an additional 2 feet of bed length to secure longer loads. Used as an extender, it fits on the lowered tailgate and wraps around the tailgate to extend the bed. When you don't need to extend the bed length, you can use it to divide compartments in the bed if you need to separate your tools and equipment.
Adjustable Tie-Downs
On the inside of each RamBox is a rail system with sliding, adjustable cleats to use for tie-downs. This provides an infinite amount of tie-downs to secure your cargo. You never know what you will be hauling, and with this system, you will be prepared for anything. You can never have enough tie-downs—that's a refrain heard on just about every job site, and one Ram is certainly aware of, thankfully.
Lighting and Electric!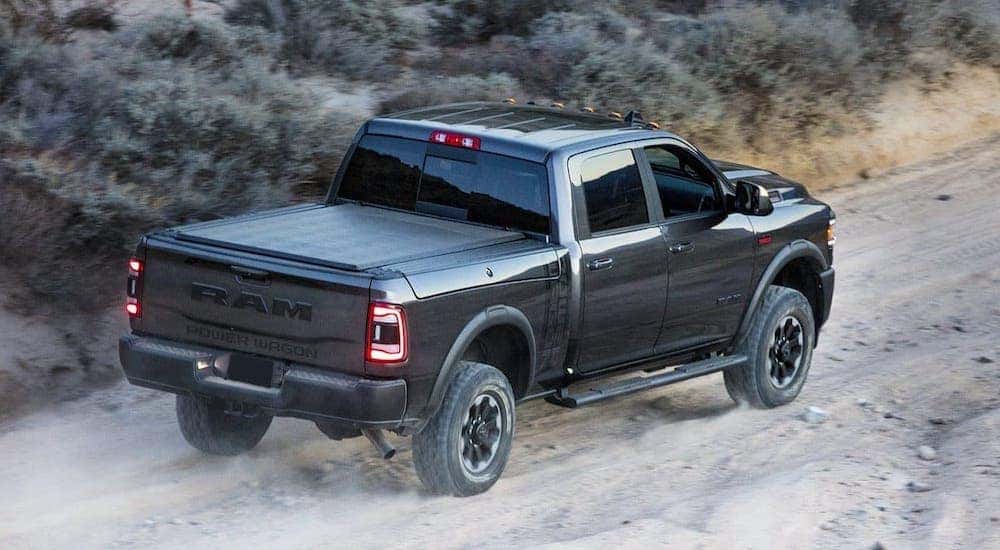 The RamBox is illuminated with interior lighting, so you will not have to worry about finding your tools in the dark. This will make your life easier in many situations. When a job runs late, and you're tired, the last thing you want to deal with is not being able to find your tools. And imagine how much you'll appreciate the lighting when you're camping. If only your Ram truck could set up camp too! Well, it certainly will be making itself useful, as it also comes with a 115-volt power outlet. You will be the most popular person at any campground or job site. Store and run a compressor; cook breakfast—the possibilities truly are endless.
What Can It Hold?
Instead of speaking only in cubic feet, we thought it might be better to give tangible or real-world examples of what the RamBox can hold. The side bins are large enough to hold a set of golf clubs, kayak paddles, fishing rods, and toolboxes, for example. That's a lot of extra space, and with it being secured, you do not have to worry about leaving anything exposed in the bed of your truck. We could go on and on about what else you could keep in these boxes: a circular saw, angle grinder, and cut-off saw; a tackle box, fly rod, and fishing net; this is too much fun to think about; all of that and more can fit in your RamBox Cargo Management System.
See for Yourself
Come out and visit us at Orange Coast in Costa Mesa, CA, and see for yourself just how convenient and innovative this cargo system truly is. We are here to answer any questions you may have about this exciting feature. Our expert staff is trained in all things Ram, and we are here to get you on the road in the perfect truck or vehicle for the demands of your lifestyle.
We are Southern California's premier auto dealership for Chrysler, Dodge, Jeep, and Ram. Our goal is to make every customer feel welcomed and comfortable, and we pride ourselves on providing a stress-free experience. We know how difficult buying a new or used vehicle can be, and that's why we strive to deliver the best customer service of any dealership in the industry.