2022 Ram 1500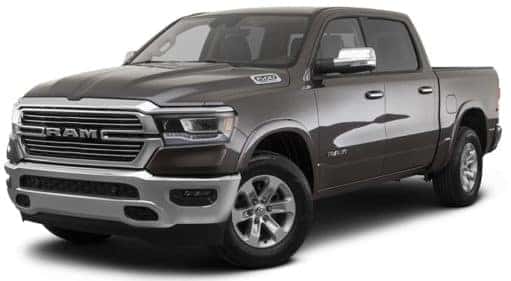 Starting at
$37,090[a]
2022 Ford F-150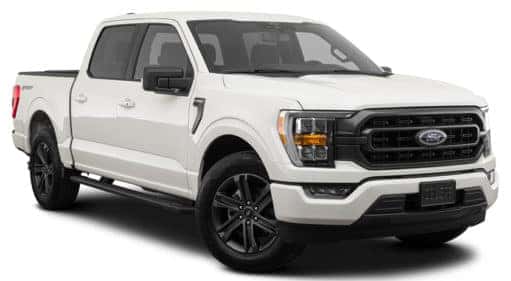 Starting at
$31,520
| | | |
| --- | --- | --- |
| 305-702 | Horsepower (hp) | 290-450 |
| 45.2 | Rear Legroom (in) | 43.6 |
| Avl. | Diesel | No |
There is no denying that America is firmly in the midst of a battle to see which full-size truck will prove itself the best of the best. While Ford loves to brag about the past sales figures of the F-150, the Blue Oval brand has been slipping in recent years in terms of the options and capabilities its pickups offer. Looking at the 2022 Ram 1500 vs 2022 Ford F-150 shows that the Ford truck certainly has a lot going for it, but it simply cannot keep up with what Ram is producing. If you are looking for a truck that can take you anywhere with truly unbeatable levels of comfort and sophistication, then you need to check out the Ram 1500.
Even though the 2022 Ford F-150 has half a dozen different engines available, they are all conventional gas engines. The standard 3.3L V6 offers 290 hp and 265 lb-ft of torque, which falls short of the Ram 1500's standard 3.6L Pentastar V6 engine with its eTorque system that delivers 305 hp and 269 lb-ft of torque. There is plenty of power offered by Ford's optional engines, but the F-150 absolutely lacks anything to match Ram's available 3.0L EcoDiesel V6 engine. While a diesel engine is not right for everyone, the fact that you cannot even choose it as an option for the F-150 is a missed opportunity.
Full-size trucks like the Ram 1500 and F-150 have become increasingly popular in recent years for going off-road, but the Ram 1500 is unbeatable in that department. While the Ford F-150 Raptor is an impressive option, with its 450 hp V6 engine, it absolutely pales in comparison to the Ram 1500 TRX and its 6.2L HEMI supercharged V8 that delivers a beastly 702 hp. You will not find a more powerful truck on the trail; the fact that it also comes with the legendary sophistication and advanced technology of the Ram 1500 simply puts it in a league of its own.
Engine Options

More Power Out of the Gate
When looking at a full-size truck, few things are as crucial to the kind of performance and functionality it can deliver as its engine. In fact, we would argue that the engine is the most essential single element in a truck––to ensure you get a pickup that can handle everything you need, it is vital that you choose one with the kind of power you are looking for. That is why it helps to pick a truck that gives you a wide range of options for your engine, so you can get the right amount of power for what you need without going too big or too small.
Both the 2022 Ram 1500 and Ford F-150 have numerous engines available, which is great, but Ram comes through with better options overall. For starters, the engines that come standard in both trucks are important since this indicates the power you get to enjoy if you do not want to spend more upgrading. With the Ram 1500, you get a standard 3.6L Pentastar V6 with an eTorque mild hybrid system, which delivers 305 hp and 269 lb-ft of torque. By comparison, the standard engine in the F-150 is a 3.3L V6 that offers just 290 hp and 265 lb-ft of torque. The differences here might be small, but you want all the power you can get when driving a truck.
Where's the Diesel?
What is particularly shocking is the complete and utter lack of a diesel engine available for the Ford F-150. While we admit that a diesel engine is not for everyone, there are still plenty of drivers who prefer the reliability and raw power that only a diesel can deliver. The fact that you cannot get a diesel engine for the F-150 is a massive oversight as far as we are concerned and makes the Ram 1500 a far better option. With the Ram truck, you can choose an available 3.0L EcoDiesel V6 engine that delivers 260 hp and a massive 480 lb-ft of torque for fantastic performance, no matter what you need it for.
Off-Road Performance

TRX vs Raptor
Full-size trucks have become favorites for many off-road enthusiasts due to the amount of power and performance they can deliver. In response, manufacturers have been improving their trail-ready features year after year to deliver better off-road options than ever before. While the regular trims of the Ram 1500 and Ford F-150 work fine for some light off-roading, they both have dedicated off-road versions designed to take your experience to the next level. The F-150 Raptor is an impressive piece of machinery, but it cannot compete with the Ram 1500 TRX.
The Raptor has plenty going for it, including a five-link rear suspension with extra-long trailing arms that provides good handling on rough terrain. It also has FOX Racing Shox for excellent suspension travel and maneuverability, skid plates to protect the underside, and 17-inch wheels wrapped in BFGoodrich all-terrain tires. Where the F-150 Raptor ultimately falls short of the Ram 1500 TRX is its engine: the Raptor features a 3.5L EcoBoost High-Output V6 that delivers 450 hp and 510 lb-ft of torque––this seems amazing until you look at the Ram's engine.
Supercharge It!
While the F-150 Raptor is fine, the Ram 1500 TRX is simply on another level. Bilstein Black Hawk shocks provide 13 inches of front suspension travel and 14 inches of rear suspension travel, on top of nearly 12 inches of total ground clearance. The TRX features beadlock-capable wheels with 35-inch Goodyear Wrangler Territory all-terrain tires designed to take you anywhere you can imagine. However, what truly sets the TRX apart is its unbelievable supercharged 6.2L HEMI V8 engine that delivers a monstrous 702 hp and 650 lb-ft of torque, letting it go from 0 to 60 in just 4.5 seconds and tear up any trail you can find. There is simply nothing else out there like the Ram 1500 TRX, and it can take your off-road experience to a level no other truck can match.
Luxury and Technology

A Luxury Experience
These days, trucks can provide a luxury experience on par with any other vehicle on the road, putting behind the years of barebones interiors many of us grew up with. Ram's trucks have become the market leaders in luxury and innovative technology, leaving every other brand scrambling to catch up. While the F-150 has some fine options, it just cannot compete with what you can get inside the 2022 Ram 1500, particularly at similar trim levels.
Looking at the Ford F-150 Platinum, for example, we find dual-zone automatic temperature control, a 12-inch infotainment display, and a 12-inch digital productivity screen for the driver. The Platinum comes with comfortable seating, a wireless charging pad, and a heated steering wheel. It has an eight-speaker B&O sound system, which is pretty good, but the superior B&O Unleashed sound system is an added-cost option, even on this premium trim. Overall, the features are fine, but they could be better.
A Market-Leading Ride
By comparison, the similarly priced Ram 1500 Limited features eight-way power-adjustable front seats with four-way power lumbar support, heating, and ventilation. There are memory settings for the driver's seat and heating for the rear seats. You get a stunning 12-inch infotainment display in the Limited, with an available 19-speaker Harman Kardon premium sound system that is absolutely amazing if you are someone who likes listening to music or podcasts while on (or off) the road. The Limited features dual-zone temperature control, an auto-dimming rearview mirror with an available digital rearview mirror, and luxury details throughout the interior. For example, the wood and the leather-wrapped steering wheel adds a touch of elegance that perfectly illustrates the sophistication and power that Ram trucks have come to symbolize.