Performance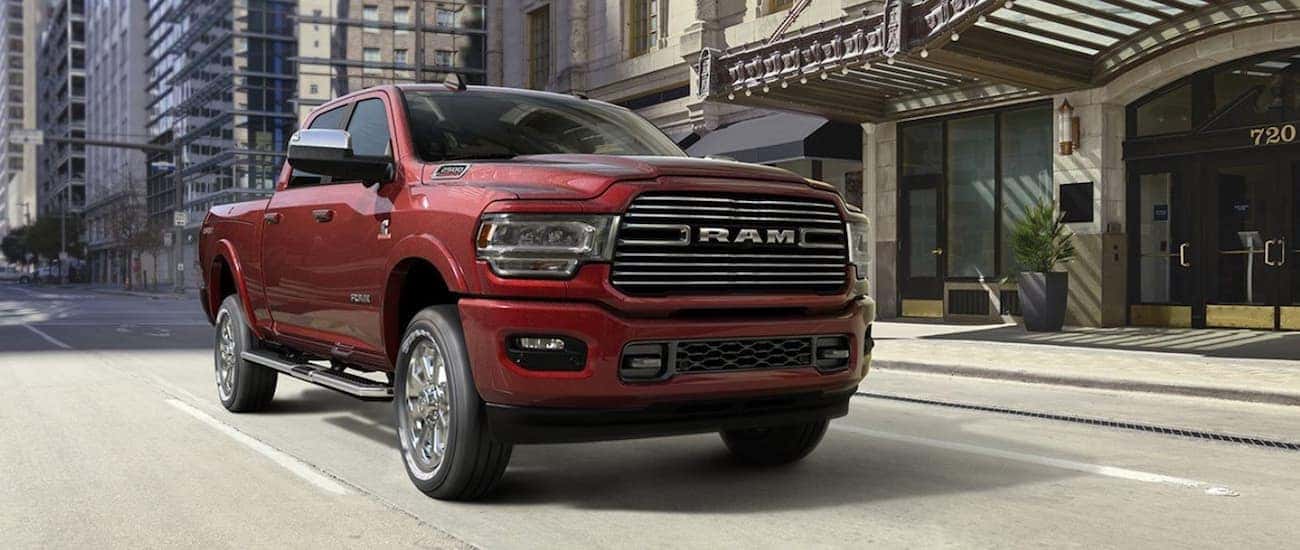 Engine and Performance of the 2020 Ram 2500
With any heavy-duty truck, the engine is of the utmost importance because it impacts so many aspects of performance. No matter how well-made or sturdy a truck's frame might be, a weak engine will leave you wanting for a better option. Fortunately, the 2020 Ram 2500 offers two fantastic engines to choose from, so you can get the levels of power and performance you need.
Standard Engine
The standard engine in the 2020 Ram 2500 is a 6.4L HEMI V8 that provides up to 410 hp and 429 lb-ft of torque. For a standard engine it offers a staggering amount of power without any need to pay for an upgrade. If horsepower and high payload capacity are primary concerns, this engine is the best option for you.
More Powerful Engine
Next is the available 6.7L Cummins Turbo Diesel I6 engine, which offers up to 370 hp and a stunning 850 lb-ft of torque. You'll feel the difference this engine makes when hauling a load behind you or pushing up a steep hill. It has tremendous power, and comes paired with a 6-speed automatic transmission, while the standard HEMI engine comes with an 8-speed automatic. If towing capacity is your biggest priority, this is the engine to choose:
Towing and Payload

The Powerful 2020 Ram 2500
If you're looking for a heavy-duty pickup like the 2020 Ram 2500, towing and payload are no doubt a priority. The 2500 hits the sweet spot for many of our customers, as it offers significantly more power than the Ram 1500 without rising to the extreme levels of the 3500. The 2020 Ram 2500 is a great truck for work and play, with towing and payload capabilities for hauling lumber, bags of cement, or sheets of drywall -- and power to spare on the weekends when it's time to hitch up the boat.
Towing Capacity
The towing capacity of your 2020 Ram 2500 depends on which engine you choose and your overall configuration. You'll want the available trailering package for the best performance possible, and your choice of engine is determined by how much you need to tow. If you go with the standard 6.4L HEMI V8 engine, you'll get up to 17,580 lbs of towing capacity when properly configured. But if you choose the available 6.7L Cummins Turbo Diesel engine, you'll top out at up to 19,780 lbs of towing capacity when properly equipped. That's an incredible amount of towing, even for the 2500 HD segment.
Payload Capacity
When it comes to payload capacity, once again, your choice of engine is important because its weight directly impacts how much cargo you can load onto your truck. If you choose the standard HEMI V8 engine, you can get up to 4,050 lbs of payload capacity when properly configured. With the available Turbo Diesel engine, you get up to 3,260 lbs of maximum payload. You'll need to determine exactly how much towing and payload capacity you need in order to choose the right engine and setup.
Interior

Incredible Interior of the Ram 2500
The 2020 Ram 2500 may be a fantastic truck in terms of power, performance, and available engines, but its interior features are what make it a star. While other heavy-duty pickups may have similar towing and payload capabilities, for comfort and sophistication, no other truck comes close. By all accounts, Ram has set the industry standard by which all other luxury trucks are measured.
What kind of luxury are we talking about? For starters, the 2020 Ram 2500 has available 100% leather seating on the Laramie Longhorn and Limited trim levels. While most other trucks offer leather details or appointments, the Ram 2500 has real leather seating that literally envelops you in comfort.
What Makes Driving a Ram 2500 so Special?
The 2020 Ram 2500 also has an available 12-inch touchscreen Infotainment display with navigation, much larger than the screens found in most other trucks. Active noise cancellation in the Ram 2500 guarantees a quiet, smooth ride as you bask in the rich sounds of the audio system. Speaking of which, an available 17-speaker Harman Kardon Premium sound system provides a musical experience unlike anything else on the market. Words cannot do this sound system justice; you have to hear it to fully appreciate it.
Comfort and Convenience Features
The available 8-way power adjustable driver and front passenger seats are heated and endlessly comfortable, with optional dual-zone temperature control, auto-dimming rearview mirror, and a heated, leather-wrapped steering wheel. A wireless charging pad comes standard on the highest trim and is available on lower trims, and there are plenty of USB ports and power outlets for your other devices.
Also available is a full-color 7-inch driver information digital cluster integrated with the analog instruments to provide you with real-time information, including navigation, with 3D animated graphics. Settings can be customized to display all the information you want, including fuel economy, audio features, and engine performance. Steering wheel-mounted audio controls let you adjust your music without taking your hands off the wheel, and all features are designed with an eye toward luxury other vehicles can only aspire to.