Building Your Jeep Wrangler for Off-Roading
Here at Orange Coast, we are just as enthusiastic about off-roading as you are. We've been in the industry for years, not just providing our customers with stellar vehicles, but also helping our customers transform their vehicles into true off-road champions. That said, there are plenty of drivers who ask themselves, 'is there a used car near me that I can turn into an off-road trekker?' and the answer is always a resounding yes at Orange Coast. We have a wide selection of used vehicles in our showroom that would excel at trail-running, that said, few provide an off-road riding experience quite like the Jeep Wrangler. Jeep Wrangler models are ready for the trail the moment they roll into our showroom, so it only takes minor modifications to turn these vehicles into something truly remarkable. In this blog, we'll delve into the details of how you can turn your used Jeep Wrangler into a vehicle that can tackle any terrain or trail.
The Importance of Ground Clearance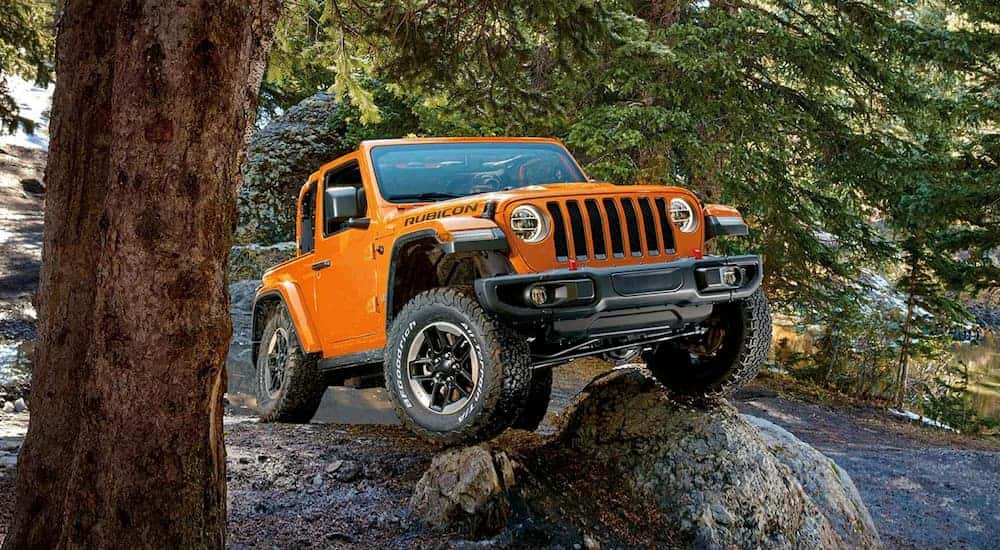 One of the most defining characteristics of any off-road vehicle is how high it rides off of the ground, otherwise known as ground clearance. While you needn't worry too much about ground clearance when sticking to the streets, off-roading can put your vehicle in front of a lot of varying terrains, some of which can threaten the undercarriage. The underside of your car is sensitive, housing parts that, if broken, could lead to a costly repair, or even leave you stuck out on a trail. Fortunately, you can resolve this issue by increasing the height of your vehicle with a lift kit.
A lift kit assists in lifting the frame, engine, and body up higher. As a result of adding a lift kit, you can enjoy far greater ground clearance and protect that sensitive underbelly of your vehicle. How high your vehicle should be varies depending on the kind of off-road trails you hope to tackle. However, one of our auto experts can certainly guide you in the right direction. When it comes to a Jeep Wrangler, though, a lift kit is often less of a necessity, as these rugged two or four-door SUVs already come off of the factory floor with a considerable amount of space separating the undercarriage from the ground. If you would like to go up multiple sizes in tires for even more ground clearance, a lift kit be required for fitment.
Assisting any great lift kit, are skid plates. Skid plates add an extra level of protection when simply being high enough off of the ground won't cut it. Skid plates are a great modification if you plan to take on any particularly challenging trails, and there are plenty of those out there. This modification can even protect your undercarriage in the unfortunate event that your vehicle bottom's out.
Bigger Tires are Often Better
Tires are essential for any vehicle, no matter if you decide to stick to streets or want to venture a bit further to remote stretches of wilderness. That said, having the right set of tires on your vehicle can determine just how far you go. Sure, you can venture out on some graded roads with a set of street tires, but this is about the extent of their capabilities. If you decide to push things several steps further and embark on more challenging routes, you'll need a set of off-road tires.
What is the difference between off-road and street tires? Well, for one, off-road tires have far deeper tread, which is essential for gripping various types of terrain. While street tires, even those of the all-weather variety, do a decent job at holding to surfaces, off-road tires put their level of traction to shame. Off-road tires are also far more durable than any set of street tires. Potholes and speed bumps may be hard on a set of tires, but these obstacles are nothing compared to what can be found when venturing out on the trail. And when off-roading, the last thing you want to do is find yourself stranded in the middle of the wilderness with a flat tire.
Size can also be an important factor to consider. When crossing a fallen tree in the trail or venturing up a challenging, rocky portion of terrain, the added size in your tires can make or break your success. Not every trail needs large tires, and oftentimes, the skill of the driver is more important in determining whether the vehicle makes it easily, but going up a few sizes can make a solid difference. If you're looking to transform your used Jeep Wrangler into an off-road trekker, a great set of off-road tires is the first thing we often recommend. Without off-road tires, you may as well stick to the streets, as the truly thrilling trails will be much harder to finish.
Preparing Your Jeep for the Rough and Tumble
One of the best ways to ensure your used Jeep Wrangler is ready for the worst that the trail has to throw at it is to equip it with an upgraded suspension. Your suspension is responsible for making the ride smooth and ensuring that you are in continued control of the vehicle. While the suspension on any Jeep Wrangler is already going to be rather robust, it is worthwhile to invest in an upgraded version that is built specifically for off-roading. With the help of an upgraded suspension, you can enjoy greater stability and handling, however, more specifically, an off-road-ready suspension system can reduce the amount of friction between the tires and the road.
Furthermore, venturing out on a suspension system that isn't necessarily equipped for rugged driving can result in breakage that may cost you a pretty penny. For this reason, we recommend that all potential off-road vehicles be fitted with a suspension system that is up for the challenges of the trail. If you sprung for the Rubicon trim, you can probably skip this step for the average and even above-average trails, but serious rock crawling is another story.
The Benefits of a Good Roof Rack and Other Accessories
Even if you're driving the largest version of the four-door Jeep Wrangler, there comes a point where you need extra cargo space. Off-roading can mean a need for a lot of gear, which is exactly why a roof rack can come in handy. When venturing off the beaten path, having a place to store spare water, gasoline, and even camping gear can come in handy when every seat of your Jeep Wrangler is filled. A good roof rack should be purchased with a set heavy-duty straps that allow you to better secure all of your equipment. Some of our off-road purists, often opt for an aluminum body roof rack, as it is the lightest available, and does a decent job of withstanding against the elements. A roof rack can come in handy particularly when you're venturing on a long journey through the wilderness when having extra room for food, water, and other necessities can mean the difference between a great trip and a bad one.
Another important accessory for your off-roading adventures is additional lighting. Although the newer Wranglers have excellent standard lighting, extra mounted lights (especially that are movable) are a great addition. It allows you to see in tougher weather conditions and at angles you wouldn't encounter in regular driving. Undercarriage and side lighting are also helpful for serious rock crawlers who venture out at night.
Readying Your Jeep Wrangler for the Trail at Orange Coast
Off-roading can be a truly spectacular way to explore some of the most remote corners of your local area, allowing you to venture into the beautiful wilderness all from behind the wheel of your vehicle. If you're looking to purchase a used car, particularly a used Jeep Wrangler, to take on a trip through the great outdoors, our dealership is more than happy to help. Not only are we home to a vast collection of vehicles already well-equipped to handle an off-pavement adventure, but we're home to a team of experienced auto technicians who understand the ins and outs of off-roading. We'll inspect your vehicle from bumper to bumper and give you a list of potential modifications that might be worthwhile in making your Jeep Wrangler a truly unstoppable force. Stop by in Costa Mesa, CA, today to start prepping your off-roader.