Looking Back To What Used Jeep Wranglers Have To Offer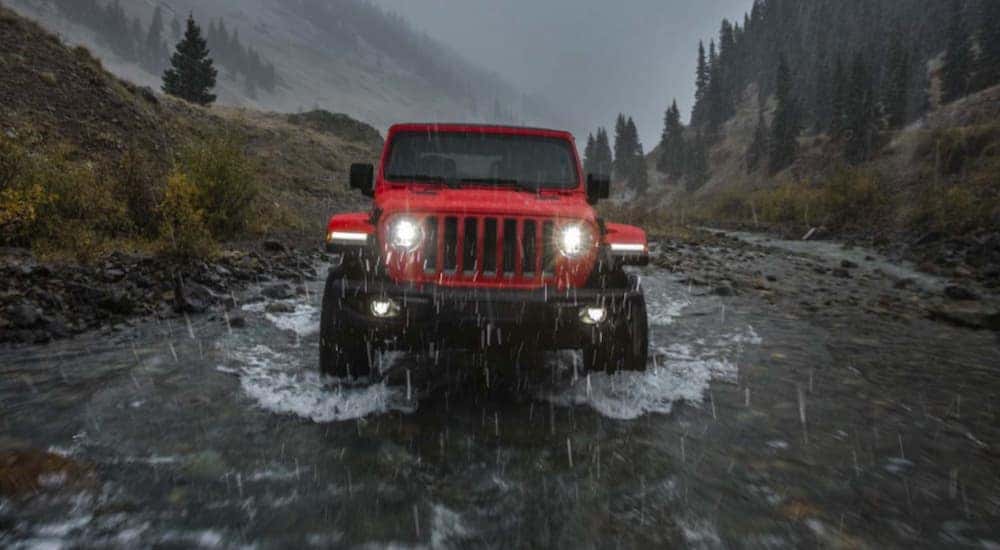 Jeep drivers choose Jeep vehicles because they love adventure and know vehicles made by the brand can be trusted to handle anything, and no Jeep model better exemplifies adventure than the trusted Wrangler. It's a classic for a reason due to its unmatched off-road capabilities, which can conquer all kinds of terrain, ranging from remote rocky roads to deep mud pits. Among competitors in its class, it also holds its value fairly well. While technology, engineering, and design may evolve, the underpinnings of the Wrangler remain as solid as they were when it was first introduced in 1986. If you've been researching a Wrangler by searching the Internet for "used cars near me," you've probably seen a lot of information already on these amazing vehicles. There some important things to know about buying a used Jeep Wrangler and how it brings some impressive functionality and performance to new owners. Let's take a closer look at why a recent year used Wrangler is a good investment for the future and what some of the features of the various trim levels are.
A Jeep For Everyone: The Third-Generation (2007 to 2018)
Most of the used Wranglers you can find were produced in this time period. Some of the "advanced" features that came with them, which may seem funny to think about now, were basics like power windows, power door locks, and GPS navigation.
Standard gear on early Rubicon editions was an electronically-detachable sway bar. On-board computers started taking more control of the vehicle, managing the lighting, auxiliary systems, transmission and braking systems. This brought the old school off-roading Jeep into a more modern era. Along with technological advances, the third-generation was also completely redesigned to improve upon its iconic roots. It could now be driven without doors—something that is commonplace in today's Wranglers—and included a windshield that folded flat. Its four-wheel drive systems were also overhauled with high and low gearing for more precise control when venturing off-road.
In conjunction with that, new stability control features were introduced in the interest of safety by keeping the Wrangler well-grounded and sure-footed in difficult weather and road conditions. A secondary traction control system was added, and the anti-lock braking system was specially tuned for off-road terrain by keeping constant contact with the ground.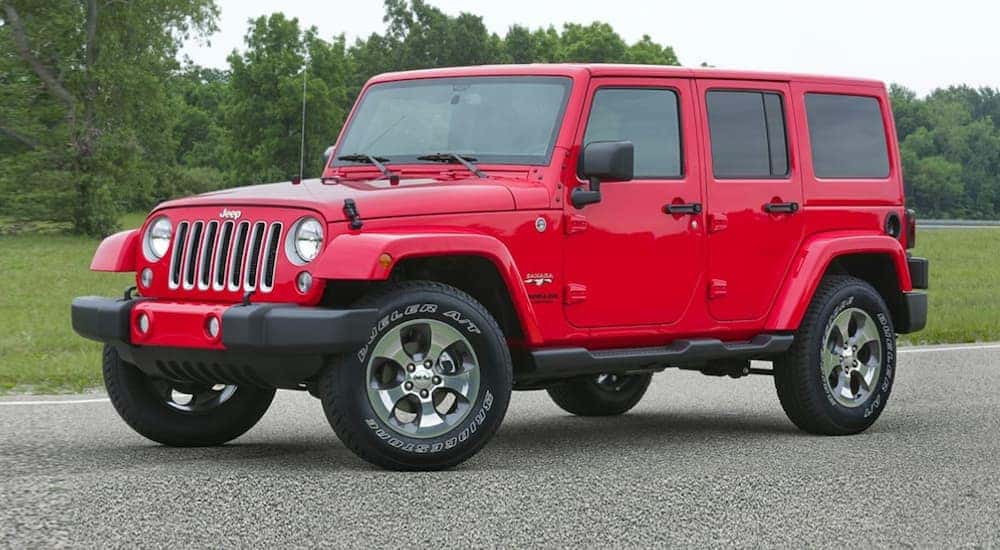 Jeep released the X model in 2009 as a limited Rocky Mountain edition, equipped with burly 32-inch tires, with several external visual styling upgrades available as options. In a sign of the time when it was released, it also featured a six-disc CD changer in the dash.
The Islander and Mountain Editions were introduced in 2010. The former was a redesign of the former Sport model, outfitted with special seating, a leather-wrapped steering wheel, and slush mats. The latter featured sleek black styling, graphite interior trim accents, a black grille and hood decals.
2011 brought a Special Edition Sahara model to the Wrangler and Wrangler Unlimited as part of Jeep's 70th anniversary. The Sahara featured more luxurious touches to counter the brand's traditional rugged reputation, such as leather seats and steering wheel. 18-inch polished wheels and a chrome shift knob added elements of shine to the style. To mark this milestone in Jeep's history, a special 70th-anniversary logo appeared on the radio screen and was also incorporated into various badges placed throughout the vehicle.
JK Wranglers (2014 to present)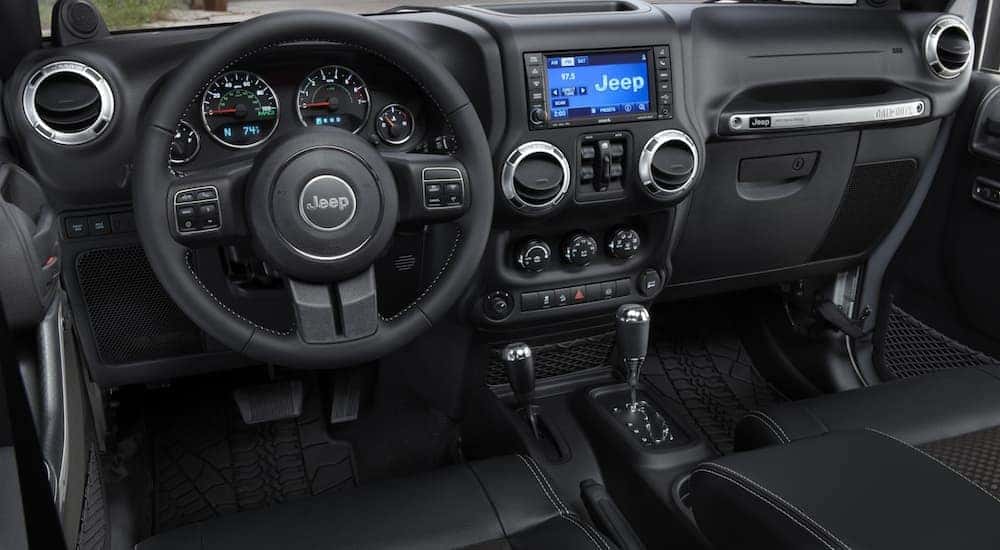 2014 brought some new technology upgrades to the then-current third-generation Wrangler. Drivers looking at this model year will be able to appreciate an optional touchscreen radio on the Sport trim level, which includes hard disk storage and Sirius XM radio. The Rubicon edition also received larger 32-inch off-road tires paired with semi-gloss black 17-inch wheels.
Starting in 2015, an assortment of new exterior paint colors was introduced, including Tank (a dark military green), Sunset Orange, Copper Brown, Baja Yellow, and Firecracker Red. The Wrangler's standard audio system was boosted to eight speakers with a nine-speaker system plus subwoofer available as an option package. The higher trim levels around this time, such as the Willys Wheeler W, Freedom Edition, and Sahara, came with an optional tan roof, but there was also the option of the standard black and body-color schemes.
JL Wranglers (2018 to present)
2018 ushered in the fourth-generation Wrangler, equipped with more powertrains, including two new engines: a 2.0L turbocharged I4 and a 3.6L Pentastar V6. The exterior styling was also updated with the addition of a zipperless soft top and improved windshield. In 2019, three different 4×4 systems were made available on the Wrangler. The Selec-Trac option intelligently switches between two-wheel drive and four-wheel drive as conditions warrant. When driving is consistently difficult, the system uses its Smart Lock feature to stay in four-wheel drive full time. For rough off-road travel over rocks and roots, the Command-Trac system adjusts accordingly. The Rock-Trac system found on the Rubicon models provides the most traction possible for the toughest driving conditions.
Now is a great time to be looking at older Wranglers with the newer 2020 models hitting the market. With enough savvy research, it's possible to find a 2018 or 2019 model in almost like-new condition. Depending on how long you like to keep your vehicles, going with a Wrangler that is only a few years old may also provide excellent trade-in value if you decide to move to another vehicle soon.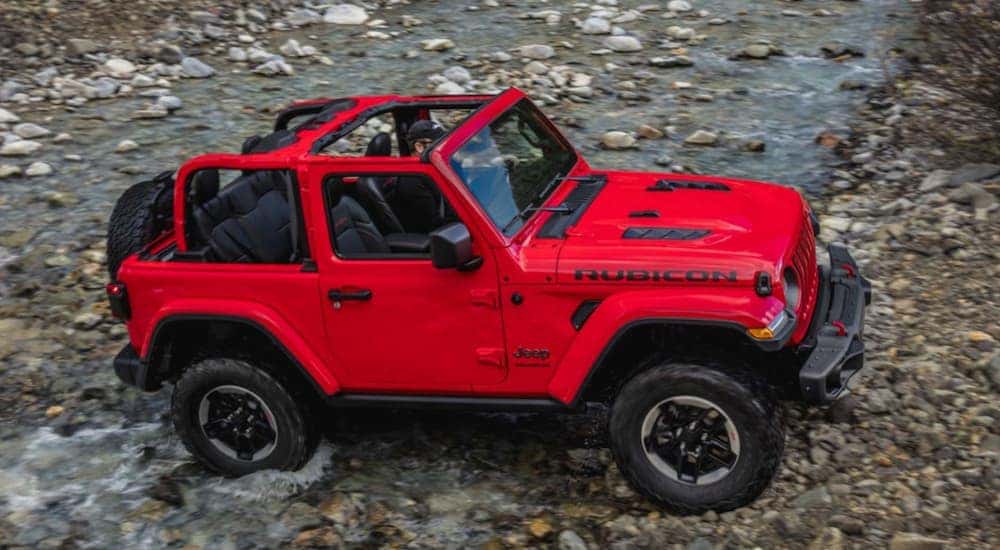 Get into a used Wrangler today at Orange Coast CJDRF
Are you looking for a truly capable off-road vehicle that will take you on your wildest adventures but is equally at home for daily driving? A used Jeep Wrangler is an excellent option to consider, and the experts here at Orange Coast CJDRF can help you find the perfect Wrangler.
Here at Orange Coast, we have a wide assortment of used Wranglers to choose from, which ensures you'll find the right Jeep at the right price. We welcome you to stop by our dealership to test drive a Wrangler and put it through its paces. We are confident you'll love what it has to offer.
We are fully committed to providing our customers with the finest Jeep buying experience possible, and we have a satisfied customer base to prove it. Our expert staff is here to help you with every step of the purchasing process, from research to financing to service. Speaking of service, we know Jeep drivers demand a lot from their vehicles, which is why our expert service techs can diagnose and repair any issue. Orange Coast is also your one-stop shop for genuine Jeep parts and accessories to fully customize and personalize your ride.
Our main mission since 1981 has been to serve our customers in Orange County and Southern California by offering the finest selection of Chrysler, Jeep, Dodge, Ram, and FIAT vehicles, both new and used. Our reputation has been built on providing excellent customer service from start to finish, along with great deals.
Give us a call to learn more or even better stop in to see us today to experience both the Wrangler in person and get ready to hit the road to adventure in a Jeep!