Let's Talk Trailhawk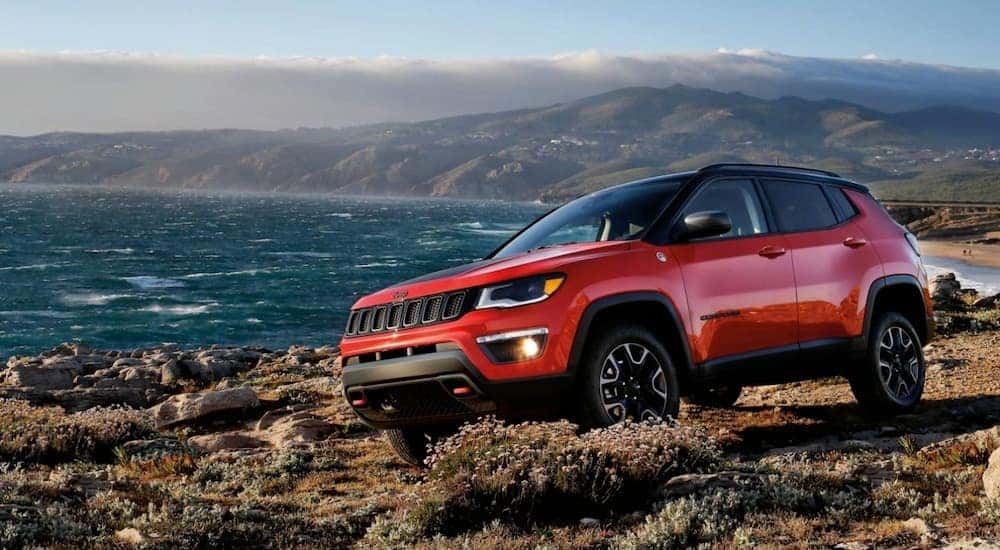 When people come to us looking for a Jeep for sale, they often wonder about the Trailhawk and ask us, "What is the Jeep Trailhawk package?" That's a fair question and an important one. If you've heard of the Trailhawk, then you are probably some level of Jeep enthusiast, or at the very least, you've done your homework and come across this term and want to know more.
Either way, we're here to help answer all of your questions and make sure you know everything you need to know about the Trailhawk option. So let's jump right in and see what all the fuss is about…
The Jeep Trailhawk
When you are searching for a Jeep for sale, and you see a Trailhawk, then you know you are looking at the ultimate expression of what a Jeep can be. This is a trim level available only on Jeep SUVs – so you won't find it on the Wrangler or the all-new Gladiator. It is specifically designed to conquer the trail and offer you an off-road experience that surpasses what you will find in any other SUV out there.
Inside and out, a Trailhawk Jeep for sale is going to have features and options that make it an absolute beast when it comes to hitting the trail. If you are looking at a used Jeep for sale, then finding a Trailhawk is a great way to ensure you get all of the best off-road options on that SUV. On the other hand, when considering a new model, going with a Trailhawk means you get the pinnacle of performance and a vehicle that can tackle pretty much anything you throw at it.
Let's take a look at what it means to be a Trailhawk with the four models of Jeep SUVs for sale that include the Trailhawk as an available trim. Older, used models might have different features, of course, but you know that any Trailhawk you find was built to conquer the open road and beyond.
The 2020 Jeep Renegade Trailhawk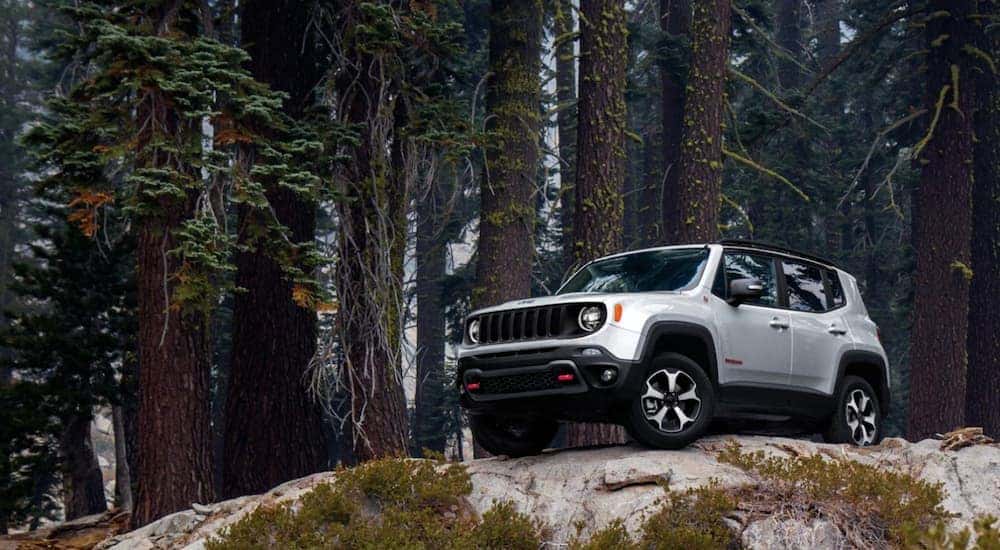 First up, let's consider the Jeep Renegade Trailhawk. This is the first of the Jeeps for sale with the Trailhawk trim available and is a great example of everything this trim stands for. The standard engine on the 2020 Jeep Renegade is a 2.4L engine – but the Trailhawk comes with an extremely powerful 1.3L Turbo engine with a Selec-Terrain System with Rock Mode to help you conquer anything you come across on the trail.
The Renegade Trailhawk comes with 17-inch wheels and all-season on/off road tires standard with a full-size spare tire just in case. You also get rain-sensitive windshield wipers and exterior accent colors and details that identify your Trailhawk as one of the most impressive Jeeps for sale anywhere. It also comes with a front suspension skid plate, fuel tank skid plate shield, hill descent control, transfer case and transmission skid plates, and red front tow hooks that are a signature aspect of the Trailhawk package.
The 2020 Jeep Compass Trailhawk
Next, let's take a look at the Jeep Compass and what it offers if you choose the Trailhawk option. Rather than the standard suspension found in most other Compass models, the Trailhawk features an off-road suspension that improves handling and offers a better overall experience when you go off-road. The Trailhawk features 17-inch wheels and exclusive all-season on/off-road tires for improved handling and control in all sorts of conditions.
If you are interested in a Compass when looking at Jeeps for sale, keep in mind that the Trailhawk offers much improved overall clearance. The Jeep Compass Altitude, for example, has an approach angle of just over 16 degrees, while the Trailhawk has an approach angle of more than 30 degrees. That can be a huge difference when maneuvering on a trail that has a lot of rocks and uneven terrain. You get hill descent control with the Jeep Compass Trailhawk, and it features the signature red front and back tow hooks for an aggressive appearance you won't find anywhere else.
The 2020 Jeep Cherokee Trailhawk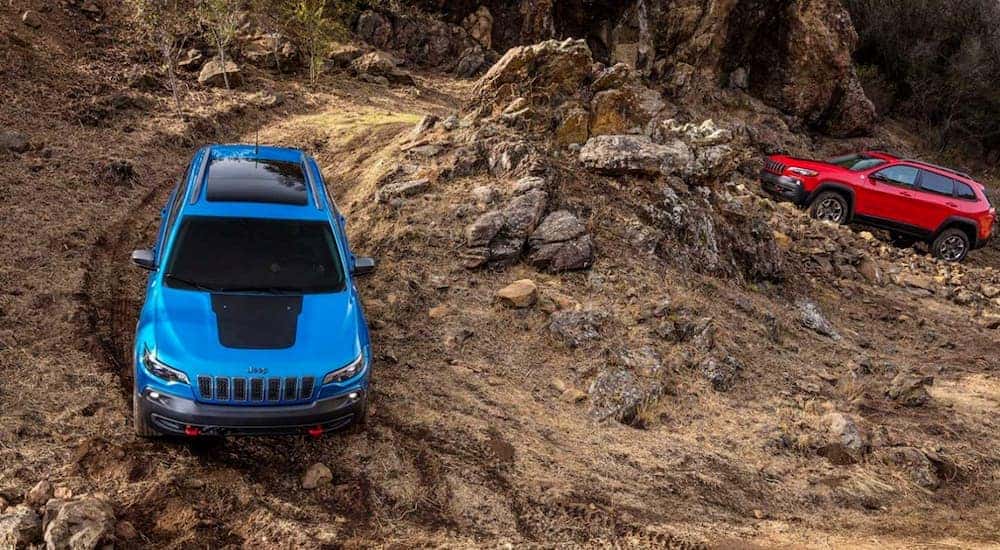 The Cherokee has been one of the most popular Jeeps for sale for decades and continues to demonstrate why so many people have fallen in love with it. With the Trailhawk, you get a Cherokee that can tackle anything you throw at it and keep coming back for more. The Cherokee Trailhawk has a Turbo engine available and comes with heavy-duty engine cooling, which is optional for other high-end Cherokee trims. With the Cherokee Trailhawk, you also get 17-inch wheels and all-terrain tires that feature off-road flares and come with a full-size spare.
As you would expect, the Trailhawk is built for going off-road, and that includes a front suspension skid plate, fuel tank skid plate shield, and Selec-Terrain system for handling anything the trail throws at you. It has an underbody skid plate and an approach angle of nearly 30 degrees, significantly more than the standard Cherokee's 19-degree approach angle. The Trailhawk also has a 32-degree departure angle to really let you tackle just about anything, plus the signature Trailhawk red tow hooks on the front and rear.
The 2020 Jeep Grand Cherokee Trailhawk
Of course, when you're looking at Jeeps for sale, you have to talk about the Grand Cherokee, which is one of the most popular SUVs on the road. With the Trailhawk trim, you get all the sophistication the Grand Cherokee has to offer, with off-road features that push it beyond SUVs by other manufacturers. This truly is the ultimate expression of what Jeep has to offer and well worth your consideration if you want an SUV.
For going off-road, the Jeep Grand Cherokee Trailhawk features the Quadra-Drive II 4WD System, which includes an electronic limited slip differential rear axle, which transfers 100% of available torque away from any slipping wheel on the axle to boost traction. The Trailhawk also features heavy-duty engine cooling, which is optional on some other models. 18-inch wheels on the Trailhawk keep it in control, and it comes with fantastic all-season all-terrain tires for tackling the trail.
Speaking of trails, the Grand Cherokee Trailhawk features front suspension skid plates, a fuel tank skid plate shield, and Quadra-Lift air suspension for a smoother ride in rough conditions. It has an underbody skid plate, transfer case skid plate shield, and a break over angle of more than 25 degrees; every other Grand Cherokee has a break-over angle of just 19 degrees or less. And of course, the Trailhawk features its signature red tow hooks just in case you find yourself in trouble, or need to help someone else in a rough spot.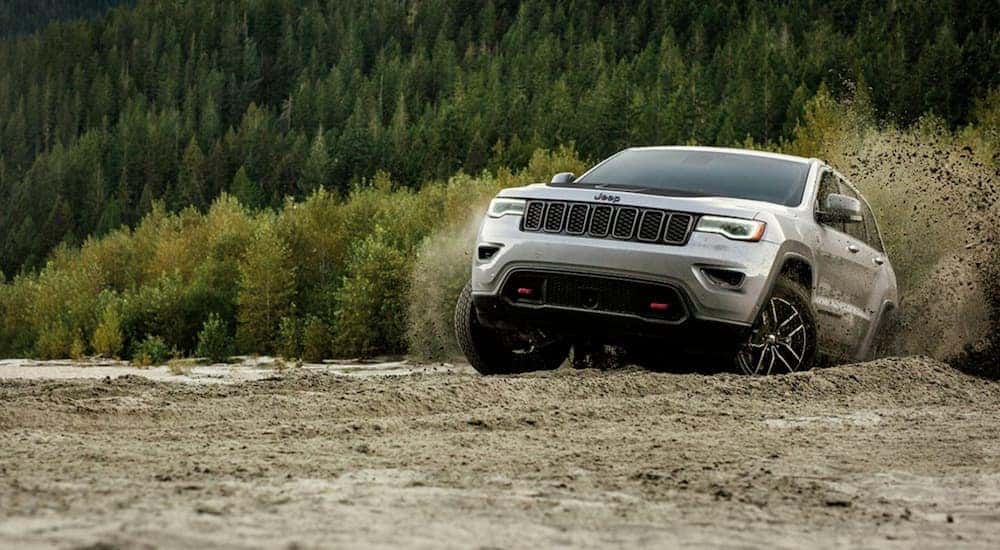 Come Visit us to Find Out More
As you can see, the Trailhawk trim on available Jeep SUVs is all about maximizing performance, particularly when it comes to hitting off-road trails. These are trail-rated models that have been put through their paces and come out the other side hungry for more. If you are interested in an SUV that is perfect for going off-road, then look for a Trailhawk any time you search for a Jeep for sale.
Here at Orange Coast CJDRF, we have a terrific selection of Jeeps for sale right in Costa Mesa, CA, including Trailhawk models. Call or come visit us today to find out more, and we will help you find the perfect vehicle for your needs.