Jeeps And Off-Roading Go Together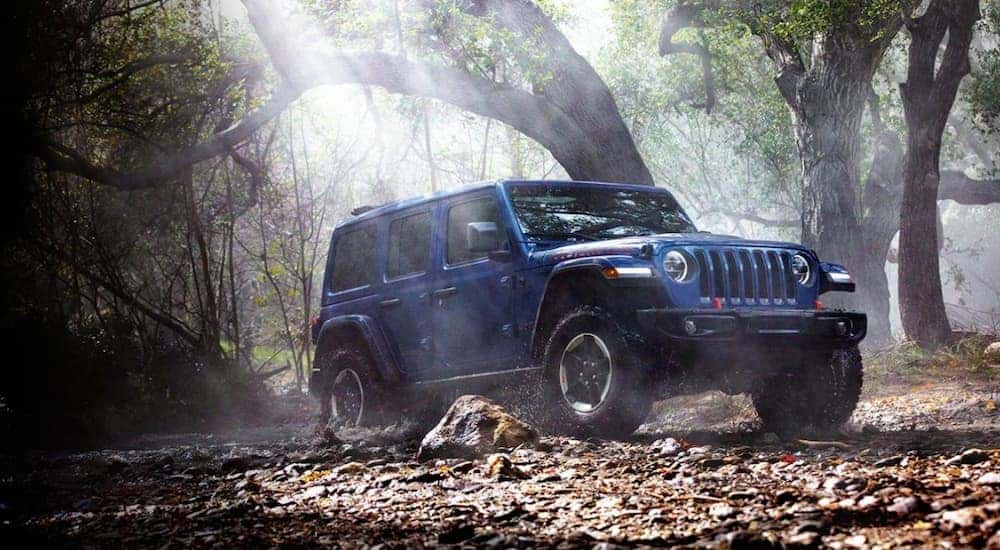 As a reputable dealership for multiple brands and assisting drivers in the Orange Coast region in finding their perfect vehicle since 1981, we at Orange Coast CJDRF are committed to our mission. We are located at 2929 Harbor Blvd, Costa Mesa, California, surrounded by the Orange Coast's beautiful locales and plenty of off-roading trails. We are an ideal choice of Jeep dealership to many locals who are looking to experience just that. We are always staying up-to-date with current models for sale, such as the 2020 Jeep Cherokee, Gladiator, Grand Cherokee, and Wrangler. These vehicles are top of the line choices, but we also offer cars from 2019, 2018, and so forth so you can find one that works for you.
Amongst our fine selection, we recommend Jeeps such as the Cherokee, Renegade, and Wrangler when it comes to the best experience while off-roading on one of California's many beautiful trails. We have a wide range of vehicles to fit your needs, and we certainly know a thing or two about the area. So let us tell you our favorite locations when it comes to bringing your Jeep on an adventurous joy-ride.
Places To Go / Places To Be
California is truly a sight to behold, and on the orange coast, we are treated to some of the best nature trails and off-roading paths the entire country has to offer. Some parks are even open all-year-round and aren't just for seasonal visitation. San Gabriel Canyon within the Azusa Canyon OHV area is a great example, as they offer 150 acres of land full of things to do and see.
San Gabriel Canyon is located in State Rte 39, Azusa, roughly 1 hour and 9 minutes away from our dealership via I-605N. There you will find a joyous amount of obstacles to play with and terrains varying from sandhills, dirt, mud pits, water crossings, and rocks. This location is one for enthusiasts and hobbyists alike where they can blow off some steam in a dry river bed. This location is widely utilized by drivers of all skill-sets, so make your way down there and have some fun.
Once you have acquired your permit to enter, you may bring in vehicles such as motorcycles, dirtbikes, ATVs, SUVs, Jeeps, and so forth as long as they are properly registered. What makes this park so special is the lack of a proper trail, rather the dry river bed creates an open-ended area for you to explore and take your own path. San Gabriel Canyon is open from 8 am to 4 pm on weekends and operates during the majority of holidays.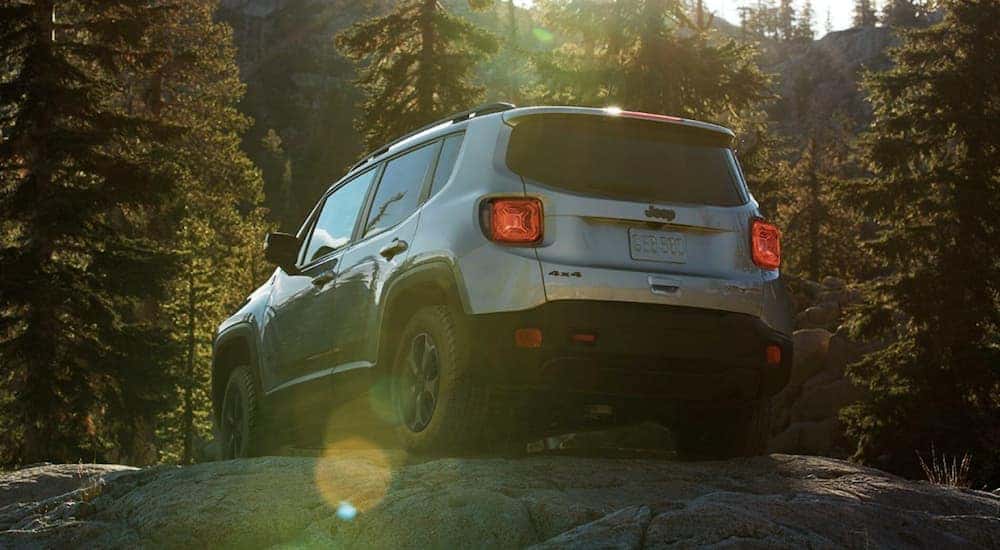 Another location we are quite fond of is Maple Spring Road, located within the Silverado Canyon. Located at 31330 Silverado Canyon Road, Silverado, California, it's only 41 minutes away from our dealership via I-405N. For those looking to not only add more time to their trip but some challenges as well, are able to continue onward until they reach Santiago Peak.
An Adventure Pass is required to gain access to the canyon, but they're open year-round unless stated otherwise for weather. This area is recommended for beginners due to the single path to follow and more or less choice of intensity depending on how far you go, although more experienced off-roaders will love this location as well. This area gets a lot of users because it's not limited to off-roading but allows for bikers, hikers, and more, meaning it's important to stay mindful while utilizing Maple Springs trail. Maple Springs is open from 9 am to 4 pm on weekends and holds a 4.3 rating based on 47 Google reviews.
As with any nature trail or public locations such as Maple Spring Road and San Gabriel Canyon, it is always important to follow the rules accordingly and always be precautious about your surroundings for the safety of yourself and others. Many parks have their own rules which must be abided for future entry, but most of these rules are simple to follow and aren't easy to accidentally break.
Our Vehicle Recommendations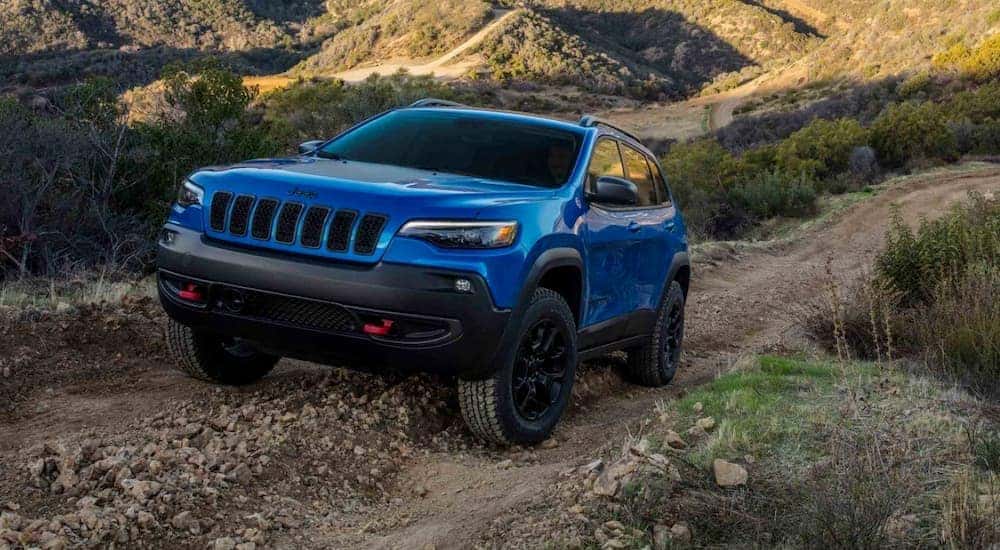 As previously mentioned, we are big fans of the Jeep Cherokee, Renegade, and Wrangler vehicles, and we offer them at our dealership. The 2019 Jeep Cherokee comes equipped with a 2.4L I4 MultiAir Engine, but it can be upgraded to an Intercooled 2.0L Turbo Premium I-4 engine or a 3.2-L V6 24-Valve VVT. Both your driver's seat and front passenger seat will have 12-Way Power-Adjustable Seats with 4-Way Lumbar Support for maximum comfort. Included is the latest integration of Apple CarPlay and Android Auto amongst the Cherokee's suite of features.
The Jeep Renegade is another highly capable 4×4 and is the choice for many occasional off-roaders. Inside of the Jeep Renegade Trailhawk, you will find a 1.3L Turbo Engine with Direct Injection and a nine-speed automatic transmission, capable of 32 highway mpg, which is excellent for your commute to and from the trails. The Jeep Renegade has features such as keyless entry and a remote start system, a 115V Auxiliary Port, and an 8-Way Power-adjustable driver's seat with 4-Way Lumbar Support. The Trailhawk trim is also Trail Rated, which means it provides exceptional performance to handle the trails.
At the top of our list, we recommend the all-new 2020 Jeep Wrangler Rubicon as a powerhouse vehicle for just about any adventure you experience with it. The 2020 Wrangler Rubicon comes equipped with 33-inch all-terrain tires, providing an excellent 10.8-inches of ground clearance. The 3.6L Pentastar V6 engine is standard, but the 2.0L I4 DOHC DI Turbo engine and a new 3.0L EcoDiesel V6 are available as upgrades. It also features the Tru-Lok Electronic Locking Differential and an electronic sway bar disconnect, perfect for the difficult trails. The Wrangler also includes more modernized features such as a Proximity Key for Push Button Starts and a ParkView back-up camera. As far as off-roading goes, this vehicle is definitely a solid choice.
Where Do We Go From Here?
Once you have decided that you are interested in a new vehicle, whether it's a Jeep, Dodge, or one of our other available brands, we ask that you allow us to help you find your perfect car. Upon leaving our lot, we hope to have you behind the wheel of the car you desire. We even have a selection of used vehicles to select from. We also have an on-site service department that is always eager to help and a financing center as well. There are online tools that can help by figuring out your payment and even value your current trade-in.
Nevertheless, California will always be a prime spot for natural beauty, full of things to do and explore. We find the trails and parks not far from our vicinities to be perfect for off-roading and adventure, and there are plenty more than the two we mentioned here. Most importantly, as long as we're here to help you, you'll always get the knowledge you need and the ride you deserve when it comes to reputable dealerships.